POOLESVILLE, MD – Some Sunday morning rituals cannot be abandoned just because one's on a short vacation. For worshippers of the Church of Two Wheels that means riding a motorcycle or at least mingling with those who are.
A trip to visit friends near Washington D.C. last month had me itching to visit the twice-monthly Bikes and Breakfast meetup at the Watershed Cafe in downtown Poolesville. The gathering is held from 9 to 11 a.m. the first and third Sunday of every month, and has been going on for roughly two years.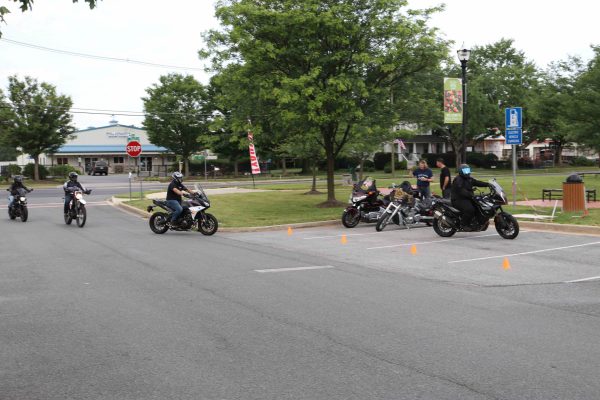 While D.C. traffic can often be a headache, driving west for 45 minutes saw the traffic thin and the scenery pick up. Near this town of 5,000 residents, there were country roads with picturesque horse farms. A lone deer alongside the roadway kept my mind in motorcycle mode even though I was driving a pickup.
Despite a threat of sprinkles, a few riders were already on hand when I pulled into the parking lot and they'd brought some interesting bikes. The first to catch my eye was a vintage model; an exceptionally clean, black and maroon Triumph Trident (shown at top and below).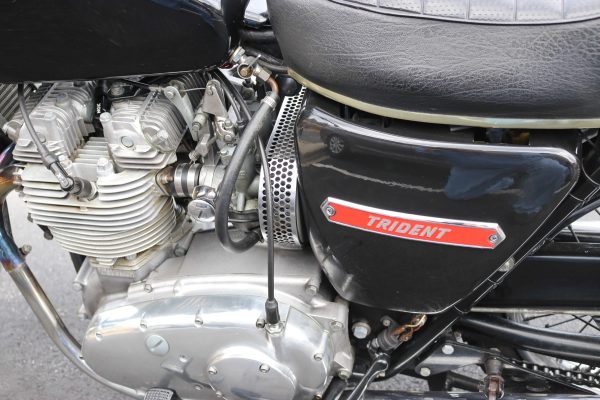 Across the driveway, other bikes were lining up. Jim Brown, the former mayor of Poolesville, came on a 1993 Ducati 907 I.E., a fuel-injected version of the brand's Paso model that honored racer Renzo Pasolini.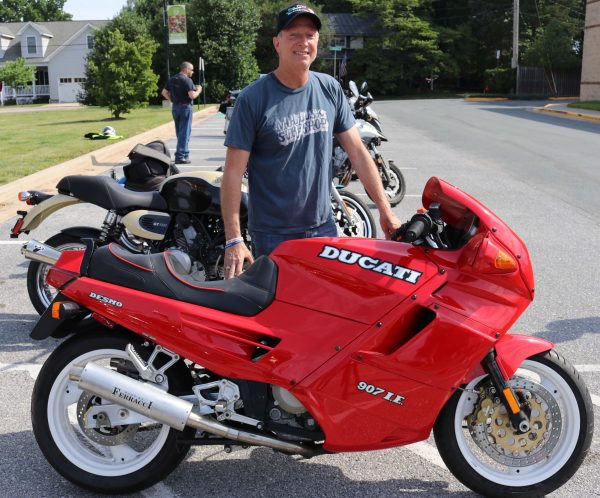 "I saw it advertised on Craigslist in southern Virginia. I said I don't care what the condition of it is, I'm going to go buy it. It turned out to be it was in great shape. The fuel injection's cool. It's neat having fuel injection," said Brown, who helped found Bikes and Breakfast as a way to support local businesses.
Brown owns some 23 motorcycles, including a Buell RR 1200, one of 65 ever built. "There are several of us in town that have multiple motorcycles; too many to talk about because people will think we've got a problem," he said.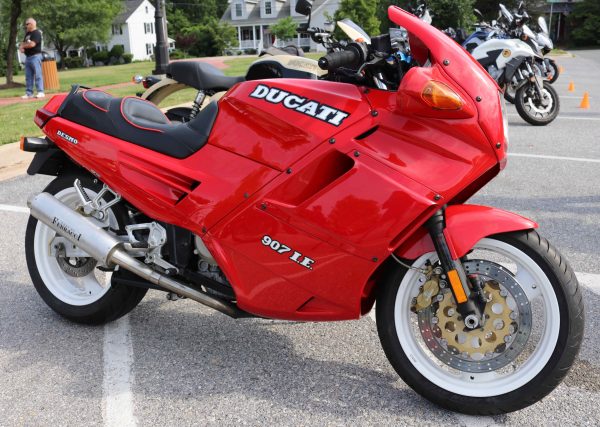 Brown shows off his bikes at Bikes and Breakfast. "Always try to ride something cool and special here. Everybody else does. Always try to bring a different flavor to Bikes and Breakfast," said Brown, who just happened to pick the 907 I.E. that morning.
"Like all the bikes that I have, they all get their turn. They all get ridden. I kinda feel which bike it is I'll be riding that day and that's the one I take out of the garage."
Parked a short distance away was Frank Bell's 2007 Ducati GT1000, a retro model built between 2006 and 2010 but best remembered for having a tank that warped and leaked because of ethanol gas.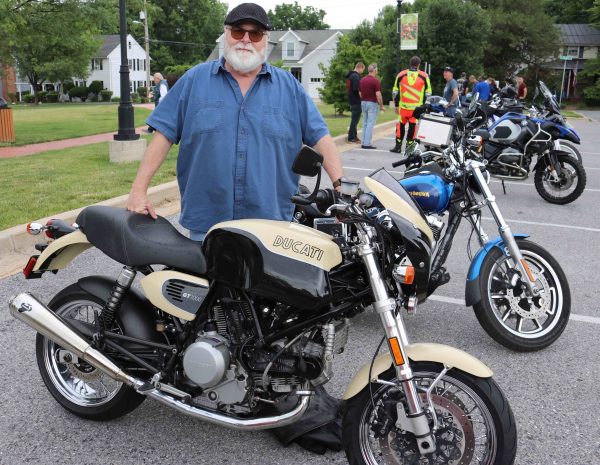 "This is the original tank. No problems," reported Bell, who also lives in Poolesville and helped launch Bikes and Breakfast. "It's a well-sorted bike. A lot of fun to ride. It handles very well. It's actually set up a little bit with dropped pegs and raised handlebars, so I can go long distance on it and not wear myself out."
Bell owns 12 motorcycles, including a Buell Ulysses and a Kawasaki ZRX1100.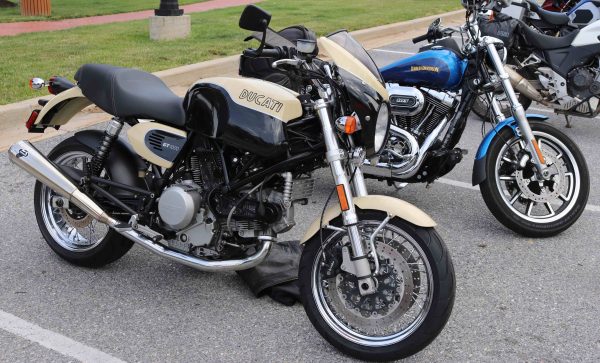 Brown and Bell view western Maryland (and Bikes and Breakfast) to be a great starting point for exceptional riding.
"We have a little bit longer riding season than New England does, which is nice. Probably a month on the front end and a month on the back end. Secondly, in Poolesville, you get to turn the key on your bike or press the button and you're instantly on great riding roads," Brown said.
"This is where the ride starts. This is the country and everything west of here is motorcycle country," added Bell. "The roads out here are phenomenal. If you go west from here, less than hour you're in the mountains."
Having seen a bit of scenery on the way to Poolesville, I saw a lot more as I headed to the interstate, with plans to visit the Gettysburg National Military Park up the road in Pennsylvania. Shortly after departing Bikes and Breakfast, though, the GPS warned of an accident on I-270 that had stalled traffic flow and asked if I wished to be rerouted.
Being a Sunday morning where exploring new roads is often part of the drill, I responded "yes" and got guided on small-town roads through some lush and appealing countryside. Bell had told me that the area offered lots of twisties, lots of up and downs, and lots of sweepers, and he was spot on.
The detour curtailed my battlefield visit somewhat, but stopping at Bikes and Breakfast and sampling the scenery made the day worthwhile. So did Gettysburg.