Like every longtime motorcyclist, Nigel M. Sainsbury has memories of the bikes that have come and gone and, in his particular case, the riding adventures around the world over the years.
Unlike others, though, he has written about his life on bikes in the recently released book "One Down, Four Up – My Bikes, My Life."
Except that wasn't his original intention. The book became an unanticipated spinoff of a planned autobiography for his children.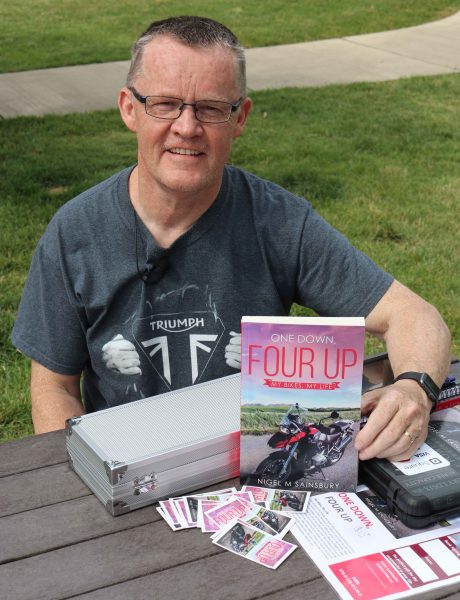 "I was inspired by a friend of mine who had throat cancer; who didn't think he'd live long enough to see his grandchildren. I thought there's lots of things about my life that my children don't know about me," he recalled last month at a Sunday morning Bikes and Breakfast gathering in Poolesville, MD.
When the autobiography grew to 500 pages, Sainsbury soon realized that there was a book within the book; a tome about his life on two wheels, "so I sort of pulled the stories out. I did a bit of research on the bikes and the brands and put a little bit of context around what was going on in my life at the time, and the book just fell out like that. It was an awesome experience and a lot of fun to do."
A native of a small coal mining village in Wales, Sainsbury has been riding since he was in short pants. His riding career began in 1962. "My first scooter was at two years old … but realistically I've been riding since I was 13 years old," he said.
"I loved motorcycles even before I had ridden one. I found an NSU Quickly rotting away in a neighbor's garden when I was 13. I didn't have a clue what it was, and I got the thing going using Kellogg's cornflakes packets; boxes that I used to cut gaskets out.
"I made a head gasket and a base gasket and carburetor gaskets and got this thing running, this two-stroke, single-cylinder moped. It didn't last for very long, obviously, but enough to inspire me to think that this is fun, man."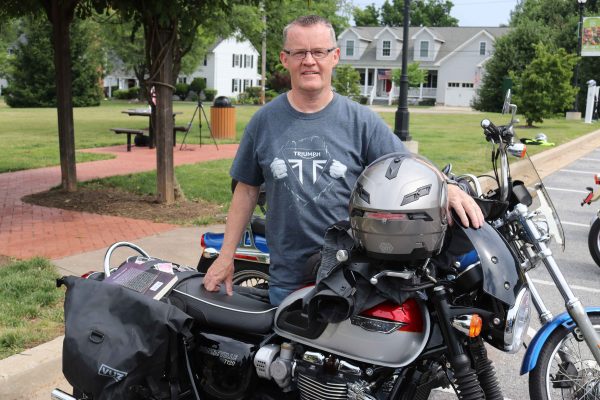 These days, Sainsbury owns a 2018 Triumph Bonneville T120 and a 2014 Kawasaki KLR 650. "I've always had bikes that reflect what I was thinking at the time and my passion for what I wanted to do," he said.
When he moved to New Zealand in 2004 (before moving to the United States in 2012), it was a 2004 BMW R 1200 GS that suited his needs.
Sainsbury believes that "a motorcycle is an extension of the person who's riding it. You're making a fashion statement when you climb aboard a bike … and that's what makes the community, the motorcycle community really interesting. It doesn't matter whether you're white, whether you're black, female, male. It doesn't matter. If you ride a motorcycle, you're part of the club."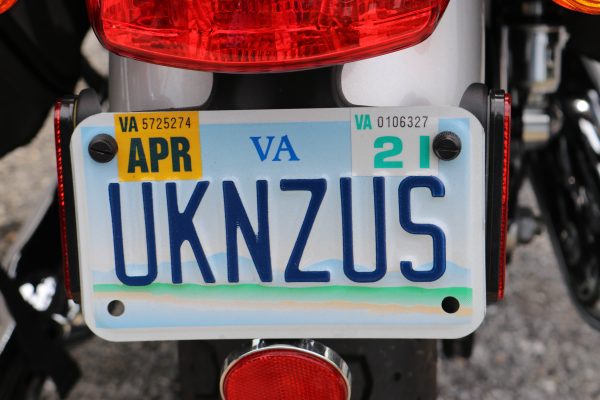 "One Down, Four Up…" is written for riders, who understand the recreation's allure, and for non-riders. "I talk about in there how it's affected both my physical and my mental well being; probably mental more than anything because I've almost killed myself twice on a motorcycle – not deliberately, obviously," said Sainsbury, who lives in Fairfax, VA.
He has little tolerance for motorcycle naysayers. "I don't care for people telling me that motorcycles are dangerous. What I explain in the book is that people are dangerous. Some situations you find yourself in are dangerous. You can't cheat the laws of physics and a motorcycle can't tell you what or what not to do, but it'll give your warnings, so I think the misconception that people have that motorcycles are dangerous is wrong. Guns are dangerous. They were designed kill people. Motorcycles were not. They're a mode of transport."
"One Down, Four Up…" is available on Amazon.