Moto Guzzi marks a milestone on Monday – exactly 100 years since the Italian marque launched in Mandello del Lario.
Currently owned by Piaggio, Moto Guzzi was conceived during World War I by two Italian Air Force pilots and their gifted mechanic, Carlo Guzzi. It was Guzzi who supplied the ideas for the post-war venture. Pilot Giorgio Parodi brought the financing.
The third member of the troika, Giovanni Ravelli, was well known not only as a pilot but as a motorcycle racer. His role was to promote the brand's models, but he died less than a year after the war's end in 1918. His death inspired the soaring eagle logo that Moto Guzzi still uses a century later.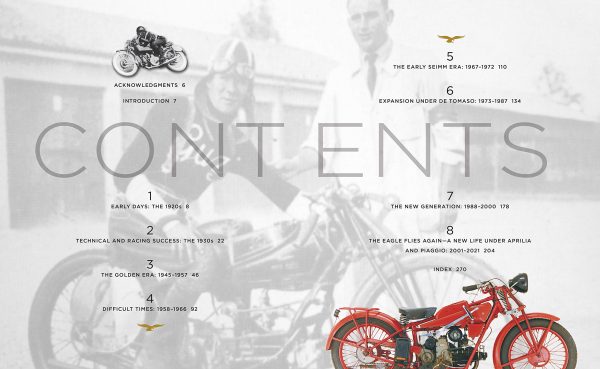 To mark Moto Guzzi's accomplishment, a "100th anniversary edition" of Ian Falloon's comprehensive 2017 tome "The Complete Book of Moto Guzzi – Every Model Since 1921" has been updated and released by The Quarto Group.
Falloon opens the book by noting that Moto Guzzi models are beloved by their owners for their "distinctiveness and occasional quirkiness," and that's certainly true. Having owned a California and a Norge, and ridden other Guzzis, I can attest to their uniqueness and pleasing qualities.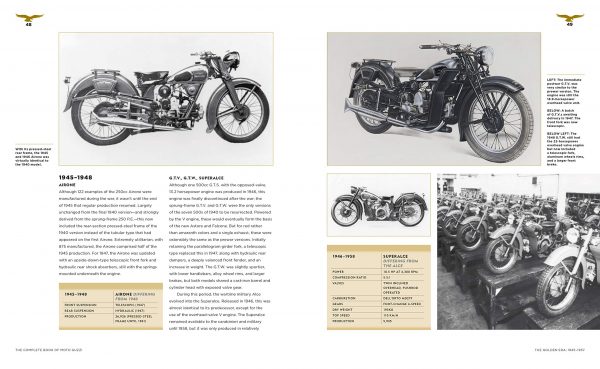 Moto Guzzi's first model was the 498cc, single-cylinder, eight-horsepower Normale in 1921, although it was preceded by a "G.P." prototype in 1920. Today, the brand is most recognized – literally – for producing models with transverse mounted, 90-degree V-twin engines and for using shaft drive. They're impossible to overlook when spotted.
Falloon notes, "In 2021, Moto Guzzi became the first European motorcycle manufacturer to achieve one hundred years of continuous motorcycle production." The company has survived the Depression and World War II and has nearly gone under more than once.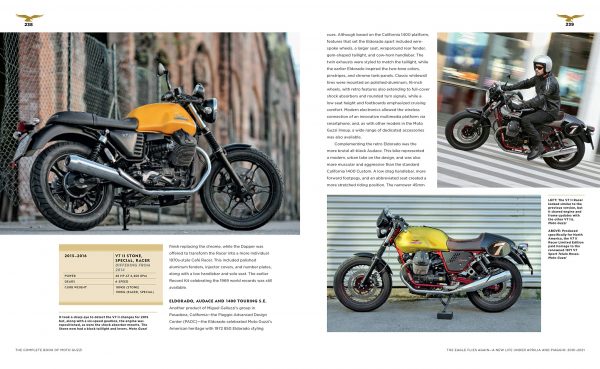 Falloon concludes, "Although Moto Guzzi will never be a large-volume mainstream motorcycle manufacturer, it continues to produce quality individualistic motorcycles for a demanding clientele."
"The Complete Book of Moto Guzzi" is certainly a must-have for every Moto Guzzi lover. Of course, since going to press, it has already become outdated as it doesn't include the three, limited-edition Centennial models that Moto Guzzi unveiled in late January. The special livery can be found on the V7, V9 and V85 TT.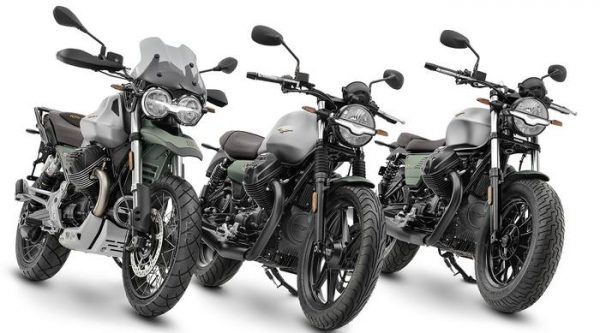 Moto Guzzi began on March 15, 2019 with the establishment of the "Società Anonima Moto Guzzi" and bikes are produced in the same plant in Mandello del Lario to this day.
"The Complete Book of Moto Guzzi" tells the remarkable story. The list price on the book is $60, but Amazon has it available for $41.49.
Hello! If you found this story interesting, please share it with other riders by clicking on the social media buttons below.