At this stage, it's still anyone's guess when the riding landscape will significantly shift to electric motorcycles from those that are powered by gas. However, just-released results from a survey done by the BikeSure insurance company suggest a rapid switch may happen fairly soon, at least across the pond.
More than half of the respondents in the U.K. survey – 50.3 percent – reported they would like to own an electric motorcycle or scooter/moped or already do. Bikesure sampled 673 motorcycle enthusiasts in the U.K. and found 46.7 percent want an electric model and 3.6 percent already own one.
Instant Power Appeals To Riders
The biggest reason for wanting an electric model is the instant power that batteries deliver. A total of 57.80 percent of those surveyed cited "instant torque delivery" as the most favorable feature, while 43.68 percent noted "they're more economical to run than a petrol motorcycle."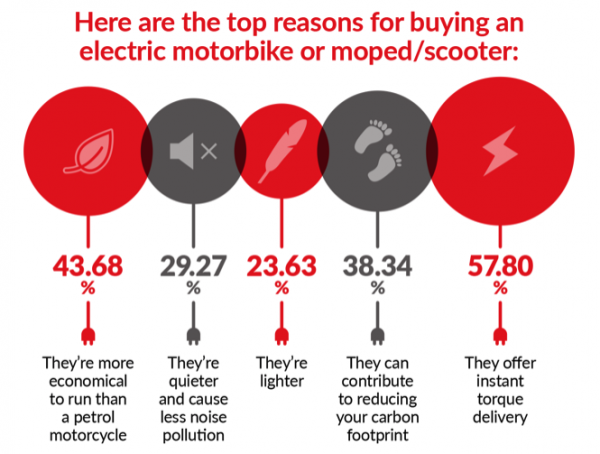 Effective in 2030, sales of new gas and diesel cars will be prohibited in the U.K. With motorcycles and scooters being more gas efficient, 43.98 percent of those surveyed think petrol models should never be banned, while 31.05 percent said gas-powered motorcycles and scooters should eventually disappear.
Only 12.78 percent of respondents said a ban on gas motorcycles and scooters should also be implemented in 2030.
Several Reasons Why Riders Are Put Off
The survey's results revealed numerous reasons why riders are put off from owning an electric motorcycle or scooter. Their range – the distance they can travel between charges – is the top concern with 65.08 percent citing it.
Recharge time is also a concern at 51.11 percent, while 42.20 percent reported they'd miss the sound of a gas engine.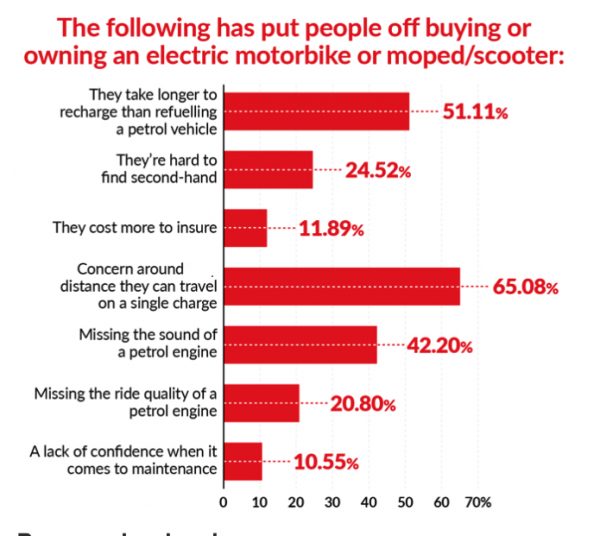 The survey also found that the appeal of electric models has an age variable. Younger riders are more open to e-bikes. A total of 58 percent of those under 25 years old said they'd be interested in an electric motorcycle or scooter, compared to 41 percent of those 55 to 64 years old, and 32 percent of those 65 or older.
Hello! If you found this story interesting, please share it with other riders clicking on the social media buttons below.