(UPDATE: Friday, May 14 at 4:50 p.m. – New story with new owner's perspective.)
(UPDATE: Friday, May 14 at 9:50 a.m. – The sale of Brothers' Harley-Davidson to FRG, LLC was completed Wednesday and the dealership began operating on Thursday as Freedom Road Harley-Davidson. RIDE-CT & RIDE-New England has so far been unsuccessful in getting comments from new owner Mario Galasso.)
BRANFORD, CT – Another Harley-Davidson dealership in Connecticut is reportedly being sold. This time it's family-owned Brothers' Harley-Davidson here, which was started in 1977 by Bob Paolella Sr. and his wife, Michele. An April 21 filing with the state and displayed on Connecticut 's website shows the buyer to be Mario Galasso of Southbury, CT.
The sale price isn't known, but a source tells RIDE-CT & RIDE-New England that the ownership change is due to be finalized next week and that the dealership will be rebranded as Freedom Road Harley-Davidson.
The state filing lists FRG, LLC (presumably for Freedom Road Group) as the incoming owner at the dealership at 557 W. Main St. The source said employees at Brothers' Harley-Davidson have been told of the sale.
The change in ownership comes less than a year after Gengras Harley-Davidson in East Hartford was sold and became Hartford Harley-Davidson and less than two years after TSI Harley-Davidson in Ellington was sold and became Old School Harley-Davidson. Both were bought by Chad Clark and Bryan Castor.
New Owner Has Extensive Background
A LinkenIn profile for Galasso shows him to be a graduate of Worcester Polytechnic Institute. He is the co-founder and president of Dragon Fly Brands. That company sells aftermarket products for touring motorcycles under the Hardstreet name and for off-road vehicles under the Rydcrew name.
Prior to launching Dragon Fly Brands in December 2018, Galasso was a top executive for nearly 16 years at bike, motorcycle, off-road and truck suspension maker Fox.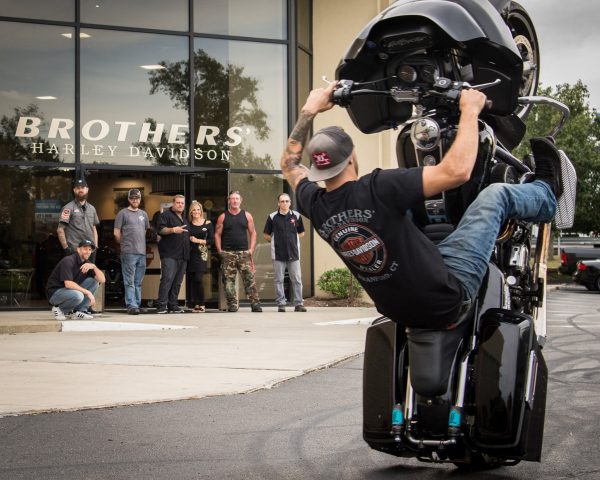 Since its founding 44 years ago, Brothers' Harley-Davidson has been a family operation. Bob Paolella Jr. serves as general manager of the store. His brother, Ralph, has been sales manager since 1995, according to the dealership's website.
The sales and closures of many Harley-Davidson dealership across the country have been frequent of late and come at a challenging time for the Milwaukee-based company. Sales have been slipping for years due to "baby boomers" aging out of motorcycling and not being replaced by younger ones.
Dealer consolidation, a trimming of the model lineup, and development of new models did help Harley-Davidson experience a turnaround in the first quarter of 2021.
Brothers' Harley-Davidson had already closed Friday by the time word of the sale reached RIDE-CT & RIDE-New England. A Facebook Message has been sent to Galasso seeking comment. This story will be updated when more information becomes available.
One change will likely take place once Galasso assumes ownership of the dealership. He will need a new motorcycle as the cover photo on his Facebook page shows that he's ridden an Indian motorcycle for at least the last six months.
(Photos taken from Brothers' Harley-Davidson's Facebook page)
Hello! If you have the time, please share this story with other Harley-Davidson riders in Connecticut by clicking on the social media buttons below.