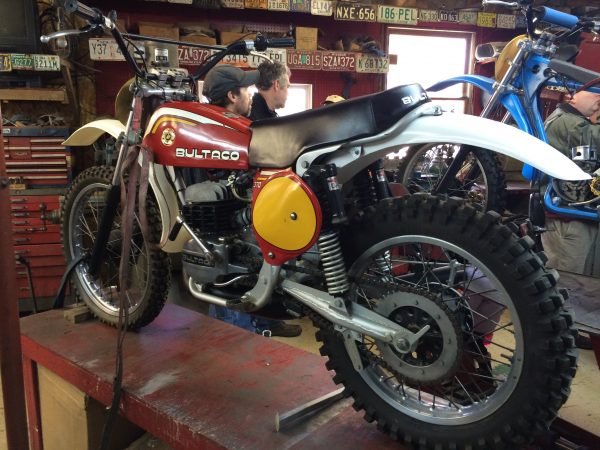 CRARYVILLE, NY – When I was a kid, the enduro circuit was of endless fascination for me, along with the plethora of great woods racing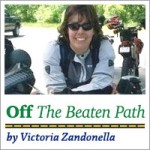 bikes that dominated these events in the 1970s. It always seemed that team Bultaco had its fair share of podium finishers as well. Bultaco and their 'thumbs up' logo seemed synonymous with winning and commanded a fair share of respect from competing brands.
The history behind these legendary Spanish bikes is rich and all too short. Bultaco was founded in 1958 by Francisco Xavier Bulto, who set out to build his very own brand of motorcycle. Over the next 25 years, until the company's closure in 1983, he proceeded to transform the industry, developing several models that crossed the entire spectrum of motorcycle modalities. From trials to flat track to the Six Day Enduro and even Grand Prix racing, these bikes were hard to beat.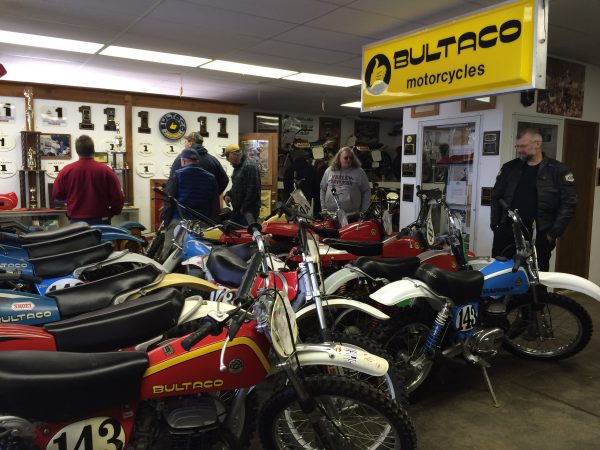 What seemed to set the Bultaco brand apart from the competition was their sheer simplicity and lightweight, two-stroke design as well as astounding engine output for a given displacement category. The Bultaco Sherpa-T is still known today as one of the most successful trials bikes of all time. Then came models like the Sherpa-S, Pursang, Montedero, Lobito, Matador and Alpina – all serious contenders in their respective classes.
The brand quickly caught on Stateside, with the U.S. racers love affair with all things Bultaco in the 1960s and 1970s. Sadly, Bultaco fell upon hard times in the late 70's, eventually shuttering operations for good after producing over 300,000 motorcycles during the company's all too short tenure.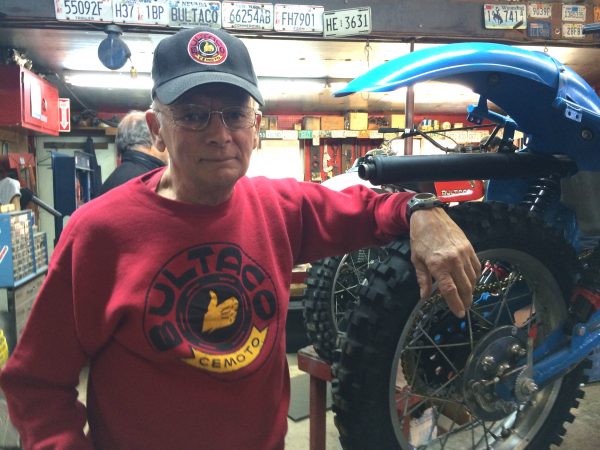 Hugh Weaver
With the popularity of these machines here in the U.S., riders looked to local dealers to continue supporting the brand. This is where Hugh's Bultaco of Craryville, NY takes the stage. Hugh and Barbara Weaver began their operation in 1970. Hugh, originally an aircraft mechanic, came back home to his family farm from California in 1969 and within a year started a Bultaco dealership. Hugh's devotion to the brand became evident after Bultaco's exodus from the scene, as he set up a machining operation to keep the bikes running with custom fabricated parts.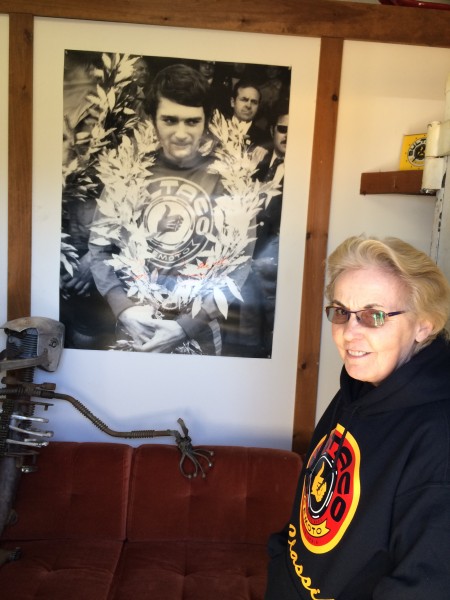 Barbara Weaver
Over the years, Hugh's collection grew to over 400 bikes, with so many lovingly restored Bultacos in his stable. Now known as Bultaco Museum, Hugh and Barbara and their son Tim share this amazing collection with the public. I was fortunate enough to be clued in on Hugh's yearly open house last weekend by former Bultaco rider and racer, Mark Zimmerman. Mark hosted an event for our riding group to visit the epic shrine to all things Bultaco. It was an amazing day for all who joined – with well over 150 in attendance. The Weaver family also put on a spread of food for guests to enjoy that would rival any catering facility.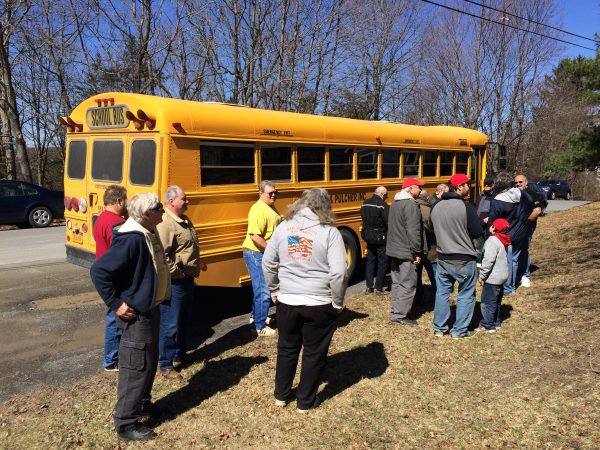 The mood was festive as many of the former local Bultaco racers were in attendance, sharing stories about their glory days on these amazing steeds. A few Bultacos were on lifts in Hugh's machine shop for the crowd to enjoy while we dined. Barbara then announced the raffle for some Bultaco swag before escorting us outside to her school bus which would take us to Hugh's famed Bultaco museum about 10 minutes down the road. Upon entering the place, I was mesmerized by the sheer number of beautifully restored Bultaco machines. It brought me right back to my youth when I watched local racers compete and win on these bikes.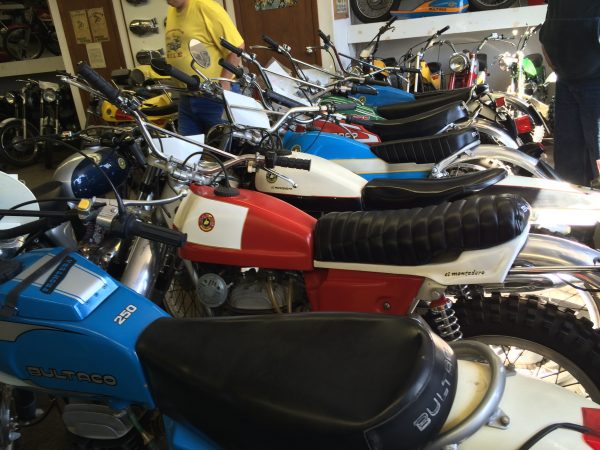 I was so fortunate to have Mark to walk me through the museum and point out all the bikes and the significance of their unique qualities – from the fin designs on the engines that kept them incredibly cool to the fiberglass fuel tanks, and adjustable exhaust shims to modify performance. The Bultaco signs and racing placards on the walls from Hugh and his son Tim's competition days gave you a true sense for their adoration and commitment to the brand.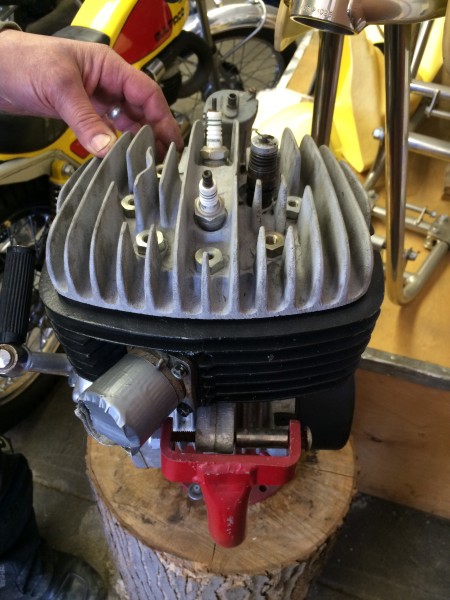 After almost an hour, Barbara gathered up the flock and got us back on the bus to the former site of the dealership where we enjoyed dessert along with more lively conversation and a final raffle drawing. I even won a cap adorned with the famous 'Thumbs Up' Bultaco logo!
After purchasing a Bultaco hoodie to have a lasting memory of this phenomenal day, it was time to set off for home with the knowledge that Hugh, Barbara and Tim Weaver have created an amazing place for riders to enjoy and to step back into the rich history of the iconic Bultaco brand.