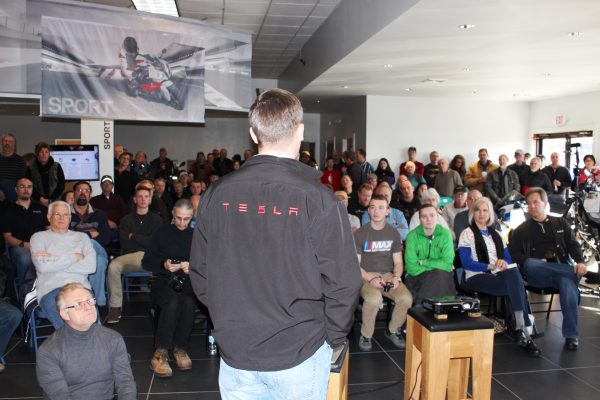 SOUTH WINDSOR, CT – It was an SRO crowd Saturday morning when Carl Reese came to speak at Max BMW about his record-setting motorcycle ride from Los Angles to New York City last August. He rode 2,829 miles in 38 hours and 49 minutes, taking only a one hour and 15 minute nap in a motel in Kansas.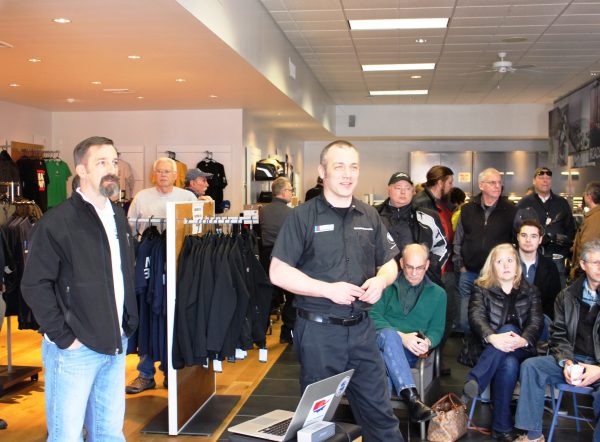 Carl Reese, left, and Max BMW owner Max Stratton
Introduced by Max BMW owner Max Stratton, Reese talked for more than an hour about the history of cannonballing, introduced earlier record-holder Fred Boyajian, provided some secrets from his successful run and took questions from spectators.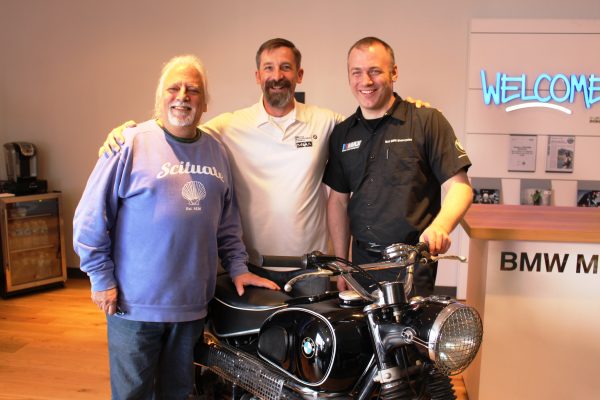 Fred Boyajian, Carl Reese and Max Stratton
Reese only got stopped once by the cops (in Pennsylvania) and only had one problem outside of fatigue – a balding rear tire on his 2015 BMW K 1600 GT, which got replaced thanks to a handy Harley-Davidson dealer.
A full story with video is coming soon…
Original story from Feb. 13, 2016: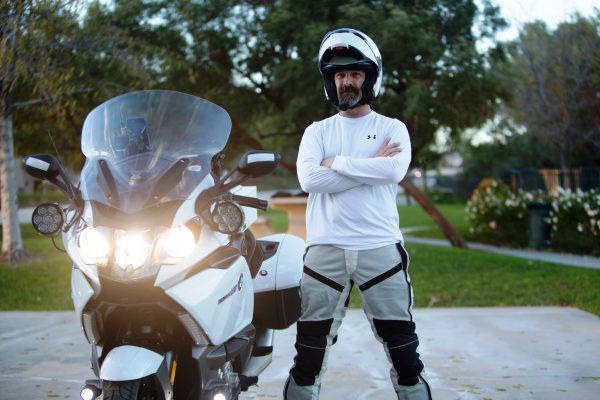 SOUTH WINDSOR, CT – Solo cannonball rider Carl Reese, who last August rode a 2015 BMW K 1600 GT from Los Angeles to New York City in a record time, will talk about the grueling experience in a multi-media presentation on Saturday, Feb. 20 at Max BMW here.
Reese made the coast-to-coast, 2,829-mile ride in 38 hours and 49 minutes, shattering a previous record that had stood for 33 years. His talk will begin at 10:30 a.m. and last about an hour.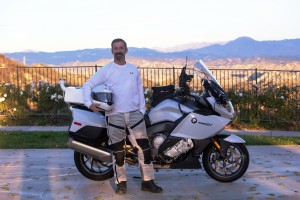 Photos by Ryan Sorensen
Reese's journey began at 3:15 a.m. on Aug. 28 when he left Los Angeles. He took I-15 to Las Vegas and continued on until he linked with I-70 in Utah. From there, he headed east across Colorado, Kansas, Missouri, Illinois, Indiana, Ohio, West Virginia and Pennsylvania before making it into Manhattan.
During the ride, Reese average 73 miles per hour and, in true cannonballer fashion, sometimes topped 110 miles per hour. Despite much preparation in spin classes and wearing padded shorts beneath his riding gear, he ended up with a raw butt. The only other major problems were a worn-out tire some 300 miles from the finish line and extreme fatigue.
Reese's talk is free and all riders are welcome. Max BMW is located at 1535 John Fitch Blvd (Route 5). Here's a trailer on Reese's ride: