By Bud Wilkinson of RIDE-CT.com
Sig Hansen remembers being called upon as a school kid to speak in front of the class and feigning sickness to get out of it. Now, as an adult, he's not only a star of the long-running reality TV hit "Deadliest Catch" but part of a troika of roaming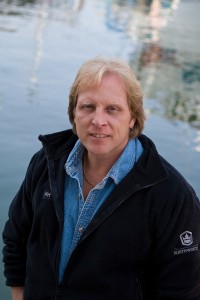 captains who recount their dangerous adventures catching crab in a stage performance.
"I'm still the same guy. I've got more confidence," said Captain Sig when he phoned recently from the Northwestern, the crab boat that he pilots in the Bering Sea. Hansen reported that was on his way back to port in Dutch Harbor, Alaska, but he was already thinking about his next appearance with Time Bandit captains Jonathan and Andy Hillstrand. It's next Friday night at the Warner Theatre in Torrington.
"A Night with Captain Sig and The Hillstrand Brothers" mixes storytelling with Q&A. "We can let loose. It's a stress-free environment. W e just let her rip. It's fun to mingle with the fans and not have to be self-conscious about a camera around you," said Hansen, explaining that the stage show has improved over time. "We're just tweaking it, getting it better and better."
As for any residue of shyness about public speaking left over from his youth, the 43-year-old Hansen reported, "A couple of shots of courage doesn't hurt."
Viewers of "Deadliest Catch" on Discovery already know that the men who haul crab aren't lacking in courage, strength or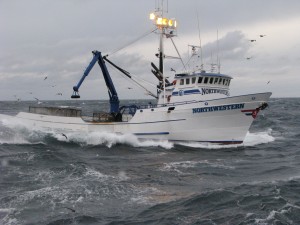 stamina. They do dangerous work and work long hours in extremely harsh conditions, and have now become well-known and, more importantly, respected because of TV show.
"Coming from a blue collar perspective, I think it's about frickin' time," said Hansen, who sees himself simply as "a regular guy who works hard for a living." He regards "Deadliest Catch" as more of a documentary show than a reality series, although each episode has a theme and is a distillation of the most compelling video.
"When we agreed to do it, it was like pulling teeth. We didn't want to do it," Hansen recalled. "My biggest fear was that they were just going to make you look like a bunch of crazy cowboys."  There were other concerns, too. "We were really afraid of insurance rates going up. We're fisherman, we lie, we cheat. There are times when you're going to fudge the rules a little bit." Nonetheless, "They've done pretty good. I don't think they've shown the industry in a negative light."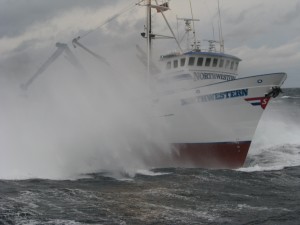 However, even after six seasons on the air, doing "Deadliest Catch" can be difficult because of the intrusiveness of the cameras, Hansen said. "I'm not comfortable. I argue with the camera guy to this day. They've got a 'captain cam' mounted in the wheelhouse and I hate it. I'm very good at turning it off. We still get in battles with these camera men because they can't get enough. We're still trying to do our job. Sometimes you wonder whether it's worth it or not."
Hansen's not one to hold in his emotions when dealing with a cameraman. "You've got to tell him to back off once in a while," he said. "You need to think and be yourself. I scream at the camera guy just as much, if not more, than my crew." What viewers see is real. "We have to be. We're fishing for our living. You can't fake this stuff."
Last season saw the death of Captain Phil Harris of the Cornelia Marie. "It was tough. I knew Phil for a long time," said Hansen, explaining that he knew him not only as a fellow captain but outside of work because of traveling together to promote the show. "That's why that one stung so much. My family knew him. My kids got to know hm. Because of the program, you do have this bond."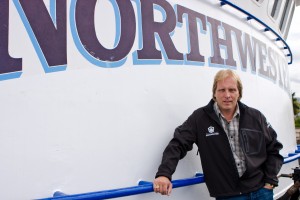 Besides loving the sea, Harris was a motorcycle lover. Hansen said he likes them, too, even if he doesn't own one. "I ride dirt bikes with my kid. Phil always gave me sh** for not having a Harley. That was the big plan. My only obstacle is sitting at home, and I married it. Every time we drive by a Harley store, I want to pull in. I'm working on that one. It sucks," said Hansen, adding that maybe "his" and "her" Harleys might be the solution. "I think she's going to get a surprise. I think there should be two bikes in the garage."
While fans of "Deadliest Catch" often ask Hansen if those who fish for crab are crazy to engage in such dangerous work, they also show a respect for those who do. Prior to the show's existence, Hansen said that if you said publicly to folks that you were a fisherman, "they'd look down their nose at you. You're just a stinky guy. Now you've got college kids who use it as a pickup line. There's a sense of dignity behind the occupation and respect. That's great for future generations."
What might viewers expect on season seven of "Deadliest Catch," which bows in April? "We're just wrapping it up. We've got a lot more personal issues and the fishing on top of it," Hansen said.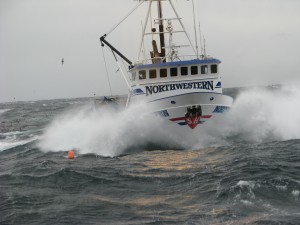 "Deadliest Catch" has turned Hansen into an entrepreneur. In addition to the fishing and the stage shows, he also has a book, a food line, a clothing line and even a phone app. "It's opened a lot of doors. I get to live outside my box, which is really neat.  It's fun to do. I get to see how the rest of the world lives.  Still get to keep my core business. We know when it's all over we're still going to be fishing. I'll be doing that a long time."
IF YOU GO
"A Night with Captain Sig and The Hillstrand Brothers" – Three captains from television's "Deadliest Catch" on stage at 8 p.m. Friday (Dec. 3) at the Warner Theatre, Torrington. Tickets are $29.75 and $39.75 with a limited number of $75 tickets that include a post-show meet and greet with Sig Hansen and Jonathan and Andy Hillstrand. For tickets: 860-489-7180 or online at warnertheatre.org.
(Originally published in The Republican-American on Nov. 26, 2010)