By Bud Wilkinson of RIDE-CT.com
At some point, the time comes to quit riding for good. Diminished strength and diminished skills eventually force every smart rider to give up the recreation. After all, no one stays young forever. Body parts begin to break down, the mind isn't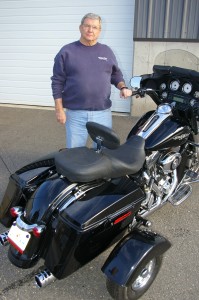 as sharp and riding isn't as easy or as safe as it once was.
Tom Mahan of Bethlehem had seemingly reached that point a year ago. Having had both of his knees replaced, Mahan was finding that keeping his 2003 Harley-Davidson Dyna Low Rider upright and stable when coming to a stop was problematic. So he made the wisest decision that he could. He bought an even heavier Harley – a 2010 Street Glide – and then added Ghost Wheels.
As he showed off his modified Harley to RIDE-CT one recent Saturday morning, the theme to "The Twilight Zone" somehow popped into my head. I heard Rod Serling's voice intone, "It's the middle ground between light and shadow,' except the line from the opening credits to the long-running TV series had been rewritten. I now heard Serling saying, "It's the middle ground been bike and trike."
Simply put, Ghost Wheels allow a rider to motorcycle to operate like a trike at slow speeds and lean it over like a bike while cruising. Yes, the two added "ghost" wheels look like training wheels on a kid's bicycle, but they're really sustaining wheels for riders who just refuse to quit. "It gives you the best of both worlds," said the 68-year-old Mahan, who is a drilling contractor and owner of Connecticut Wells Inc.
A company called Safety Features Inc. in Stacy, Minn. makes Ghost Wheels and that's where Mahan hauled his Harley last October. He was joined by a friend, 69-year-old Ron Gill of Chestertown, N.Y. who owns a 2003 Harley Ultra Glide. They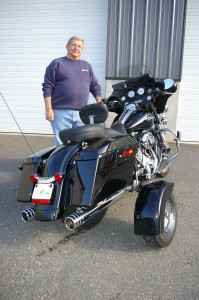 planned on having their bikes retrofitted simultaneously. "He's got bad hips and I had my knees replaced," reported Mahan.
The more than $6,000 per unit upgrade was easily accomplished. "They did both bikes in one day. Took us out and showed us the procedure; gave us the manuals. They're first class. There's nothing welded on the bike. All bolted," he said.
Mahan's Street Glide has hard saddlebags and inside the right bag is a motherboard that controls the Ghost Wheels. "It's basically electronic over hydraulic," Mahan said. At a standstill and when taking off, the side wheels are in an upright and locked position. Get the bike above roughly 15 miles per hour, though, and the locking mechanism automatically disengages. There's also a switch on the left grip that allows the rider to unlock the wheels at any point.
"This is not a full-time trike. Over 15 miles per hour, it goes into float mode," said Mahan, explaining that the rider can then counter-steer and lean the bike over on curves.  Each side wheel tilts in tandem with the bike's rear wheel. "They're like they are not there. You're riding your bike like normal," he said. Only when the wheels are locked does the motorcycle operate like a trike. You must then point the front tire in the direction you wish to go.
Riding with Ghost Wheels does require some adjustment by the rider. "You've got to ride it a while. The biggest thing you have to get used to is making the transition from trike to bike. It's like taking off but you're already moving," explained Mahan of the sensation when the locking mechanism disengages.
Mahan is pleased with both his new knees and his Ghost Wheels. "I wish I had it done five years ago," instead of 2½ years ago, he said of the knee replacements. "Once the knees were replaced, I was perfect." Given the fact many other riders are aging, and being confronted by the potential end to their riding days, Mahan said of Ghost Wheels, "I would think there would be an awful lot of interest."
Too bad the maker in Minnesota can't call the product Motorcycle Viagra because it certainly does extend the riding experience by keeping the rider erect. For a ride lasting more than four hours, well, just enjoy it. 
(Orignally published in The Republican-American on Nov. 27, 2010.)