FALLS VILLAGE, CT – It's a task with no requirements other than a pulse and a willingness to pick a favorite. Unlike other motorcycle shows, the two-wheeled portion of the Falls Village Car & Motorcycle Show doesn't have categories, year restrictions or demands for original perfection.
It's a "come one, come all" event, leaving the judges with the challenge of comparing kumquats to chainsaws. That is, the range of entries is exceedingly broad. This year's show on Sunday had everything from a 1949 Indian Scout to a 21st century (except for the technology), Russian-made Ural sidecar rig.
A Wide Variety Of Entries
There were ancient Harley-Davidsons, an assortment of new and old BMWs, a one-off 2009 spider web model made by Orange County Choppers, and even a modern, limited-edition Ducati Diavel with a bit of carbon fiber.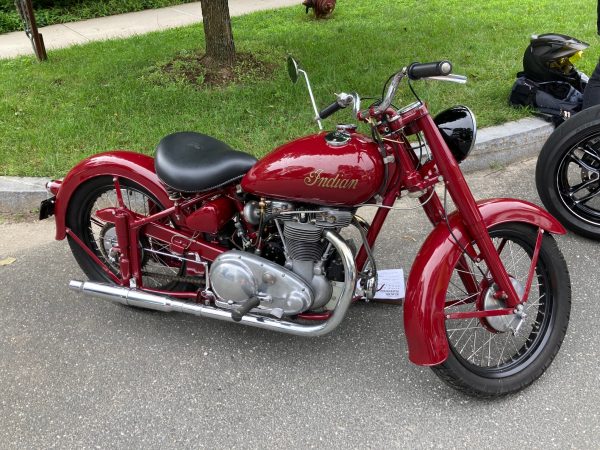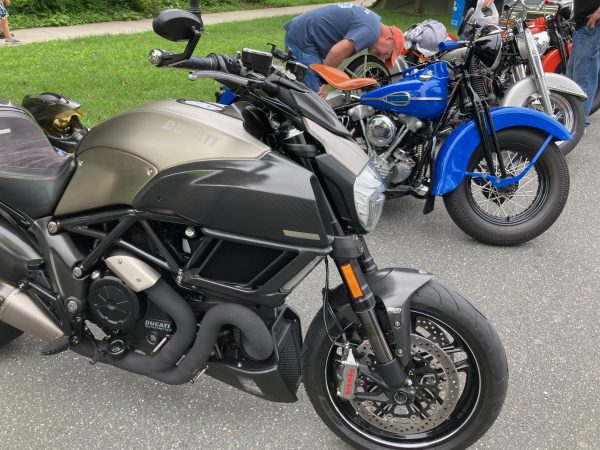 I've been a judge at the show for quite a few years now and the assignment is always enjoyable. The mandate is to simply pick a bike that is personally appealing. It's simultaneously liberating and stress-producing. It's liberating because – and here's where the confessing really begins – it allows for the immediate dismissal of some entries.
Some Models Get Dismissed
I routinely exclude modern machines. As a friend noted regarding the cars, and I'm paraphrasing, "Why would I want to see a Dodge Challenger, Ford Mustang or any new car that I can see at a dealer displayed at a show?" The same goes for motorcycles. Why would I want to select a modern model that only required the owner to have the cash needed to buy it? Is that a sufficient reason to award a trophy?
I also tend to look down upon flawless, nicely polished "trailer queens." They are attractive, yes, but my personal belief is that motorcycles are meant to be ridden, and fixed when necessary. If your bike needs to be that pristine, park it in the living room and admire it on your own time.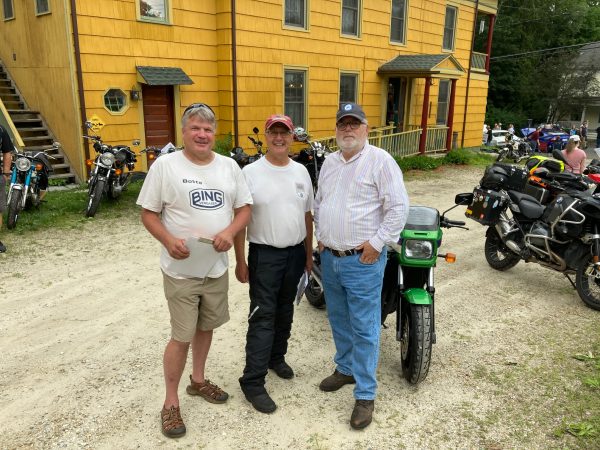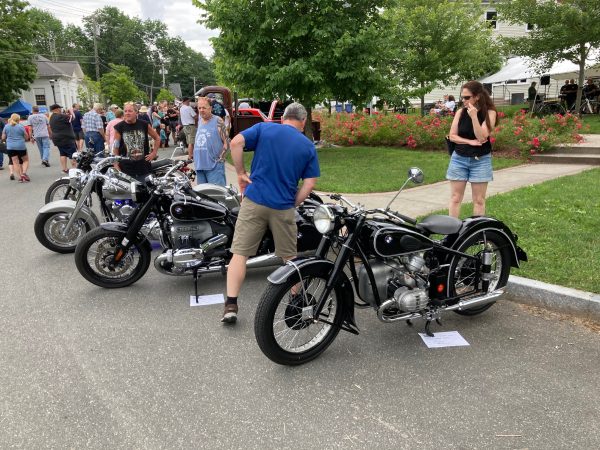 Also on the judging panel this year were second-timer Scott Rabeler, a nearby resident and motorcycle collector, and John Schnabel who writes for RIDE-CT & RIDE-New England. Prior to being tapped to judge, Rabeler was planning to enter his restored 1953 BMW R67/2.
Yes, it was on display at the show along with his modern BMW R 18 cruiser, but both were deemed ineligible for consideration for the obvious reason – conflict of interest.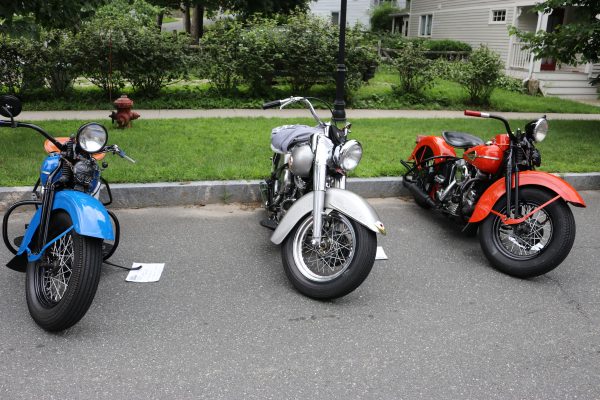 Among the most attractive bikes at the show were the three vintage Harley-Davidsons. Richard Nelson of Torrington, CT brought his orange 1946 EL Knucklehead, his brother Steve of Burlington, CT brought his silver 1957 FL Panhead, and his son Rich Jr. of Bantam, CT brought his blue 1946 FL Knucklehead.
Three Possibilities For One Trophy
I floated the idea of making the Judges' Choice a family affair by jointly awarding the trophy to all three men. My fellow judges agreed that it wasn't a bad idea, but another Harley-Davidson ended up edging out the Harleys. Our choice was a 1964 Sportster owned by Garrett Selino of New Marlborough, MA. It just seemed to have the right look; a combination of age, authenticity and styling appeal.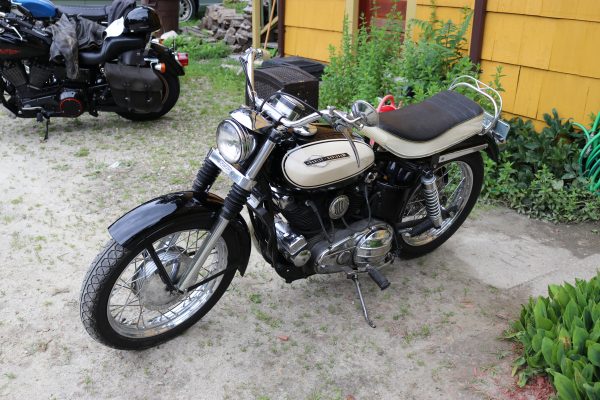 I later learned that Selino has only owned the Sportster for a few months. He got it from his father who bought it at age 17 in 1973. The bike has 40,000 miles on it. While Selino takes it to shows, he also rides it with his wife as passenger for fun. "We'll take it and cruise around, but not too far," he said.
What made the top pick and the runners-up (the three old Harleys) notable to me were the fact they were Harley-Davidsons. That's not surprising in one sense because Harley-Davidson is a dominant brand. But what made me chuckle was that the three judges are all BMW riders.
While it may be uncommon in politics for representatives to go against party and reach across the aisle, that's not the case with motorcyclists. Most of us seem to accept anyone who rides as part of the club and see the value of all makes and models not matter how new or old.
All Bikes That Entered Served A Purpose
The Falls Village Car & Motorcycle Show is always one of the most anticipated shows of the year, and really needs more entries. As a longtime judge, I do appreciate every bike owner who takes the time to come to the show because it's a charity event and because it enables spectators to see models they might have never seen before. There are benefits beyond taking home a trophy.
In a postscript, I learned this morning that Richard Nelson's orange 1946 Harley-Davidson did win the "People's Choice" trophy in the show.
Hello! If you enjoyed this column, please share it with other riders by clicking on the social media buttons below.