BAR HARBOR, ME – Be on the lookout for lots of scooters in northern New England early this week. For the first time in more than a decade, the biennial Scooter Cannonball returns to the Northeast. It's a "time, distance, regularity rally where points are awarded based on miles completed and the ability to maintain the standard pace."
The 10-day, approximately 4,500 mile event begins Monday in Bar Harbor in Maine. It is scheduled to end on July 21 in Eureka in California. The rally's route runs across New Hampshire and Vermont and into New York before moving across the country.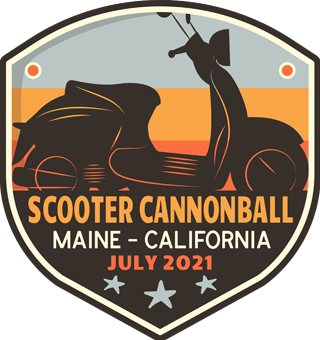 While the event's website states that as of May "approximately 180 riders have registered" and separately shows 170 riders from the United States and Canada on a page listing makes and models, it also features a list of participants as well as day-by-day routing/results pages that contains but 88 names.
Of those, 74 are rookies and 14 are veterans. There are 10 riders listed as being from the Northeast.
Vespa Riders Dominate The Entries
While riders are shown on the website by their entry names, such as "CrazyCarl" and "Scootmommy," the brands and models being used by the participants are fully disclosed.
A total of 73 riders will be aboard Vespa models with another 49 riders on Honda models. Other brands represented include Piaggio, Yamaha, Suzuki, Kymco, Bajaj, TaoTao, Aprilia, Sym and Royal Alloy.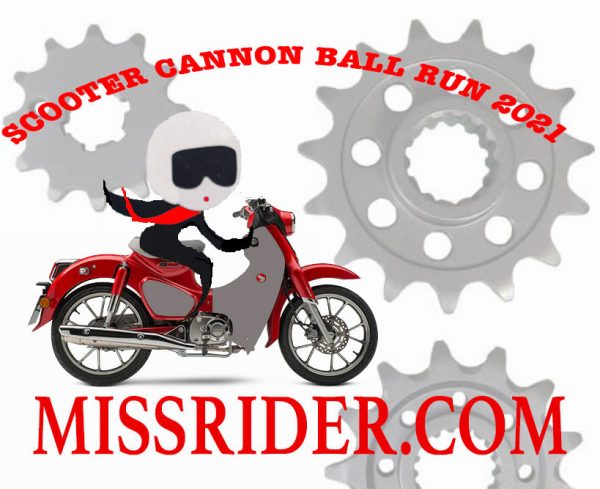 Riding a Honda Super Cub will be rookie Madeleine "Missrider" Velázquez of Worcester, MA. She's a 64-year-old cancer survivor who has been riding motorcycles for about 40 years. She was quoted in "USA Today" as saying she's doing the Scooter Cannonball for the challenge presented by a smaller bike "and the technicalities involved."
Velázquez has her own website and has a PayPal account to help cover her expenses.
The last time the Scooter Cannonball visited the Northeast was in 2010 when it ran from Portland, ME to Vancouver, BC. In 2006, it ran from New York City to Portland, OR. The event is normally staged on even years but was postponed in 2020 due to the COVID-19 pandemic.
Hello! If you enjoyed this story, please share it with other riders by clicking on the social media buttons below.