KENT, CT – It was an idea born out of frustration. Rick Dolson, whose Iron Horse Customs/Royal Enfield of Kent motorcycle shop sells new Royal Enfield models, was restocking bikes late last year when he got some nettlesome news from the manufacturer.
"I was trying to order some colored bikes and they said, 'You can have any color you want as long as it's black.' Very Henry Ford," he said.
The specific model that Dolson was seeking was the INT 650, which comes in three solid hues – black, silver and orange. There are also a couple of two-tone versions, but the only color Royal Enfield had in stock at that time was black. What if a customer wanted another color? "Their answer was, 'You can paint it,'" he recalled.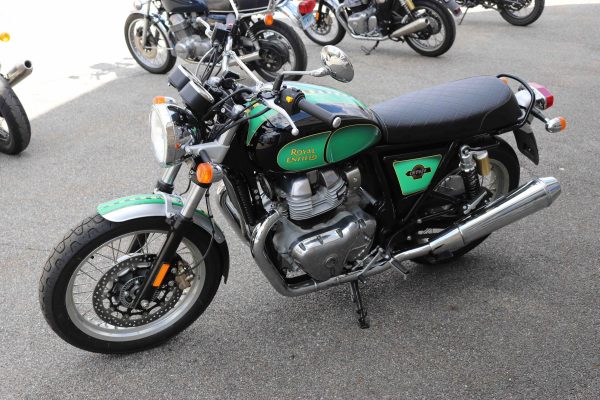 To Dolson, however, that seemed counterintuitive to Royal Enfield's approach. While it's true that many motorcycle buyers immediately customize their bikes by changing out exhaust pipes and adding chrome parts upon purchase, repainting the gas tank, fenders and side covers can be expensive. Royal Enfield is a brand that specializes in affordability.
The INT 650, for instance, is a retro model with a base price of $5,799. That is almost half of the price of a similar looking Triumph Bonneville T100. A custom paint job for the "tins" could cost more than $2,000. "Royal Enfield is a low-cost alternative line," said Dolson, recalling that it was at that moment that the idea hit him and a friend – find a "low-cost alternative to painting."
Dolson teamed with his friend, artist Tim Hochstetter of Bridgewater, and they set out to come up with a motorcycle version of a vinyl "wrap" for a car. The result of two months work is a stunning, colorful transformation of a stock black 2019 INT 650 model.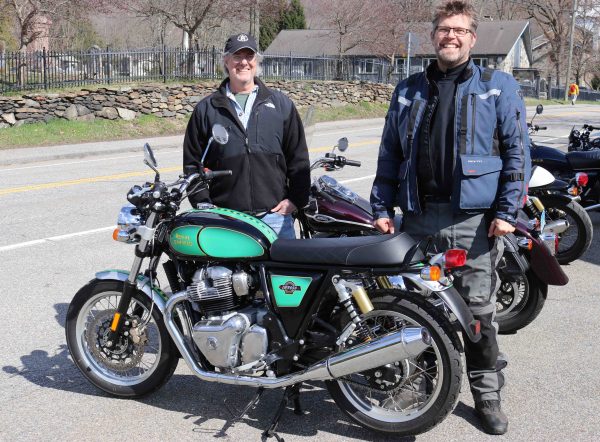 Hochstetter explained that pictures were taken of the INT 650 and then a computer concept of a design was created. They tried different colors and did pattern tests to make sure the contours were correct. That was followed by a test fitting. "We did the test fitting with scrap vinyl. We threw a few away," he said of the design process.
CES Design Studio in Granby, CT did the actual work in making what became a nine-piece kit for the INT 650. "We had no real problems once we figured out how to apply it," Hochstetter reported.
The vinyl elements go directly on the existing paint and can be done in any color. "Anything you want," said Dolson. "It's a high definition print on 3M high-durability vinyl."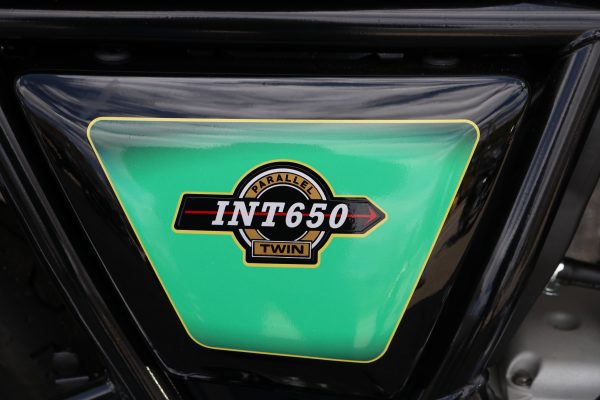 The prototype pattern has five elements for the tank, one each for the side covers, and one each for the front and rear fenders. Their example features a green background with yellow lettering and pin-striping.
The test elements were made in retroreflective vinyl, which glows when hit by a light at night. Dolson said that was done "for safety and cause we could." Non-reflective vinyl is also available. The vinyl is guaranteed for 15 years.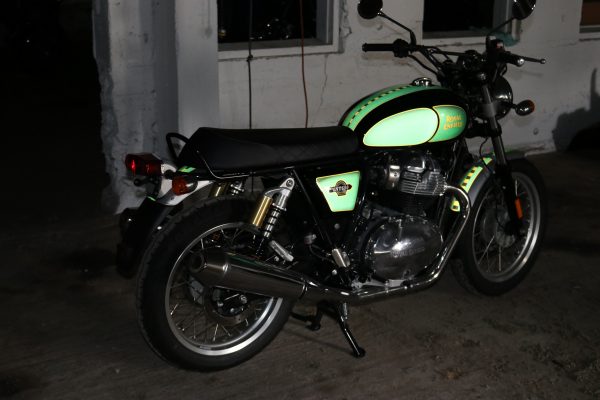 "It does not damage the paint in any way," said Dolson, who pegs the price for a kit at $500 with installation costing $100. "So, for about $600 fully installed, you can have a $2,000 custom paint job."
With the color possibilities seemingly limitless, INT 650 owners can make their model a one-off by ordering the kit. "We're working on some other designs. We've got ideas," said Hochstetter.
First, though, they're going to try the original design in candy apple root beer and gold.
Dolson has high hopes for the "low-cost alternative" idea. "It's going to be made available to everyone," he said. Once the second version is completed and pictures of the finished bike are taken, he plans to sit down with Royal Enfield about getting the kit into other dealers and beyond.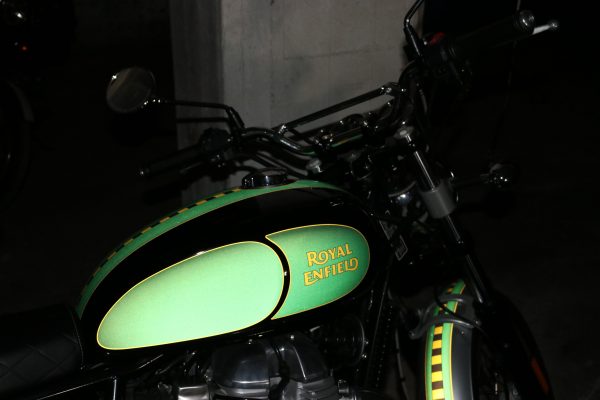 Having seen the results of the INT 650 makeover, I can say it even looks better in person than it does in pictures. Dolson rode it into the basement to give me an idea of what it looks like in the dark when a light shines on it, and it really pops.
What a great idea!
(Originally published in the "Republican-American" on April 4, 2020.)