REINHOLDS, PA – The first step once the decision was made a few weeks ago to attend this past weekend's antique motorcycle show in Oley, PA was to book lodging. While a friend suggested a chain motel near the show grounds, I instead went online and found a much more colorful and inviting place. After all, a fun trip calls for memorable accommodations. The choice was a place where visitors are instantly on a first-name basis with the hosts: Frush Farm B&B.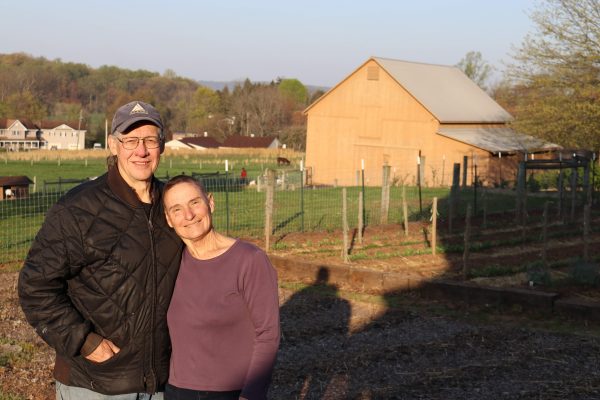 Nancy and Richard Frush launched Frush Farm B&B in November 2015. It took some remodeling of their 210-year-old stone farmhouse, which they acquired in 2005. They've made it into a welcoming, rustic place to stay and their efforts show. It is truly a small farm resort, immaculate both inside and outside.
There Are Some Requirements…
There are only two requirements (OK, three if you count that face masks are mandatory indoors): Visitors must love animals and they must go shoeless inside.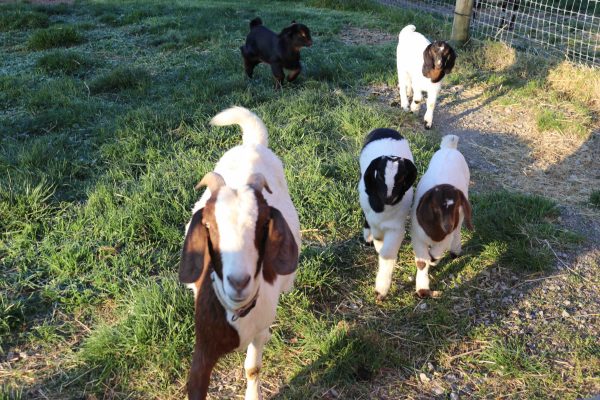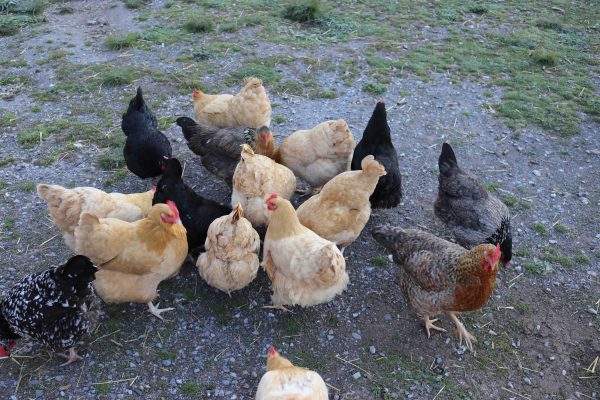 Frush Farm covers 6½ acres and has 20 goats, 50 chickens, one donkey and six cats. There are also extensive gardens where strawberries, raspberries, peas, beans, potatoes and other veggies are grown.
Visitors enter through a rear door marked as the B&B's entrance and step into a three-season room where there's a bench underneath which shoes and boots may be parked. There are also hooks to hang jackets on. But that's getting a little ahead of the story…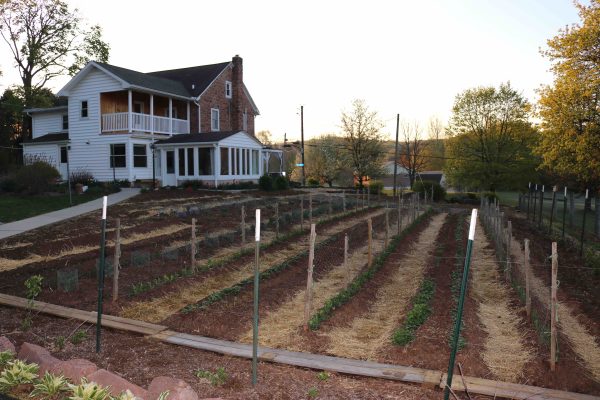 Getting to Frush Farm B&B wasn't enjoyable. The journey took a fatiguing, wind-whipped eight hours from northwest Connecticut. Trip companion and "Always Riding" contributor Paul Siciliano had battled black ice and snow riding down from his home in Vermont. There was even snow on my 1987 BMW R 80 RT when he pulled into the driveway.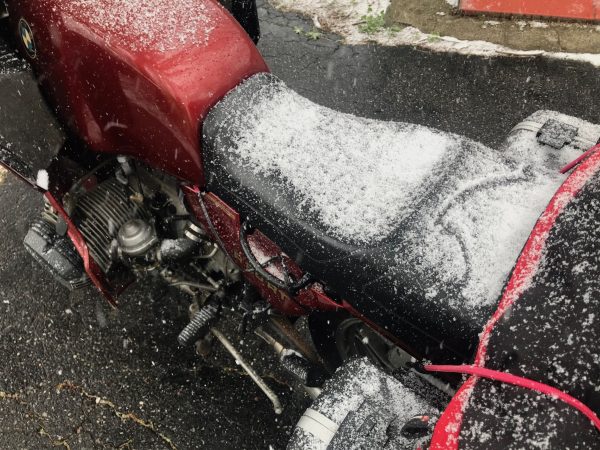 We departed my house at little after 10 a.m. Thursday and were pooped by the time we got to Frush Farm shortly after 6 p.m. We were quickly invited into the living room where a small wood stove was ablaze to help thaw the numb parts of our bodies. We soon learned that Richard and Nancy, who are in their early 70s, are former motorcycle riders. Richard began riding in his youth on a 1948 Harley-Davidson "Flathead." Nancy took up riding at 55 and had a Suzuki Marauder.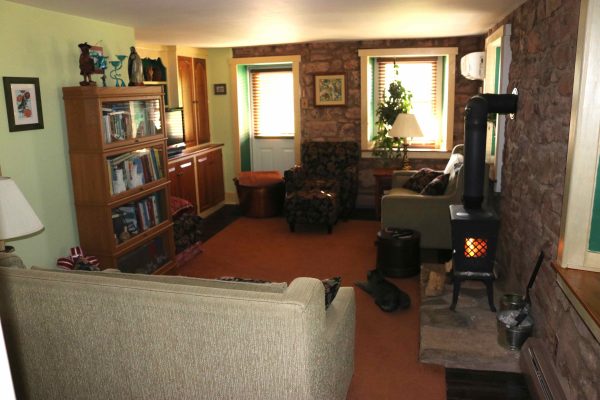 They've both quit riding but still love to talk about it. As we were chatting, two other guests returned from their day out and about. It was a French couple; she was from Paris and he was from Marseille and is currently attached to the French embassy in Washington, D.C.
Even A Lift For Takeout…
By this time, Paul and I were in need of dinner and a nearby Italian restaurant was suggested. Richard offered a lift to pick up a takeout order. It was while eating at the kitchen table that one of the cats took a hankering to Paul, showing determination in sniffing his chicken wings before settling down for a belly rub.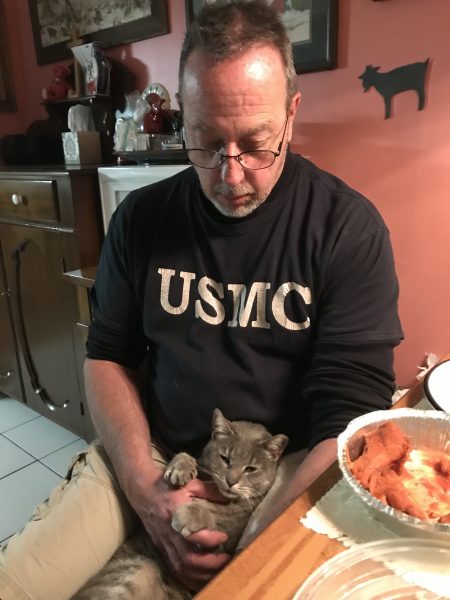 Bedtime came quickly and so did the morning light on Friday. Richard allowed me to accompany him to the barn where he fed the goats and released the chickens from their coop. He tried in vain to get the donkey to stop grazing in the field and come over and greet us.
By the time we returned to the farmhouse, Nancy had breakfast nearly prepared – a mushroom and spinach quiche. It was joined by a side of roasted vegetables that included sliced brussels sprouts, beets, carrots, potatoes and sunchokes.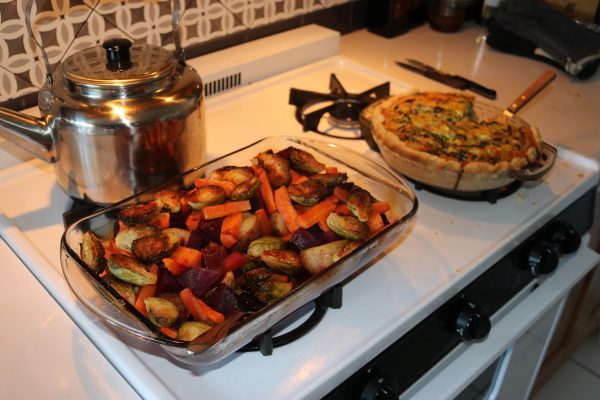 The B&B's routine is that coffee's ready at 7:30 a.m. with breakfast served promptly at 8 a.m. On the table in the dining room were two other drink choices – apple juice or cranberry and banana kefir made with goat milk. Not only was breakfast delicious but it was also educational. I'd never had sunchokes or kefir before. A sunchoke is a tubular-shaped root vegetable, while kefir is a fermented milk drink similar to thin yogurt and is a probiotic.
Over a socially-distanced breakfast, we chatted with the French couple about football (the kind that we call soccer). After that, it was off to the motorcycle show.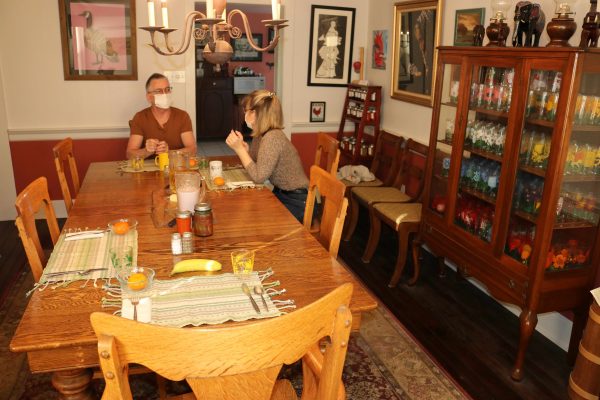 What makes B&Bs so enjoyable, besides the usual friendliness of the proprietors, is their refreshing quirkiness. Frush Farm B&B didn't disappoint. The stone exterior walls of the farmhouse are two feet thick, which makes for exceptionally wide window sills. In my second floor room ($85 per night), which featured twin beds, the sill was a perfect place to set my phone, tablet and eyeglasses before turning off the light.
A Not Uncommon B&B Quirk…
As is sometimes the case in a B&B, the bathroom was separate from the bedroom. Here it was down one flight of narrow stairs. In escorting us to our rooms, Nancy had instructed that the best way to descend the stairs was sideways with one hand firmly grasping the bannister. Paul stayed in a suite ($135 per night but reduced to $115 because we booked two rooms) that had a bathroom.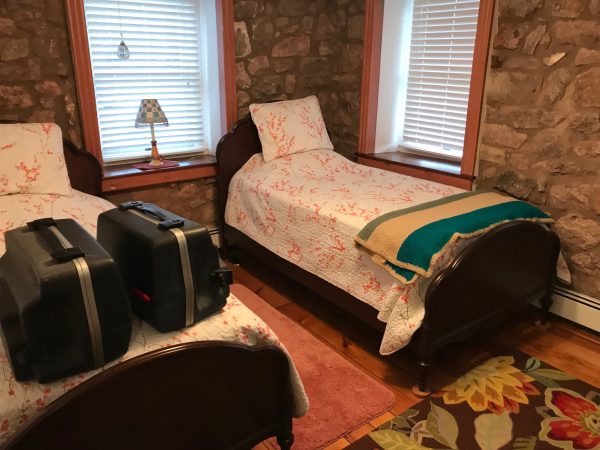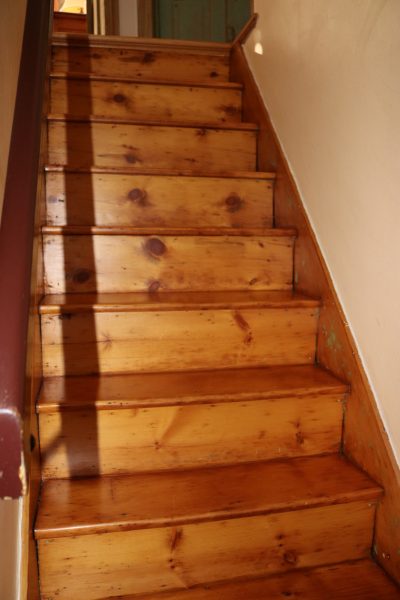 Breakfast on our second morning was equally tasty. This time it included peach kefir.
Over pre-breakfast coffee in the kitchen, another of the farm cats took a liking to Paul, leaping up on his shoulders for a place to perch. A guest certainly doesn't get that kind of affection at a Rodeway Inn or Econo Lodge.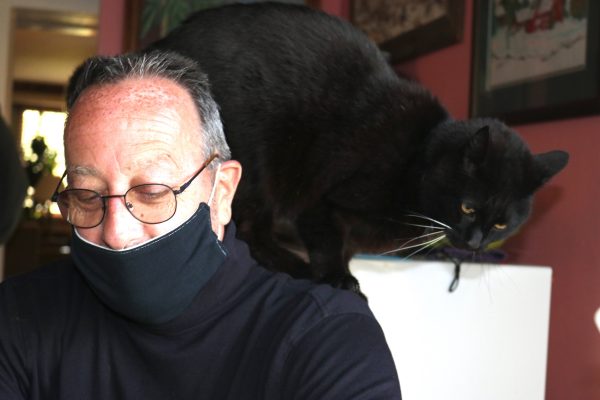 What's most amazing about Richard and Nancy is their energy. They're always on the go. Richard is a musician and took time to show off his music room tucked behind the stairs that has numerous guitars.
In addition to the rooms in the house, there is also a 1,100-square-foot studio apartment ($200 per night) suitable for a family above the detached garage where we stored our bikes on the first night of our stay.
Heading For Home…
As we prepared to return home on Saturday morning, Richard was on his way to split wood. He already done the daily chores. Nancy, meanwhile, had already tidied up the kitchen and dining room after breakfast. Before we left, she insisted that we pose for a picture.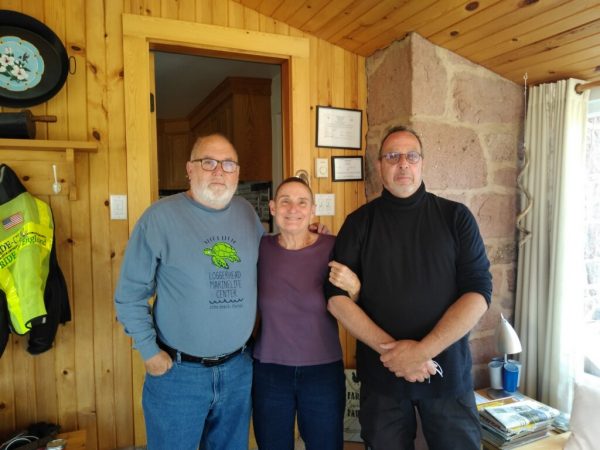 She also insisted that we text when we got back to New England to let her know that we'd made it safely. The ride home was uneventful, except for missing an exit on I-80 that perhaps added an hour or more to the journey. The ride time home was seven hours.
Frush Farm was a half-hour away from the Oley show, but the experience of staying there was worth the extra ride time even on a slab. It's a gem.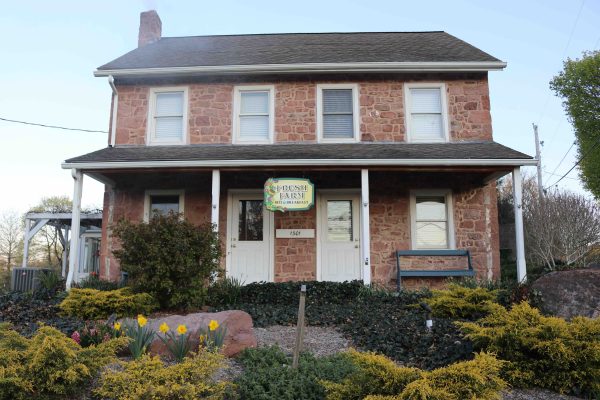 Hello! If you enjoyed this story, please share it with other riders by clicking on the social media buttons below.