WORCESTER, MA – The artist who painted the Harley-Davidson mural on the Miss Worcester Diner here – a mural that the motorcycle company now wants removed – said this afternoon that he and diner owner Kim Kniskern are enjoying the publicity and plan to fight Harley-Davidson's trademark infringement claim.
"This is a classic David and Goliath story," proclaimed Tony Freitas, who said in a short telephone interview that Harley-Davidson's request that the mural be removed is "kind of petty."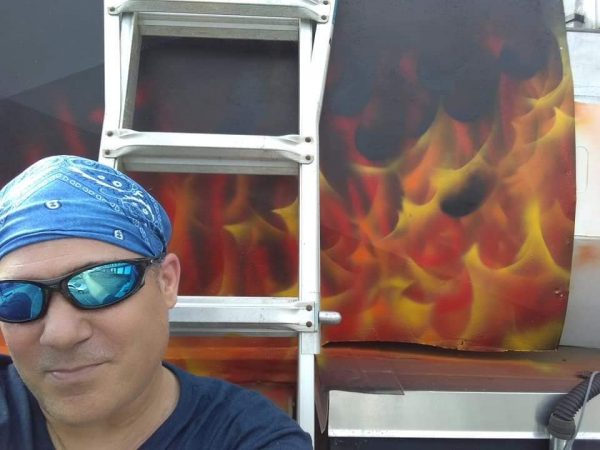 Freitas said his and Kniskern's goal is to find a loophole that will enable the mural to remain in place. "We think we have a good chance. We're going to fight to the end," he said.
On Thursday, Kniskern received the letter from Harley-Davidson that said, "While Harley-Davidson appreciates your enthusiasm for the brand, I hope you can understand that we must be diligent in protecting our trademark rights, including the policing of unauthorized use."
Freitas painted the mural showing Harley-Davidson's bar and shield logo resting on a bed of flames on an air conditioning duct above the diner's entrance in the summer of 2018.
"I was excited to do it. I'm an artist. I was excited to do something cool like that," said Freitas, who described himself as "a rebel, a rogue artist."
Freitas said he has done other exterior artwork at the diner based on vintage art found on the eatery's menu. He recalled that Kniskern came up with the design for the Harley-Davidson mural to "cover up an eyesore" (the ductwork) and as "a tribute to something near and dear to them" – Harley-Davidson motorcycles.
While Freitas said he doesn't ride, he said many of his friends do, including Kniskern. He's hoping that a waiver in this case might somehow be granted. "She's more heartbroken than anything," Freitas said of Kniskern's reaction to the letter. "I thought it was kind of petty."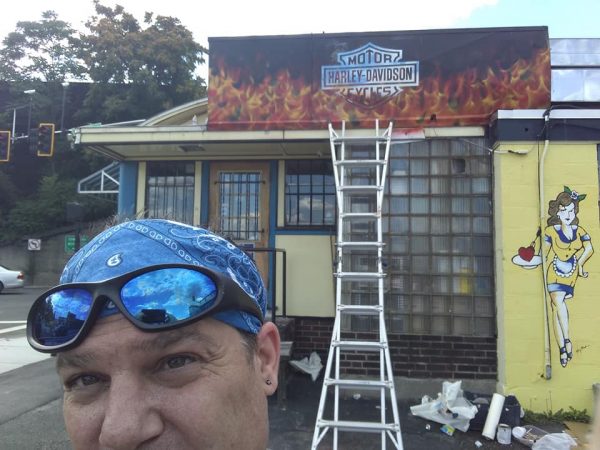 Like Kniskern, Freitas said he is upset about the person who "ratted out" the diner by alerting Harley-Davidson to the existence of the mural, which has become something of a local landmark.
For now, as public awareness about the situation grows, Freitas said Kniskern's plan at the moment is to leave the mural as it is. "She's waiting it out, talking to lawyers, riding the publicity wave," he said.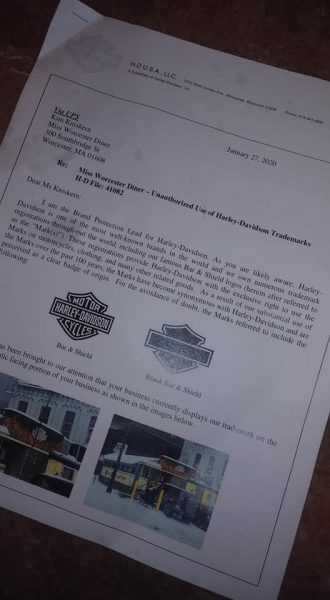 Since the story broke yesterday, the Miss Worcester Diner has received much publicity. The Worcester Heritage Society started an online petition in support of the diner and the mural – original story here – and as of 3 p.m. today more than 2,825 people have signed it.
RIDE-CT & RIDE-New England emailed Harley-Davidson's public relations department seeking further comment beyond the contents of the letter sent to Kniskern and asking whether a workable solution might be found. "Unfortunately, since the whole situation is a legal matter, we are not allowed to comment," replied Jennifer Hoyer.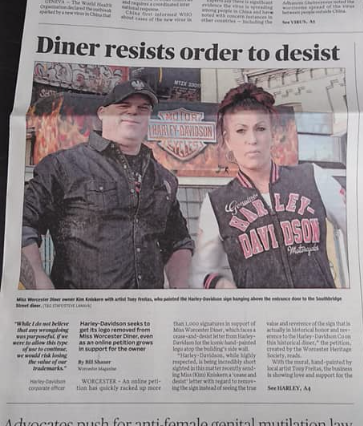 (Updated at 9:05 p,m.)