WARWICK, MA – An Easter crash involving a member of small group of riders just south of the Massachusetts/New Hampshire border provides of a reminder for motorcyclists to always be on the lookout for road hazards. More importantly, it rams home the need for everyone else to be vigilant in making sure their detritus doesn't end up on the roadway.
Sunday's accident was caused by wood chips, but it just as easily could have been the result of someone blowing grass clippings on to the pavement.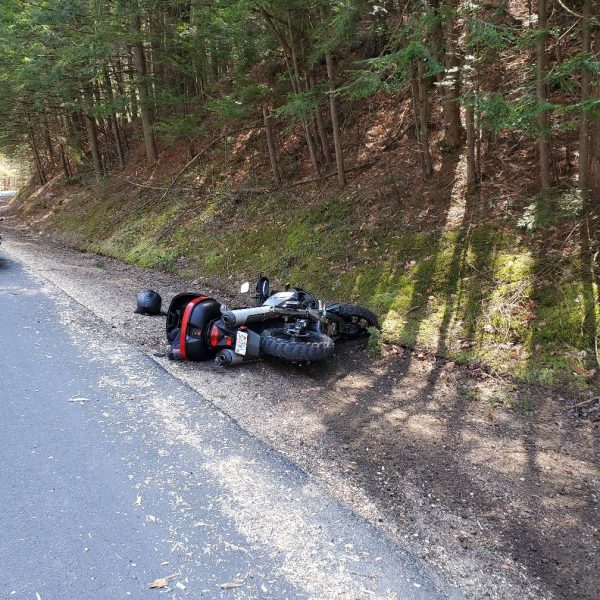 Tom Moran of Fitzwilliam, NH was the leading the group when a trailing rider on a "very mint" 2008 Suzuki V-Strom "hit a bunch of wood chips that spilled onto the road from an overloaded truck or trailer bed." The rider "went down sliding off the side of the road."
Moran, who posted what happened on the Facebook page of New England Riders, explained that the accident occurred on a curve and that the group was going "maybe 30 tops." The rider who went down, Zachary Punch, also of Fitzwilliam, wasn't seriously injured.
"He's sore today and heading to the V.A. (hospital) to be checked," Moran reported, adding that the bike and the rider's helmet "received some good scratches."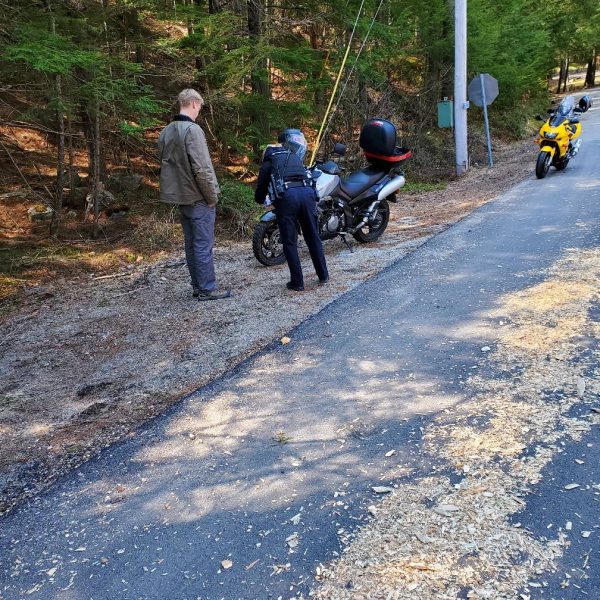 Reached this morning by RIDE-CT & RIDE-New England, Moran explained what happened more fully. He said he was coming out the corner when his friend went down and reported that he wasn't able to warn those behind him of the hazard. "I just didn't have the time," he said.
First responders and police responded to the scene and police are investigating. "It's amazing how fast the first responders got there," said Moran, who added that he traced the line of wood chips back to a state park. "I could see they had been cutting and chipping. They probably didn't know they had dumped some out."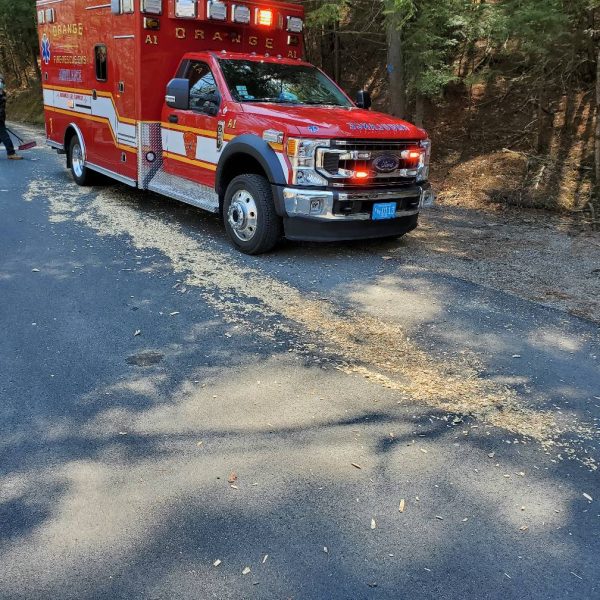 The Easter crash provides some reminders for all riders. "Wear your protective gear. Be alert at all times," said Moran. "You never know what's going to be ahead of you. Look ahead as much as possible."
It also provides an alert for all others that anything on the road surface can be especially hazardous for motorcyclists.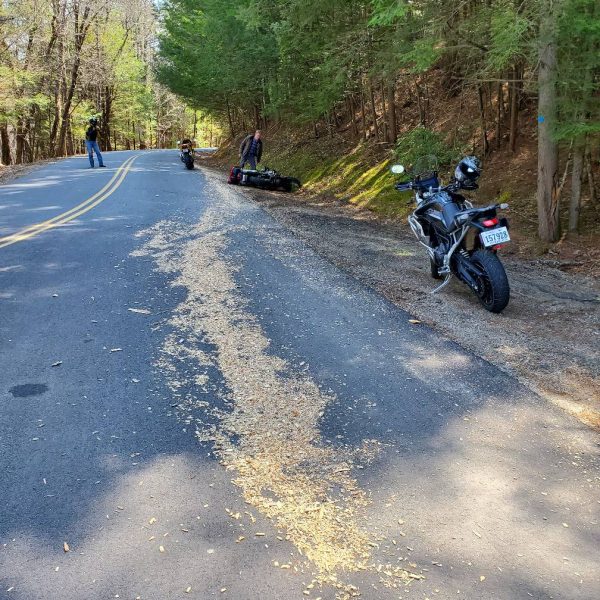 Hello! If you found this post useful, please share it with other riders by clicking on the social media buttons below.