HUNTNGTON, MA – There's nothing wrong with a little restraint. But the drastic measure that the doctor ordered in mid-July – a severe reduction in carb consumption and no sugar, a diet restricted to fruits, veggies and protein – sure presented a test of willpower during a lunch ride to the Huntington Country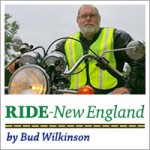 Store in Huntington, MA last month.
That meant no sampling of the store's signature "Wrapple" pastries and no stockpiling of double pepperoni cheese twists for later enjoyment. Fortunately, self-control wasn't required for the trip itself, and the route there covered some curvaceous, roller-coaster roads that allowed for spirited riding.
Most surprising was just how close the Huntington Country Store is – just 37.5 miles from the green in Winsted. Heading north on Route 8 with two friends that day, we ducked into the parking lot for the boat ramp at Colebrook reservoir and accessed the original Route 8, riding north into Massachusetts on what can be a submerged roadway when the water level is higher. (See previous story.)
Getting back on the main highway, we rode the twisting road north from New Boston to almost Otis, turning right on Reservoir Road and heading uphill to Otis Reservoir. At the north end of the reservoir, Reservoir Road turns to the right and runs alongside the water. It was a hot day and a quick dip would have been nice.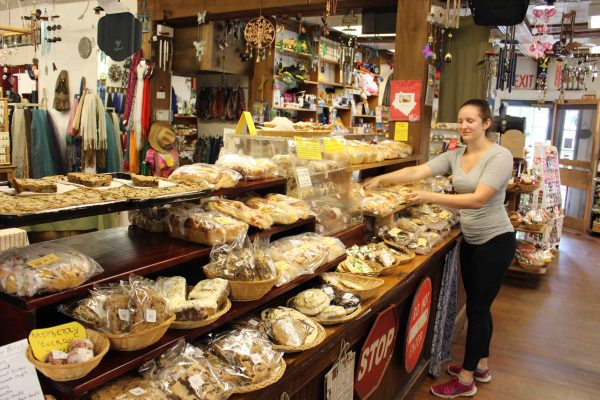 Reservoir Road dead ends into Route 23. We turned right and proceeded to Blandford, turning left on Russell Stage Road and going four-plus miles until the road dead ended at Route 20 by the state police barracks in Russell. From there it, we took a left, rode short distance into Huntington, and turned right on Route 112.
It was abut 11:30 a.m. when we reached the Huntington Country Store. Becky Butler, who owns the place with husband Randy, was in the kitchen baking. Shelves adjacent to the deli area in the store were filled with her creations, including Wrapples of hot fudge, apple, white chocolate raspberry, raspberry peach and caramel apple.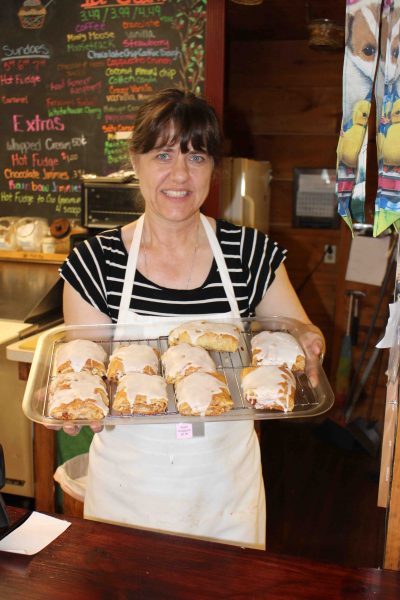 A Wrapple is a stuffed pastry. "My mother made the original Wrapple, and then we came up with lots of fillings," Butler later explained, adding that her mother also devised a cheddar cheese dough that requires 1.5 pounds of shredded cheddar for each batch that produces 10 loaves. "When you toast it, it brings out the cheese flavor," she said.
Butler arises early each morning to begin baking at 5 a.m. and has one to two baker assistants. What really caught my eye, but didn't cause me to produce my wallet because of the doctor's strict order, were the bread twists: loaded pizza, double pepperoni cheese, dilly cheese and cheddary. My stomach murmured in complaint and protest.
The large Georgian colonial that houses the Huntington Country Store dates back to the late 1700s. Originally a tavern, it has served as a dairy farm, restaurant, and bed and breakfast over the centuries. Hidden behind shelving are eight fireplaces.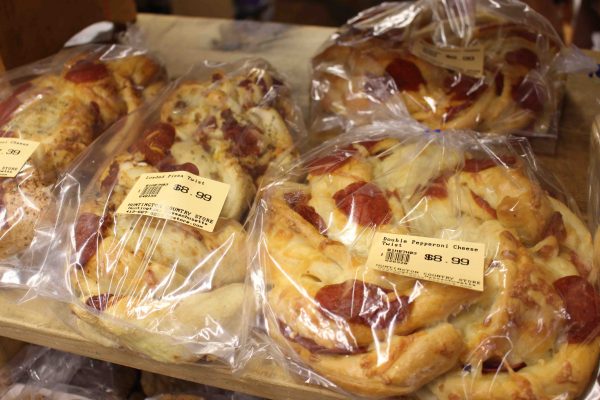 Butler said the store is "five rooms filled to the ceilings." Beside pastry, grinders, wraps, salads, and ice cream (as well as homemade soups in the fall and winter) sold in the deli area, the store has all sorts of dry goods and foodstuffs. There's branded sweet n' hot pepper relish, strawberry rhubarb jam, spices, and candy.
There are also kitchen gadgets, candles, wind chimes, greeting cards, dish towels and incense. One room is devoted solely to Christmas decorations. There are even carved wooden motorcycles for sale.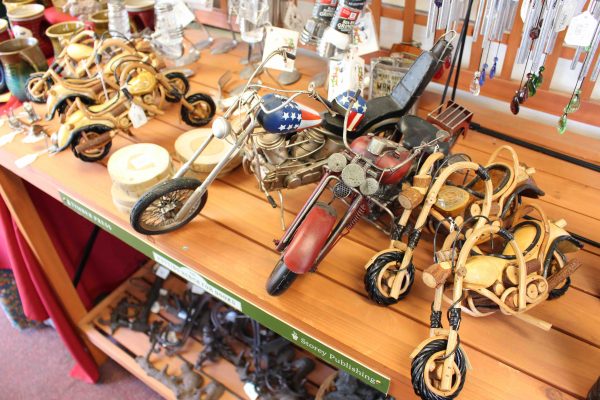 The Butlers opened the Huntington Country Store in 1994 and live above it. They work seven days a week, which certainly requires stamina and a sunny outlook. "It's a long hustle," Butler said, adding that the customers make it worthwhile. "Most people are happy because they're coming here for a treat," she said.
While "it's still fun," Butler said the couple are quietly looking to sell the store, presumably to someone who can preserve the ambiance and the baked goods.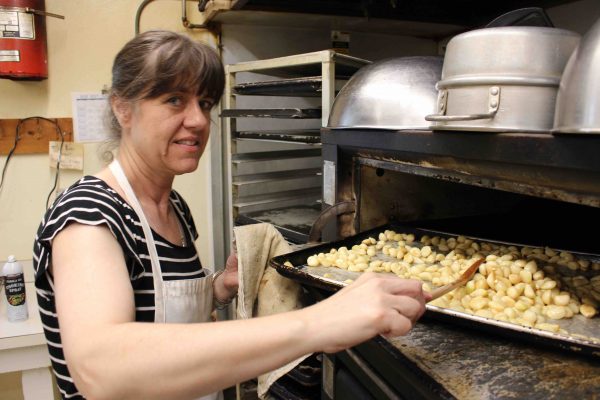 After having lunch – a green salad with a scoop of chicken salad for me – we prepared to retrace our ride. By then, Becky was back in this kitchen roasting garlic. Inside an oven was a full size baker's sheet crammed with garlic cloves that had been drizzled with soybean oil. She was roasting them at 350 degrees for a half-hour (stirring every 10 minutes) so they could be crushed and added to pizza bread.
On the way home, we once again detoured off of Route 8, this time just south of New Boston, to ride the original Route 8 again. Blue herons, ducks and geese could be seen along the way as we kept alert to avoid potholes and sand.
Being relatively close, the Huntington Country Store warrants another visit. Next time, forget the willpower. Cheating once in a great, great while can't hurt, can it?