NORTH HAMPTON, NH – Harley-Davidson's new 2021 Pan America 1250 and Pan America 1250 Special seem to be all anyone in the ADV community can talk about these days – and for good reason. The Motor Company has broken new ground with this ground-up model.
Spoiler alert: Harley-Davidson has done a damn fine job.
I've been riding for more than 20 years and have put something north of 300,000 miles on a ton of different motorcycles. My current stable contains a 2013 Yamaha Super Ténéré, a third-generation Suzuki SV650, a BMW R 1100 S and a Yamaha WR250X.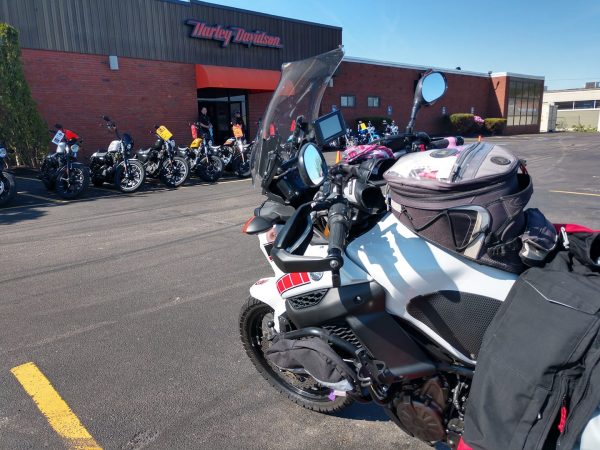 I've ridden lots of adventure, sport and touring models. I owned, loved and rode the hell out of an '08 Kawasaki KLR650 for a decade. I've also ridden lots of BMW GSes and RTs, every flavor of Triumph Tiger, and many sizes and generations of Suzuki V-Strom and Kawasaki Versys models. Even a Moto Guzzi Stelvio.
You get the idea. I have context – unlike the employees at the H-D dealerships that I've visited. They have loads of experience on Harleys (well, most of them), but no real ability to compare the Pan America with the competition in its segment.
Dealer Experiences Differed
When I signed up a while back for the Pan America Online Reveal, I supplied my contact info and that's when the phone calls started. Two H-D dealerships in my area got in touch and wanted me to come in for a test ride. I told them both I was interested in the Pan Am and said to call me when you get one in: One listened and the other didn't.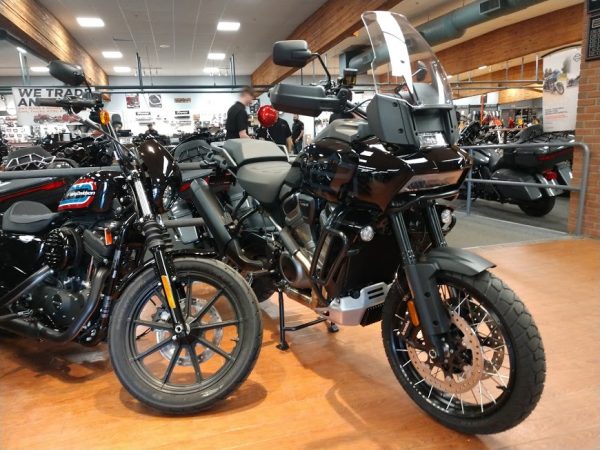 I live in southern New Hampshire. Without calling either of these places out by name, I'll say Dealer A rhymes with Brie Toast and Dealer B rhymes with Ranch Tester. Dealer B called me first, and called me relentlessly. I made a test-ride appointment for Saturday.
Dealer A honored my request and called me but once. It was about a day later and I made another test ride appointment for one day earlier on Friday. I figured if my opinion was solidified, I'd call off Dealer B. It wasn't, and I didn't.
What A Difference A Dealer Makes
The dealership experiences were about as disparate as one could imagine.
At Dealer A, they could not have been nicer. Everyone was stoked about the Pan Am and very interested in my opinion about the bike. They all admitted that they had very little experience with the competition in this segment and looked forward to feedback. Earlier, a dealer-only demo truck had brought a bunch of Pan Ams and a bunch of competitors' models for the sales team to ride so that they could have informed conversations with customers.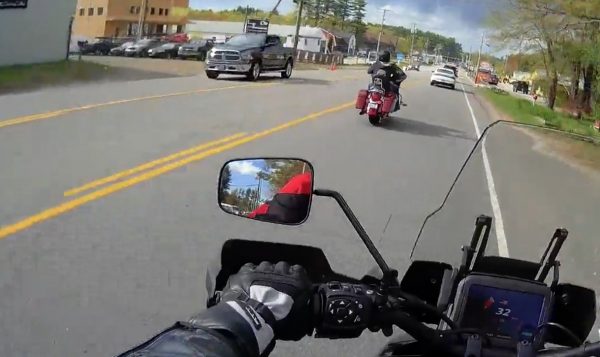 For the demo ride, I had an escort on a traditional Harley-Davidson touring bike. This was a new experience. At other demo rides, I've either ridden with a group or had a salesperson toss me the key and say, "It's got a full tank, have fun, try not to get pulled over!"
Prior to departing, another salesperson gave me the rundown on the bike's functionality (So. Many. Buttons.) The bike's mode was set to "Road" and the seat in the stock low position. Off we went!
And How Was The Ride?
The ride lasted about 10 minutes and we didn't roll over any dirt (Can you blame them?), allowing me to only get a general feel for the Pan Am. The bike wasn't equipped with the Adaptive Ride Height feature which lowers the bike's height when it comes to a stop, but I have a 36" inseam and was comfortably flat-footed on it. Shorter-legged folks might find it a stretch.
Firing up this bike wasn't like any other Harley I'd ever ridden – or heard, for that matter. This engine was smooth. Super smooth. V-Strom smooth. You know it's a V-Twin, but if the bike didn't have a badge, I'd never have pegged it as coming from the bar and shield brand upon revving the engine at a standstill or under power.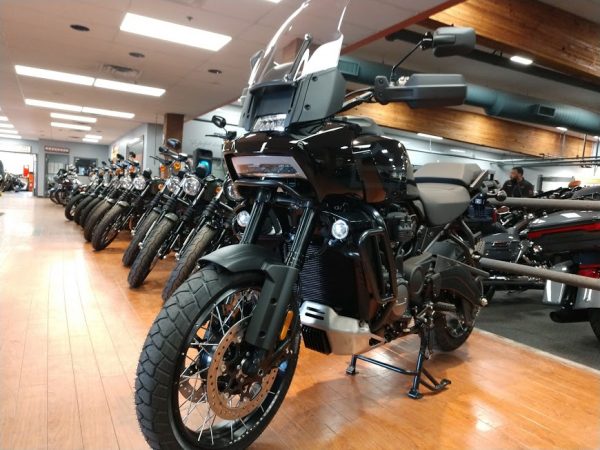 The seat is one of those Dealer Floor Plush jobs. You sink into it and it's super comfy on the showroom floor, but after any length of ride that thing gets all the way up into your business, and not in a good way.
No worries, every single one of my bikes has received an aftermarket seat, and this one would be no different. Wait, can you even get an aftermarket seat for this bike yet? The stock luggage for it isn't even available.
Was It Too Heavy To Handle?
Picking the bike up off the side stand was an eye-opener. It carries its not-insignificant weight very low, and easily felt 100 pounds lighter than my Ténére. To be fair, with the top box fitted and all the crash protection and other stuff I've bolted to that bike, it might be.
Depending on the model, Pan Ams come ready to ride on either side of 550 pounds, which is pretty typical big ADV bike territory. The Harley's weight is well-balanced front-to-back, too, and much less nose-heavy than my Yamaha.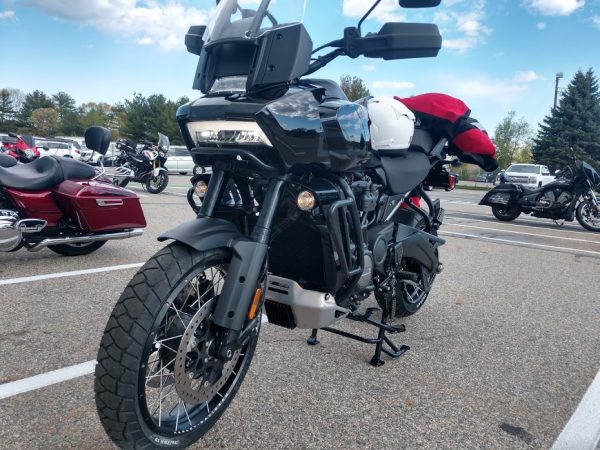 The gearbox is invisible. Definitely not a typical Harley clunker. My shift into first gear was not broadcast ("Ka-Bang!") to the entire parking lot. In fact, the transmission on this bike was perfectly obedient and seamless, never skipped a beat or hit a false neutral. It slid easily from one gear to the next, and the gear indicator on the TFT dash was a welcome addition on an unfamiliar motorcycle.
A Flashy Dash
And let's talk about that TFT dash – it's a bit on the busy side for my tastes, but delivers a whole lot of information, is quite easy to read even at a quick glance. Props to the UI designer there.
Once under way, I noted the pegs were on the high side for my comfort, with the seat-to-peg distance slightly cramped. The riding position is sit-up-and-beg flat and really locks you in. It lets you keep a very light touch on the bars and makes the bike feel very nimble. Hard braking and hard acceleration are a breeze.
Turn-in is absolutely neutral. The bike neither wants to fall too quickly into a turn nor fight you out of it.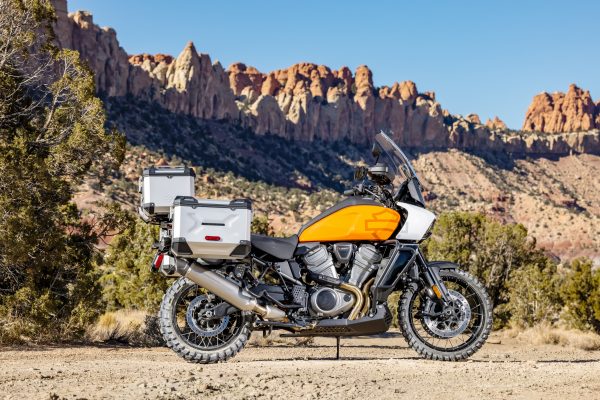 Throttle response is similarly well-dialed. The fueling from just off idle all the way through the rev range is consistent and predictable, not snatchy or jumpy. The power is absolutely linear. From rolling through traffic to really dropping your right wrist, you always get exactly what you ask for, no unexpected power drops or surges.
An Issue With The Power
But – and this is a big but – let's talk about that power. I'd read that this machine has 150 horses at its disposal, but it felt a bit like half of them were standing around leaning on their shovels in Road mode. Couple that with the super-smooth engine and, honestly, the bike was a bit of a bore.
I went out wanting the bike to really wow me, and came back thinking Harley had built a perfectly competent ADV bike, but that they'd somehow managed to produce a mid-aughts V-Strom 1000 with a fancy dashboard.
Back at the dealer I was disappointed to be disappointed, but all the sales folks were lovely, there was zero pressure to purchase either before or after the test ride.
Coming Monday in Part Two: Kate Murphy discovers the Pan Am's true character and has a very different dealer experience.
(Photos by Kate Murphy unless otherwise noted)
Updated: Monday, 5/17 at 7:42 a.m.
Hello! If you enjoyed this review, please share it with other riders by clicking on the social media buttons below.