WINGDALE, NY – The smoker is being shut down at a longtime favorite barbecue haunt of riders. "No tears, please," says a message on the website of Big W's Roadside Bar-B-Q announcing that the the place will be closed forever as of 7 tonight.
"It's been such as amazing adventure, and for all of this, we truly thank you," wrote owners Warren and Chris Norstein in announcing the closure of the restaurant at 1475 Route 22.
It was nearly six years ago when RIDE-CT & RIDE-New England wrote about Big W's with Warren noting the heavy toll of working in the food industry. "It's very, very easy to keep going and do more and more," said Norstein. "You have to take a break or you burn yourself out, and everybody around you."
During the good times, the smokers were alway operating at Big W's. Uncooked ribs got delivered roughly every other day; anywhere from 800 to 1,400 pounds at a time. The restaurant's menu includes spareribs, chicken, beef brisket and burnt ends.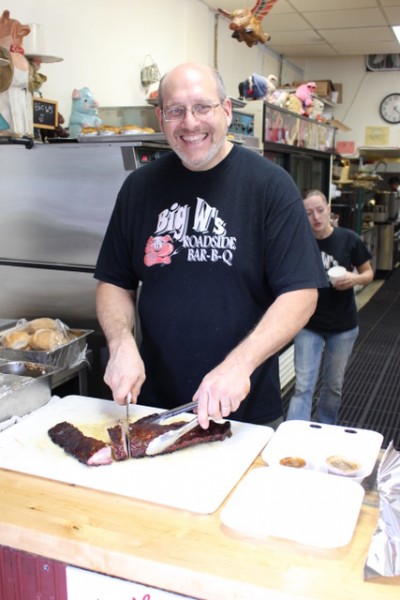 The smokers were fired by shag bark hickory, cherry and two kinds of oak. Norstein combined dry rubs with time and patience to perfect his meats. Chicken took upwards of six hours to cook, the pork ribs took seven hours and the brisket 17 hours.
Warren got into the rib business in 2003. In 2007, he moved out of the truck and into the storefront.
In reflecting on the operation and life in general, Warren and Chris note on the website, "…sometimes you're lucky enough to have a wonderful time preparing good food for some very good people, for almost 20 years."
Big W's certainly was a popular spot and will be missed by hungry motorcyclists.
Hello! If you enjoyed this story, please share it with other rider, especially BBQ lovers, by clicking on the social media buttons below.