RANDOLPH, NH – A fundraising effort has already begun to help victims of the horrific crash Friday evening involving a 2016 RAM 2500 pickup truck and a group of 10 motorcycles that killed seven people, five of them members of the Jarheads Motorcycle Club.
Meanwhile, authorities have identified the driver of the 2016 Ram 2500 pickup truck that collided with the riders on Route 2.
At a press conference late this afternoon in nearby Lancaster, officials said 23-year-old Volodymyr Zhukovskyy of West Springfield, MA was behind the wheel of the pickup. He was towing a flatbed trailer, and the pickup burst into flames after the crash.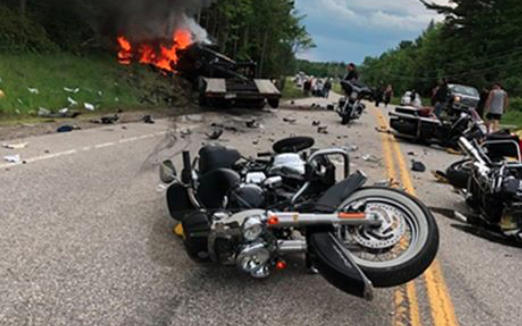 Zhukovskyy was the sole occupant of the truck and survived the accident. He is an employee of Westfield Transport Inc. in Springfield, MA. No charges have been filed and the accident is still under investigation.
The motorcycle group was made up of members of the Massachusetts chapter of Jarheads MC, "a club consisting of active duty and honorably discharged Marines as well as (Fleet Marine Force) corpsmen," according to a GoFundMe page started today by the club. The club has chapters in Massachusetts, New Hampshire and Maine.
The creator of the GoFundMe page, Doug Hayward, reported, "Our pack was struck by an oncoming vehicle and we lost 5 patch holders and 2 supporters." He said, "Jarheads MC was riding to a charity event at the local American Legion (Post #82) in Gorham."
Investigators Seek Help
Investigators issued a plea at the press conference for any witnesses to come forward with information as they try to determine the cause of the accident. They are seeking photos, videos and other info about the crash and those involved.
"This is one of the worst tragic incidents that we have investigated here in the state," New Hampshire State Police Col. Chris Wagner said at the press conference. "It's going to be a very lengthy investigation."
Victims Names Not Released
Autopsies on the victims began Saturday morning. Names of those who died as well as two other people injured in the crash have not been released. Hayward's GoFundMe page noted, "Names and conditions of all will not be shared at this time as we are still being impacted by news as it arrives."
As of 8 p.m. Saturday, 1,876 people had pledged $87,647 for the victims. The fundraising goal is $700,000.
(Update: As of 11 a.m. Sunday, a total of 4,285 people have pledged $207,095.)
Among the agencies investigating the crash is the National Transportation Safety Board. Anyone with information should call NH State Police at 603-271-3636.