CONCORD, NH – The identities of the seven people killed in the horrific crash between a pickup truck and a group of motorcyclists on Friday evening have been released.
Four of the dead were from New Hampshire, two from Massachusetts and one from Rhode Island. Each died as a result of blunt force trauma in the crash on Route 2 in Randolph, NH.
Killed were Daniel Pereira, 58 of Riverside, RI; Joanne and Edward Corr, both 58, of Lakeville, MA; Michael Ferazzi, 62, of Contoocook, NH; Albert Mazza, 59, of Lee, NH; Desma Oakes of Concord, NH; and Aaron Perry, 45, Farmington NH.


In releasing the names and causes of death at a Sunday afternoon news conference, state Deputy Attorney Jane E. Young said, "I don't think any of us can understand how these families are doing. I don't think that the word devastation can begin to describe the pain and the anguish."
The five men who died in the crash were all members of the Jarheads Motorcycle Club. The club draws its membership from Marines and Fleet Marine Force Corpsmen.
Joanne Corr and Oakes were "supporters" of the club. Corr was riding on Edward Corr's motorcycle when the crash occurred, while Oakes was riding on Perry's motorcycle.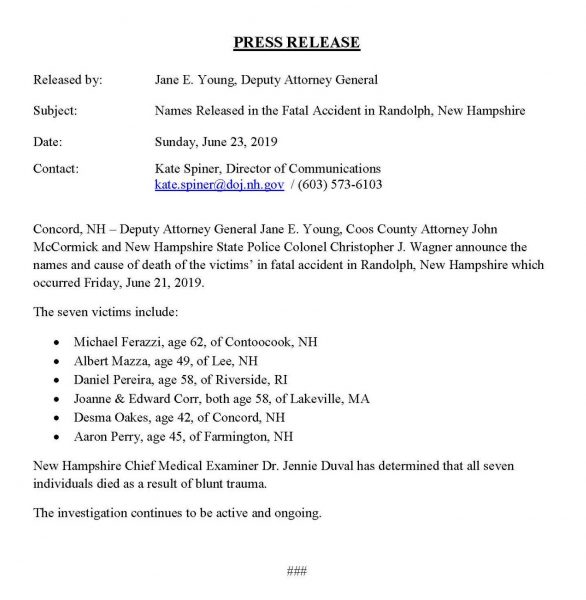 The conditions of two others injured in the crash were also released. Joshua Morin, 45, of Dalton, MA remains hospitalized in stable condition at the Maine Medical Center in Portland, while Steven Lewis, 58, of Brimfield, MA was treated and released from an area hospital.
No Charges Yet
The crash occurred when a 2016 RAM 2500 pickup truck driven by 23-year-old Volodymyr Zhukovskyy of West Springfield, MA collided with the group. Zhukovskyy, an employee of Westfield Transport in Springfield, MA, was alone in the truck and pulling a flatbed trailer when the crash happened.
Zhukovskyy wasn't hospitalized and hadn't been charged as of Sunday night, but the investigation into the accident continues involving state and local police and the National Transportation Safety Board.
"All I can tell you is that it is active and ongoing," said Young. "There are dozens of agents and officers up in the area working every aspect of the case."
GoFundMe Account Increases
As of Monday morning, a GoFundMe page started by the Jarheads MC "to help ease some of the financial burden left behind after this tragic event" has raised $313,816 out of a $700,000 goal since being started Saturday. A total of 6,348 people have donated.
Flags on all public buildings and ground are flying at half-staff from sunrise to sunset in New Hampshire today as directed by Gov. Chris Sununu. "Friday's tragedy has struck our state and our citizens in a profound way," Sununu said.