WALLINGFORD, CT – It's looks like something from a movie set in the old West, but with a modern twist. It's a new (albeit used) hearse just acquired by B.C. Bailey Funeral Home and parked at the end of a driveway at its 273 South Elm St. location.  
"Every time I look out my office window there's one or two cars that have pulled up to the curb or pulled in the driveway," said Matt Bailey, president and funeral director. "They get out. They take their pictures. We've spent a lot of time out here talking to people about it, explaining what it is and what it means and how it's different."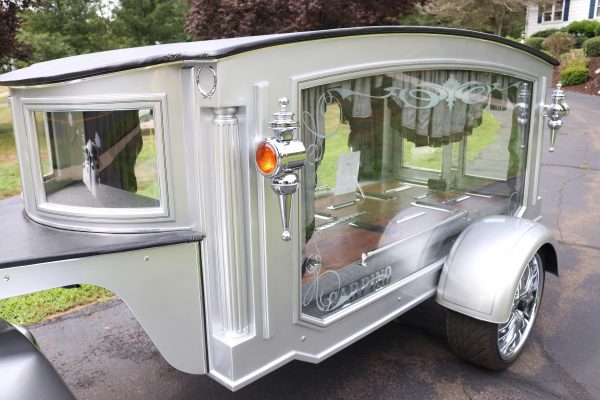 The Tombstone-brand hearse combines a low-mileage, silver 2012 Harley-Davidson trike with a silver glass-enclosed caisson attached to the rear. "I've been a funeral director now for almost 20 years and this is the first occasion or time I've ever had people approaching a hearse with a smile on their face," said Bailey.
Harley-Davidson rider Joe Crebase of Cheshire returned to admire the hearse after spotting it when driving by in his pickup. He declared it to be "tasteful" upon seeing it up close.
"It's a really nice piece of equipment," Crebase said, recalling the horse-drawn hearses seen in movies, "except you got an iron horse now, a steel horse."
The trike set-up was acquired by the funeral home a little more than a week ago from a private seller and isn't registered yet. The used rig has only 1,862 miles on the odometer and cost $50,000.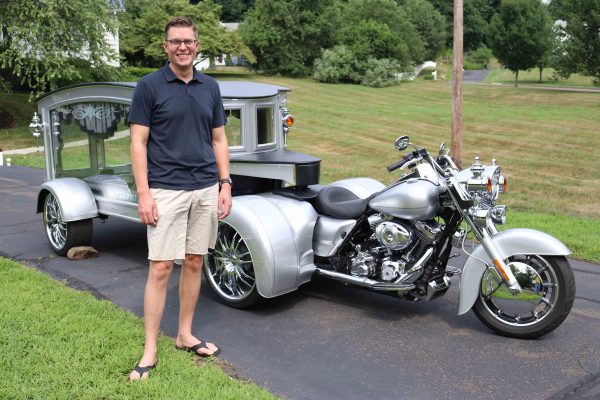 "Is it for everybody? No. We're going to have the option for (customers). We have a Caddy and we have a Harley. They can pick whatever one they want," said Bailey.   
Besides owning B.C. Bailey Funeral Home, Bailey also has two other funeral homes in Connecticut – Waterbury Funeral Home and Carpino Funeral Home in Southbury. The motorcycle hearse will be available at the three locations, with no surcharge for using it over a regular hearse.
Bailey said it will be leased to other funeral homes upon request as well, and that he will likely buy a trailer to transport it long distances. He believes it's the only one in Connecticut and one of only a few in the Northeast.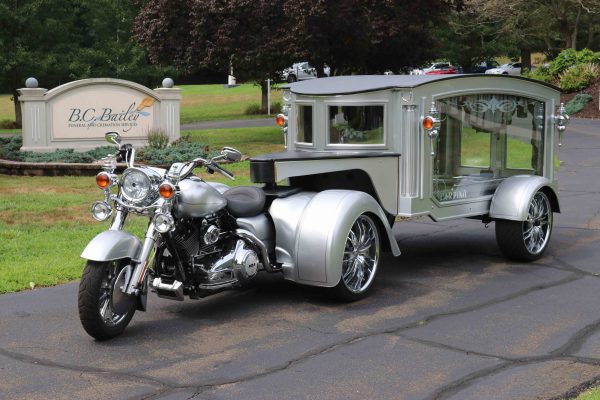 While costly, having an old school Harley-Davidson trike up front instead of another brand of another motorcycle, should allow Bailey's business to use the hearse for many years to come. "This isn't going to be the kind of a thing where 10 years from now someone walks up and says, 'Man, the body style's outdated. It's time to upgrade to a new one,'" he said.
There will be an irony in a deceased Harley-Davidson owner being taken on a final ride behind a Harley-Davidson trike. The motorcycle manufacturer has been experiencing plummeting sales in recent years and the primary reason for the decline in sales is that its core customer base is dying off.
"I've read articles about the business model of Harley-Davidson and how they so branded and immersed themselves within certain generations of Americans," Bailey said. "It led to a lot of success and it's led to a lot of challenges.
Having the Harley-Davidson hearse will enable Bailey's funeral business to stand out. "It allows us to differentiate. It allows people to know when they call upon one of our firms that we do things differently; that we invest in facilities and staff and equipment in a different way," he said.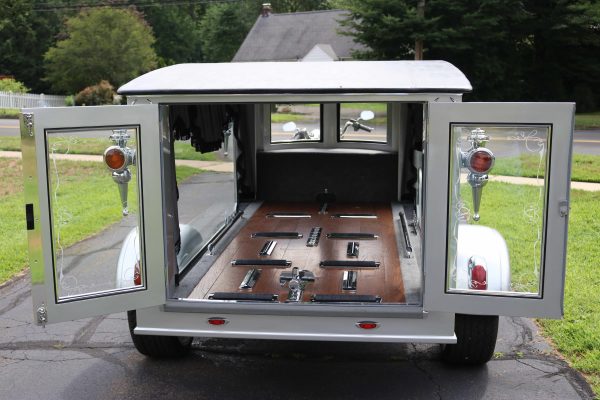 Hello! If you enjoyed this post, please share it by clicking on the social media buttons below.