CAMBRIDGE, MA – Remember years ago how odd it seemed when cigarette packs got labels warning about the health hazards of smoking? Well, all gas pumps here will soon be displaying similar cautionary stickers that warn of the "major consequences on human health" caused by the use of gas, diesel and ethanol.
The bright yellow stickers, which have just begun appearing, are a result of a city ordinance passed back in January. They are designed to remind operators that internal combustion engines contribute mightily to climate change.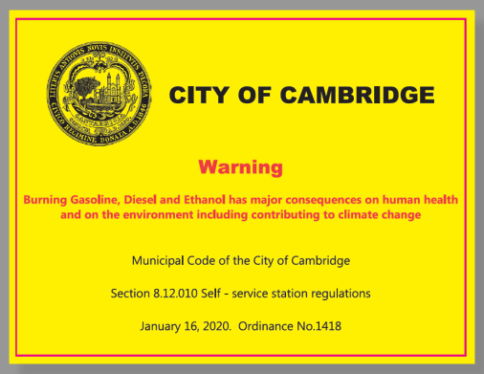 Cambridge, home of Harvard and MIT, is the first city in the U.S. to place warning stickers on gas pumps. While no other U.S. city has warning stickers, gas pumps in Sweden do have similar ones.
The city told "The Guardian" newspaper this week that it is awaiting for stickers to arrive from the printers so that all pumps can be tagged.
"The city of Cambridge is working hard with our community to fight climate change. The gas pump stickers will remind drivers to think about climate change and hopefully consider non-polluting options," a city spokesman told "The Guardian."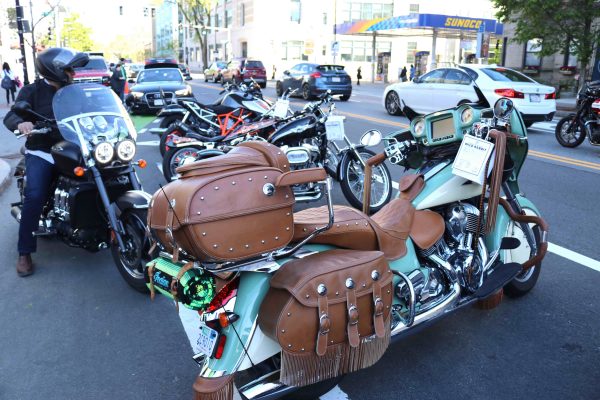 Transportation, mostly in the form of cars and trucks, is responsible for more than 25 percent of U.S. emissions.
Environmentalists Wanted Sterner Warning
The wording on the label is tamer than what environmental activists lobbied for.
Jamie Brooks of the campaign group Beyond the Pump was quoted by "The Guardian" as saying he pushed for a sterner warning text: "Continuing to burn gasoline (or diesel) worsens the climate emergency, with major projected impacts on your health increasing over time."
While some people still smoke, warning labels on cigarette packs certainly helped make everyone more aware of the impact of smoking and shifted public opinion. If warning stickers on gas pumps become more universal, public opinion on petrol use might similarly be influenced.
Brooks explained, "Labels are designed to create a feeling like someone has broken a rule or violated a law. This feeling, along with increased social pressure, like smoking labels, can translate to a collapse in trust for the current system, thereby increasing the public appetite for alternatives."
Hello! If you found this story interesting, please share it with other riders by clicking on the social media buttons below.