(Updated at 2:56 p.m.)
NEW HYDE PARK, NY – The viability of Gold Coast Motorsports has been in doubt for years given its less than ideal store location and its dwindling lineup of brands, but it now appears that the high-end dealership on Long Island could be teetering on closure unless a buyer miraculously surfaces. The signs don't look good.
Its exit would leave BMW without a dealership from the Hudson River east to the far tip of Long Island, an area that has a population of more than 11 million. Gold Coast Motorsports is located in Nassau County and on the border of Queens.
While the store's website still shows it to be a dealer of BMW and Ducati motorcycles, its current inventory suggests otherwise. There are no new Ducati models on the showroom floor and few new BMWs, according to a recent visitor.
RIDE-CT & RIDE-New England hears that that BMW has halted the shipment of fresh models. Ducati reportedly did so a while back and yanked all existing new models, dispersing them to other Ducati dealers. Inquiries have been sent to BMW and Ducati. Only Ducati has responded and with a "no comment."
Gold Coast Motorsports previously sold KTM, Triumph and MV Agusta motorcycles, in addition to BMW and Ducati, but surrendered those lines. It also once had Aprilia, Vespa and PIaggio.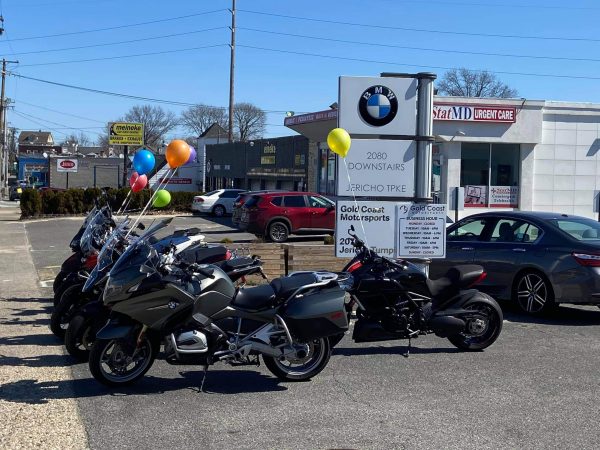 The store appears to have only a handful of employees and there's no sign of on-site ownership or management in key positions. The absence of qualified managers would presumably put Gold Coast Motorsports in violation of its franchise agreements with the two European brands.
Both BMW and Ducati are also said to have stopped providing parts to the store, which is crippling the service department. The store is nonetheless still listed on both manufacturers' websites.
Gold Coast's lack of personnel and attentiveness to detail can be seen in its faltering social media presence. Its most recent Facebook post is more than a year old, while its Twitter feed shows but three tweets, all from October 2014 when it joined.
The store's most recent Instagram post is 35 weeks old, although there is an 11-week-old comment from instructor_turbo who notes that Gold Coast Motorsports is no longer servicing Ducatis and thanks them "for the heads up" to that fact.
Without new product or the ability to get parts, combined with insufficient staffing and a diminished service department, the future of Gold Coast Motorsports must be viewed as extremely tenuous at best.
The loss of Gold Coast Motorsports, combined with the shutdown of the BMW of Manhattan Motorrad store back in December, would leave the New York City market and Long Island seemingly abandoned by the German brand.
Indeed, it's underserved now with Gold Coast's apparent dire situation. BMW owners must either patronize Max BMW in New Milford, CT or Cross Country BMW in Hasbrouck Heights, NJ.
New York City is an expensive market to operate in, but how a brand as affluent and successful as BMW can fail to serve riders in the nation's top city and not conveniently offer products to millions of potential customers is unconscionable.
White Plains Dealer Adds Royal Enfield
Indian Motorcycle of White Plains is adding a second line to its showroom, Royal Enfield. The addition gives the store some middleweight models to sell in addition to the larger cruiser models offered by Indian. It also raise the profile of the brand from India here in the Northeast.
"Keep your eyes peeled for our official launch of these fun and awesome bikes," the dealership said in a recent Facebook post.
Hello! If you enjoyed these stories, please share them with other riders by clicking on the social media buttons below.