BETHEL, CT – Hamlin Cycles is now selling Aprilia motorcycles as well as those made by Moto Guzzi after purchasing the franchise from the existing dealer, MotoFIT in Danbury. Hamlin Cycles owner Jim Hamlin handed over a check Wednesday afternoon and came back to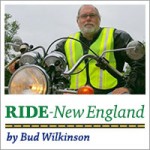 his shop with Aprilia parts, tools and signage, along with saddlebags to a few models. Some 15 Aprilia bikes will be transported soon from MotoFIT to Hamlin Cycles.
"The buy-sell agreement is signed," Hamlin said this morning. He recalled that a year and half ago MotoFIT owner Michael O'Mahony "called me to see if I wanted to buy the franchise. I'd always wanted it as a complement to Moto Guzzi; same parent company. The two bike brands really don't overlap one another."
Aprilia specializes in sport bikes while Moto Guzzi offers primarily standards and cruisers. Both lines are made in Italy.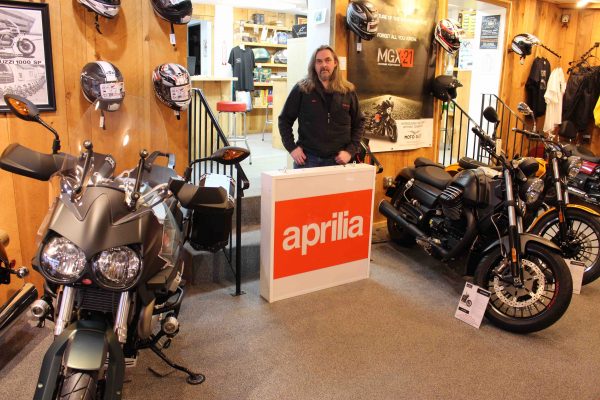 Hamlin projected that the transfer of bikes "will happen next week" once Piaggio releases MotoFIT from its obligation and gets Hamlin Cycles' paperwork completed.
Hamlin sees Aprilia as substantially benefitting his store. "My feeling is that it is probably going to add a couple hundred-thousand bucks to my revenue. It should be a nice shot in the arm," he said, referring to increased income not only from new bike sales but also from service.
Hamlin said he has already taken orders for two of the Aprilias that are coming over from MotoFIT. The bikes from MotoFIT are leftovers from the 2013 through 2017 model years, which Hamlin said will be discounted.
Hamlin Cycles is located at 44 Grassy Plain St. (Route 53) and is a compact, multi-story operation. To accommodate the Aprilia line, Hamlin said he may have to do some adjusting. "What I'll have to do is not offer winter storage anymore after this year. It will probably give me the space I need," he said.
MotoFIT continues to sell Ducati, KTM and Husqvarna motorcycles and Kymco scooters. However, a listing on the real estate website BizBuySell lists the dealership at 10 Mill Plain Road as being for sale for $1,195,000.