MADISON COUNTY, FL – An Indian demo truck carrying 15 motorcycles that was on its way to a dealership in Tallahassee, FL went up n flames late Thursday morning when a tire blew out and sparks started a fire. News reports placed the estimated damage at $100,000 or more as every bike sustained some damage. Some were a total loss, according to WTXI-TV.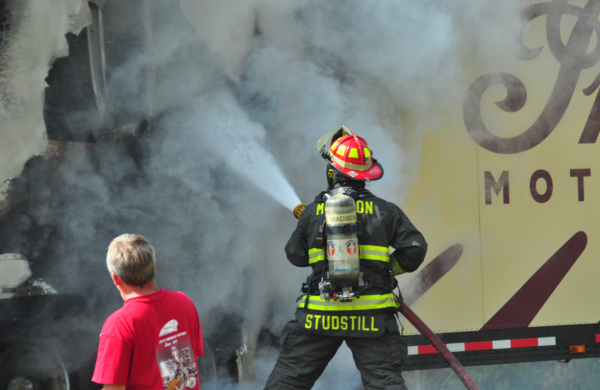 The Indian demo truck was headed to Red Hills Powersports, which had planned a demo event on Friday and Saturday. The dealership has now posted on Facebook that it has temporarily suspended sign-ups.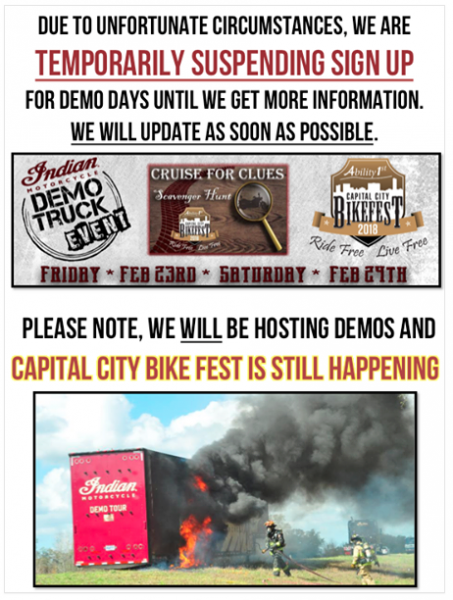 The truck was traveling along I-10 at the time of the blaze. WCTV reported the driver attempted to make it to the next exit after the blowout. Another driver reportedly alerted the trucks's operator to the fire. The Florida Highway Patrol and Madison County Fire Rescue responded to the scene. No injuries were reported.
The truck's driver was able to unhitch the cab and move it away from the burning trailer. The Indian demo truck is said to have previously visited dealerships in Daytona and Ocala.