MONTEREY, CA – Shopping for a new motorcycle these days is just keyboard click away, and Harley-Davidson and Indian dealers lead the power sports industry in responding to internet inquiries, results of a new Pied Piper study reveal.
Pied Piper Management Company submitted inquiries to 8,859 motorcycle and UTV dealerships via their websites. They asked a specific question regarding a model listed as being in inventory. The firm then evaluated response by email, telephone and text over the next 24 hours.
Harley-Davidson finished in first place with a score of 60, followed by Indian with a 58. Polaris came in third with a 51, while Can-Am and BMW tied for fourth place with a score of 45.
The industry average for 2022 was 43, up from 30 just five years ago. Triumph (44) and Royal Enfield (44) also finished above the norm.
Finishing just below the average were Husqvarna (42), Ducati (41), Moto Guzzi (40), KTM (40), Honda (39) and Yamaha (38). The Bottom 5 motorcycle brands were Suzuki (37), Kawasaki (37), Aprilia (37), Zero (36) and CF Moto (33).
Zero, CF Moto Rank At Bottom Of Motorcycle Heap
For the first time, two brands (Harley-Davidson and Indian) performed better than typical car dealers in responding to internet inquiries. The auto industry average was 55, down from 57 in 2018.
"Quick response to web customers is critical to selling, placing an order, or building the foundation for future sales," said Fran O'Hagan, CEO of Pied Piper.
"Dealers who respond quickly, personally, and completely to website customer inquiries on average sell 50% more vehicles to their web customers as opposed to dealers who fail to respond."
Email was the preferred manner in which dealerships responded. They did so 48 percent of the time, compared to 39 percent of the time by phone and 17 percent by text. One in 10 of all dealerships tested failed to respond in any manner.
Among the brands whose dealers got good marks, Harley-Davidson, Indian, KTM and Polaris responded to customer inquiries within 30 minutes more than 25 percent of the time.
Pied Piper has done its annual study since 2011. The 2022 study was conducted between Sept. 2021 and March 2022.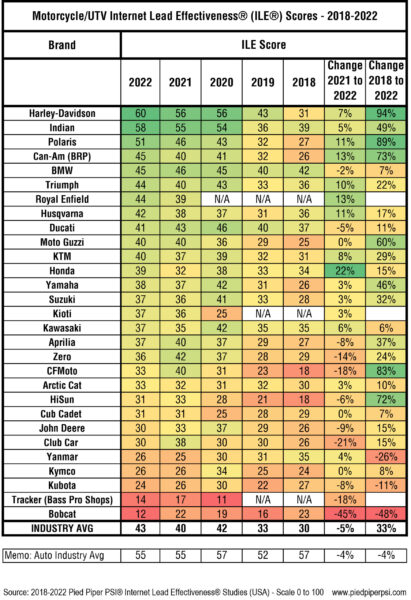 Hello! If you enjoyed this story, please share it with other motorcyclists by clicking on the social media buttons below.