DANBURY, CT – For Al Lucchino, memories of launching a new Harley-Davidson dealership are as vivid as the paint on the glistening models that fill his showroom – even 25 years later. There are memories of the frustrating hunt for a location for the store and the exhilaration of customers clamoring for bikes even before it opened. There are also memories of a worrisome, and unexpected illness and bittersweet ones of the sudden loss of his father.
Lucchino was a Wall Street banker when he sought to open what became Harley-Davidson of Danbury in early 1995. Teaming with his New York attorney brother, Carl, they purchased Brewster Harley-Davidson just across the border in New York. Some cousins had owned a Harley-Davidson store in New Jersey and Lucchino had spent weekends there helping out. He was also a life-long rider, so entry into ownership wasn't illogical. 
Finding A Location Came First
The first challenge was to find a new location. Brewster Harley-Davidson had operated the sales and service departments in separate locations and Harley-Davidson deemed the arrangement impermissible going forward. They first looked in Putnam County and upper Westchester County in New York for a location for their dealership.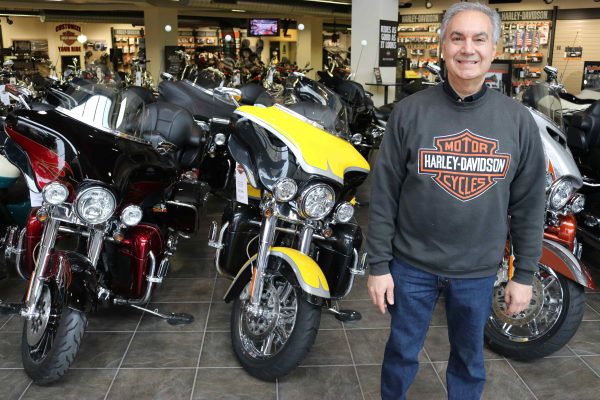 Lucchino recalled being confronted by a local zoning board with an anti-motorcycle attitude. When approached by their representative, the board responded causticly, "'Tell your clients not in their lifetime.' We started looking further afield," he said, explaining how they happened to land at 51 Federal Road in Danbury. "That comment – 'Tell your clients not in their lifetime' – is what brought us to Connecticut." 
Remodeling of the property began in the fall of 1994. "At the time, I was 33 years old. I was 33 and had never had the chickenpox," Lucchino said. One day he began feeling ill. "I felt like a fever coming on and I had a few pimples on my face." He went to his doctor and received a diagnosis of chickenpox, which can potentially be fatal in an adult. 
Fortunately, Lucchino's doctor said he only had a mild case. "He said, 'You are very lucky.'"  But the timing wasn't good. "We were getting the building ready. I had contractors on the site," he said.
Customers Appeared Before Store Opened
While Harley-Davidson lists the date of the dealership's start as Jan. 5, 1995, Lucchino said it wasn't until late March or early April of that year that the dealership actually opened its doors. During the interim, with the remodeling not yet completed, anxious riders were showing up and slipping inside the building wanting to buy. "We were selling motorcycles before we even opened to the public," Lucchino said.
The thrill of opening the store was soon tempered, though, by the loss of his father. Albert Lucchino died at age 64 in June 1995 of a sudden heart attack at his home. So while Lucchino appreciates hitting an ownership milestone, he lamented, "I've also been without my father for 25 years."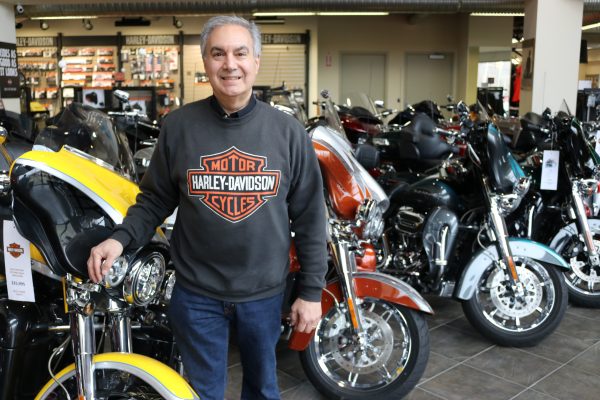 Lucchino has seen the motorcycle business change over the years. "Nothing changes overnight. It's gradual and evolutionary," he said. Harley-Davidson riders in the 1990s were more into customizing and accessorizing their bikes than riders today. Riders today are more apt to log more miles on their bikes. "They want to use it and ride," he said.
Lucchino Believes In Harley's Enduring Allure
What has proven steadfast is the lure of the brand, Lucchino said. "A Harley-Davidson has something of a soul, a pulse, a heartbeat. It has a pulse that no other motorcycle has."
The formal sales territory of Harley-Davidson of Danbury includes most of Fairfield County and part of Litchfield County in Connecticut and Putnam and northern Westchester County in New York. However, buyers come from all over.
"The internet has changed how we do business. We get inquiries every day from all over the country," said Lucchino, reporting that he recently sold a used CVO Fat Boy model to a man in Mesa, Ariz. He's also had buyers from Lithuania, Norway and French Polynesia. "The internet shrinks the world," he said.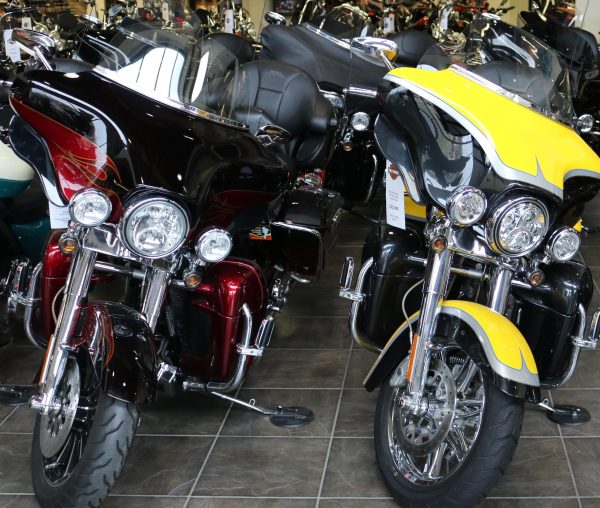 An exact number isn't known but the store has sold "thousands and thousands" of Harley-Davidsons over the years and two years ago sold a motorcycle to New York's governor, Andrew Cuomo. "It's an honor and a privilege to do business with Andrew Cuomo," Lucchino said.
For 12 years, Harley-Davidson of Danbury sold the company's sport bike brand, Buell, until Harley-Davidson shut it down in 2009.  "I still regret that. That would have been a great brand going forward," Lucchino said.
It certainly could have benefitted Harley-Davidson these days as its sales of heavyweight cruisers have dropped significantly in recent years due to longtime riders aging out of motorcycling and not being replaced by younger riders.
Optimistic About The Future
Lucchino is nonetheless optimistic about the future of the brand. "Any businessman is going to be concerned about the future. The motorcycle business is cyclical. I absolutely believe Harley-Davidson will move up and move to a new high," he said during the recent chat in his office.
He had an advantage in starting the business from his helping out at his cousins' store. "Unknowingly, I learned the business," he said. "Now that I have the perspective of time – 25 years goes fast."
And he's a firm believer that younger generations can be lured to motorcycles because "a phone or a computer is never going to give you the thrill of swinging your leg over a motorcycle and going riding. It'll never happen."