MILWAUKEE – Sales of Harley-Davidson motorcycles plummeted in the United States and worldwide in 2020 as the company underwent a major shakeup under new leadership. Also contributing was the nasty COVID-19 pandemic environment.
U.S. sales for the year totaled 103,650 motorcycles, down 22,310 units from 2019. The drop marked six consecutive years of dramatically declining sales. Worldwide, sales in 2020 totaled 180,248 motorcycles, down 38,025 units from 2019.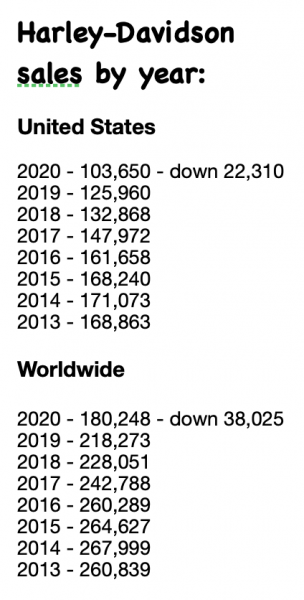 In issuing its 2020 earnings report this morning, Harley-Davidson's chairman, CEO and president, Jochen Zeitz, called 2020 "an extraordinary year in many ways." He proclaimed "our team navigated many challenges … and delivered $250 million in cash savings."
Cutbacks The Policy In 2020
However, in rewiring the company, Zeitz and his management team reduced Harley-Davidson's model lineup by 30 percent. It exited 39 markets and reduced its worldwide dealer network by approximately 160 stores.
According to a press release, the company also trimmed dealer year-end inventory by 59 percent, "driving improvements in motorcycle transaction prices and enhancing motorcycle value."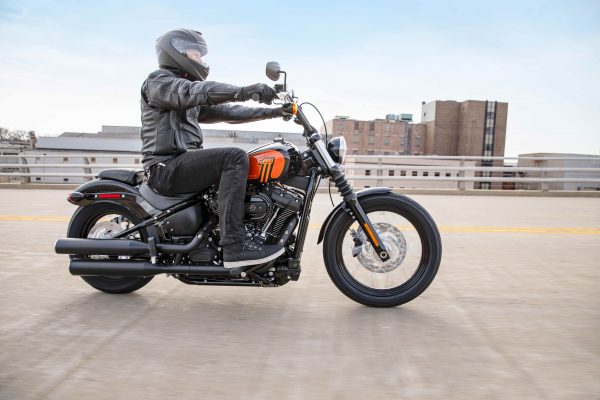 A year ago, under then-leader Matt Levatich, Harley-Davidson declared that it was "on-track to realize its expectations of significant growth in 2021" with numerous new models, strengthened dealers and increased promotion.
Within months, though, Levatich was gone, replaced by Zeitz. The new leader quickly sought to reel in the company, including cutting back on new models in development.
"The entire Harley-Davidson team put forth tremendous effort in 2020 and we now have the right organization, structure and strategy in place to make step changes in our performance and enhance our position as the most desirable motorcycle brand in the world," Zeitz said.
For the year, Harley-Davidson also saw sizable declines in the areas of parts and accessories as well as general merchandise. Earnings per share fell to $0.01 from $2.70 in 2019. Cash dividends paid per share dipped to $0.44 from $1.50 in 2019.
By day's end, Harley-Davidson's stock had tumbled $6.89 per share, closing at $33.26.
Hello! If you found this story interesting, please share it with other riders by clicking on the social media buttons below.