HARWINTON, CT – Explain this, please.
Why is it necessary for a motorcycle dealer in New Hampshire to flood Craigslist's "motorcycles/scooters" for sale in northwestern Connecticut page with posts for models that it's trying to unload more than 150 miles and 2½ hours away from me?
This being winter, I often take a few minutes every day to peruse the used motorcycle market because you never know when an old gem might surface. The "NWCT" page on Craigslist is a favored spot to window shop.
Lately, though, all I've been seeing are listings for new and leftover models, mostly Hondas, being offered by Nault's Powersports in Manchester, NH and Nault's-owned Windham Motorcycles in Windham, NH.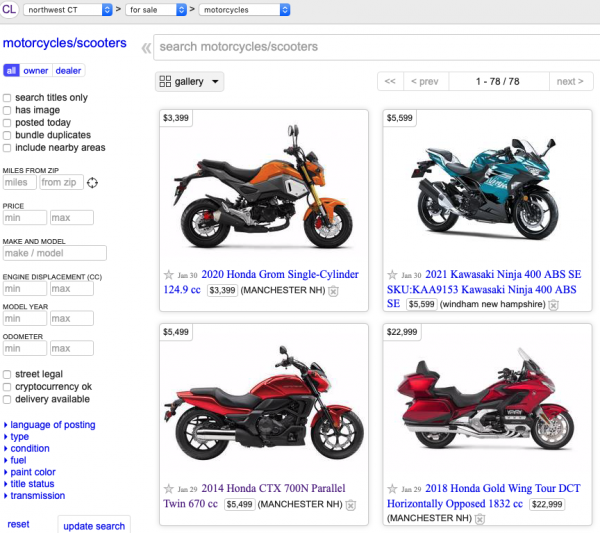 Today, 41 of the first 42 motorcycles listed were offered by Nault's.
While it is possible to filter out dealer-offered models, the Craigslist page defaults to "all" models up for sale.
So, please, explain this.
Why would a dealer in New Hampshire take the time, effort and expense to attempt to lure a customer all the way from northwestern Connecticut? This goes beyond aggressive marketing. It's ludicrous and, frankly, makes me think poorly of Nault's for inconveniencing me.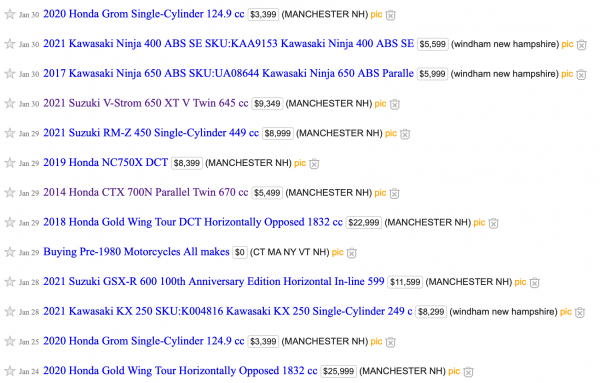 If I want to buy a new or leftover Honda, I'll go to a dealer that's nearer to me. At least a dozen other Honda stores are closer.
Yesterday, I called the closest – Libby's Motoworld in New Haven, CT and talked with owner George Libby. He expressed frustration after being told of Nault's territorial assault. But he was resigned to the fact that there is nothing he can do about it.
It used to be that dealers each had assigned territories. While buyers could go where they pleased, dealers were pretty much limited to marketing and promoting within their assigned footprint. The internet has changed all that.

Granted, Nault's current monopolization of the "NWCT" Craiglist's page may be due to the fact few private owners are selling bikes in the dead of winter. A few more "by owner" posts would dilute Nault's exposure.
For the heck of it, I looked this morning on motorcycles/scooters page for New Hampshire. Of the first 42 posts, only eight are for Nault's stores, while 16 are for National Powersports Distributors in Pembroke, NH.
Were National Powersports Distributors casting a wide net on Craigslist, well, that would be more understandable as that store is a used motorcycle superstore that does draw customers from all over.
I also checked on the New Haven page on Craigslist to see if Nault's was directly invading Libby's turf. The answer is yes, with nine posts in the first 42, one more than in its home state.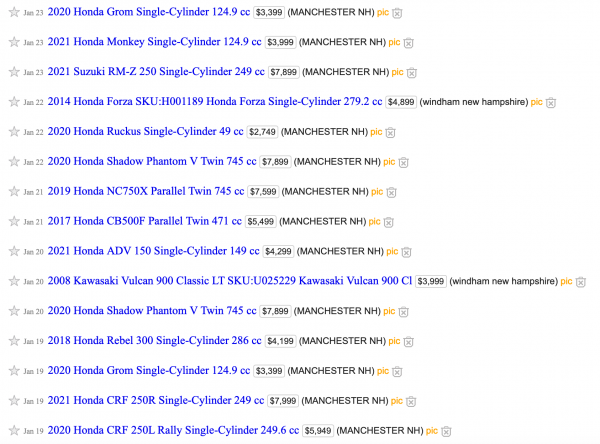 It sometimes doesn't take much for a motorcycle dealer to turn off a potential customer. A lack of adequate parking, for instance. Or rows upon rows of bikes so smushed together that you can't see what any single model looks like, much less sit on one. Or a sales staff that doesn't politely inquire if you have any questions.
Why would Nault's with its extreme Craigslist approach want to create a negative impression from the get-go?
Hello! If you enjoyed this post, please share it with other riders by clicking on the social media buttons below.