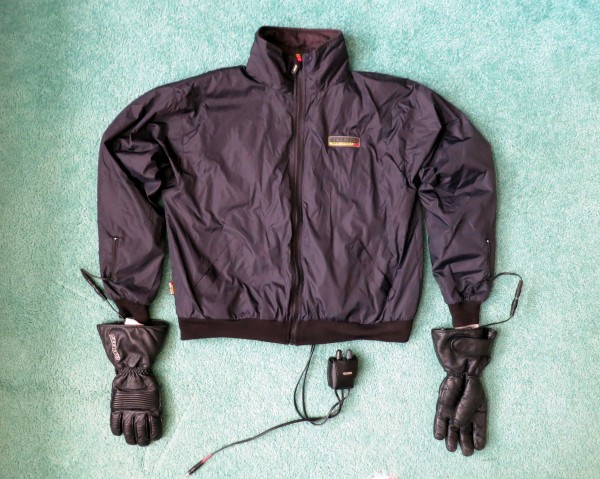 There is no reason to put the bike away just because the temperature drops. Even in New England, you can find many all-year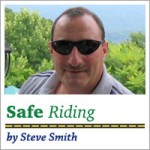 riders. Their secret is to prepare. Riding unprepared means prolonged exposure to cold temperatures, which can lead to hypothermia – a dangerous drop in body temperature. Normal body temperature averages 98.6 degrees. When the body core temperature drops below 95 degrees it is hypothermic.
As core body temperature chills, blood flow to extremities is reduced to keep the body core and vital organs warm. Shivering is one of the body's reaction to hypothermia and a sign you need to get warmed up – immediately.
The dangers of ignoring hypothermia warning signs is that it can cause reduced good judgment or dizziness as well as reduced dexterity and muscle control the operate the motorcycle. With a little preparation to your bike and protective gear you can enjoy a nice and safe winter ride.
Wind chill can have a dramatic affect on the effective temperature your body experiences. On a beautiful 40 degree day, riding at 40 miles per hour the wind chill makes the temperature feel like a bone chilling 27 degrees.
According to the National Oceanic and Atmopsheric Administration (NOAA), all it takes is 30 minutes exposure to get frostbite. Deflecting the wind away from the rider is a good way to reduce the effects of wind chill. The fairing and windscreen of touring bikes can create an air envelope around the rider top to bottom. On other types of bikes the addition of a windscreen/windshield and lower wind deflectors will provide similar wind protection.
As ambient temperature gets lower, just being outside for an extended period can chill core body temperature. Wearing layers of clothes can help to retain body heat. Add a good riding jacket and pants to help seal out the wind.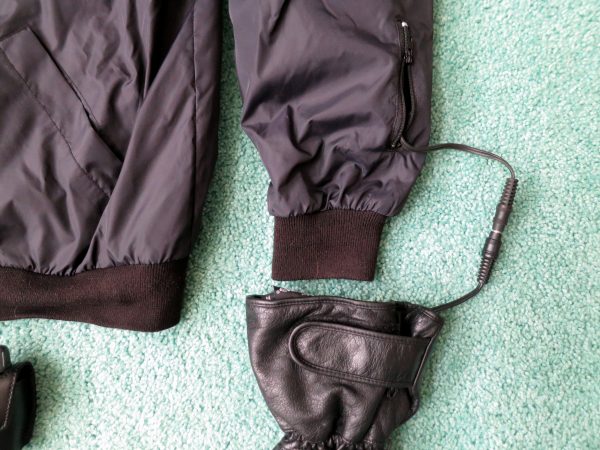 At some point the amount of layers needed to remain warm will become too bulky to be comfortable. This is where heated riding gear can provide an advantage. Powered from the motorcycle electrical system, heated gear will provide additional warmth to the body. Used properly, it can help keep the core body temperature in a normal range. This keeps warm blood flowing to all parts of the body.
There are several manufacturers of heated gear specifically designed for motorcycling. Visit a local dealer and search the internet to review the different options. Keep in mind that manufacturers may make heated gear components that are designed to plug into each other to easily add additional heated garments. This makes it much simpler when deciding to add gloves or pants at a later time. The jacket is usually the primary garment that gloves and pants connect to. The interconnect wiring may be optional, so ask the vendor.
A heated vest tends to fit snugly and may be designed with less heat output due to the tight coupling with the body. Heated jacket liners have a looser fit allowing layering underneath as well as potentially on top. They have the added benefit of warming the arms. Connector cables for gloves may be found in zippered pockets near the cuffs. With vests or jackets select one that has a high zip up collar to provide warmth around the neck when needed.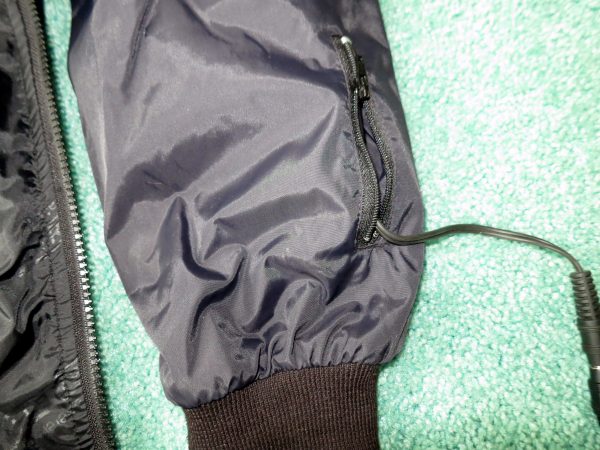 Heated gloves are a nice added touch. They help warm your hands and digits, which helps retain good finesse to operate controls. Try on different gloves. Some older styles are a bit bulkier that others and make for more effort to keep fingers wrapped around the handgrips.
Heated pant liners and socks round out the liner options. Also available are heated outer garments – riding jackets and pants. I feel these require more heat to provide similar warmth of heated liners. More heat means the garment draws more power. This may be a concern, depending on the power output of your motorcycle's alternator and electrical system.
Another important item of consideration is the heated gear controller. Some are a simple on/off switch, which requires the rider to flip the switch when it gets too warm or cold. Some have an off-low-med-high type switch, which provides some level of temperature control.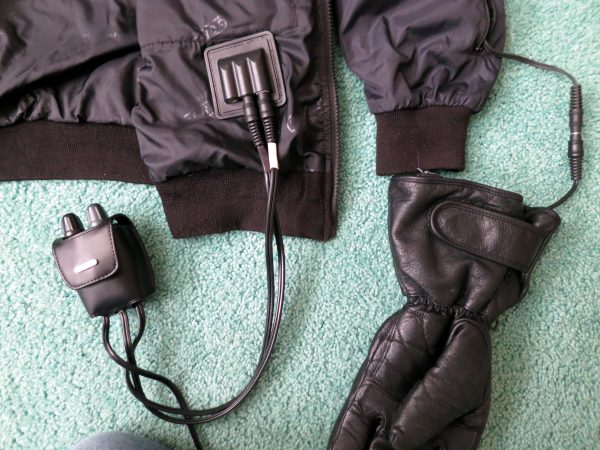 There are also variable controllers that allow the rider adjust a knob to the desired warmth. There are single and dual controllers. Dual controllers allow setting separate temperatures for different heated garments. My preference for heated gear is a jacket liner and gloves connected to a variable dual controller.
Some important last minute thoughts about using heated gear:
• Read the instructions and install accordingly. This typically includes connecting the power lead directly to the battery for best performance and reduced risk of damaging the electrical system
• Run wires so that they will not interfere with body movement while riding
• Heated gear is a supplement to existing cold weather gear, not a replacement
• Heated gear should be worn over a base layer of garments to help distribute and retain warmth and prevent burning from the heating element wires.
• Heated gear should be off when the motorcycle is not running to reduce the power load on the electrical system
• Before leaving home, connect everything and run an operational check.
• Carry spare fuses
Plug in and be warm. I'll see you on the road the next nice winter day.