HARTFORD – It was standing room only Monday for a public hearing by the General Assembly's Transportation Committee with opponents and supporters of a universal helmet law in Connecticut stating their well-known positions. "Both sides made a case," committee co-chair Sen. Carlo Leone (D – Stamford) told RIDE-CT & RIDE-NewEngland, adding that each side had "legitimate" arguments.
What made this helmet bill hearing quite different from past attempts at getting such legislation through the General Assembly was the presence of riders who favor a universal helmet law.
While the Connecticut Motorcycle Riders Association, a longtime opponent of a helmet requirement for all, turned out roughly 50 members to oppose Raised Bill No. 7140, a relatively-new coalition known as Heads First-CT had approximately 20 members on hand to back the bill.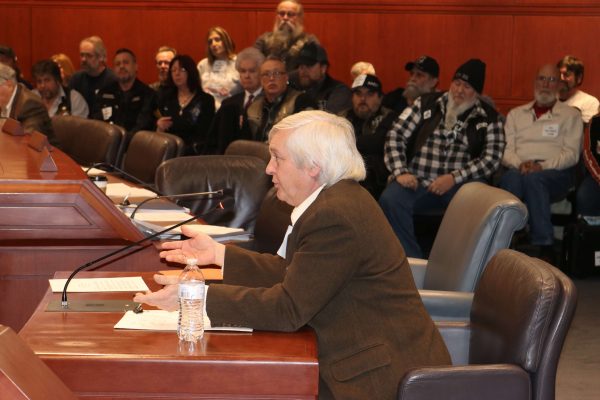 The CMRA passionately believes that the government shouldn't dictate helmet usage by riders. "We don't oppose the use of helmets. This is all about freedom of choice," said Richard Paukner, who presented on behalf of the CMRA.
Both sides came to the helmet bill hearing armed with statistics on injuries, fatalities and helmet use in Connecticut and elsewhere, some of it conflicting, but Paukner said, "The issue as we see it is not about statistics and numbers. It's a question of whether we stop and tell an adult they are incapable of making a decision that will impact their safety."
Paukner acknowledged that he sometimes wears a helmet when riding but feels safer without one. "I've been riding since I was 20 years old and I definitely feel safer. I can hear better. I can see better."
Speaking in support of the bill, which would require all riders to wear a helmet, were representatives of the state Department of Transportation, the National Transportation Safety Board in Washington D.C., the medical community and law enforcement as well as a Connecticut Rider Education Program instructor.
The crux of their position is that helmets save lives and save money.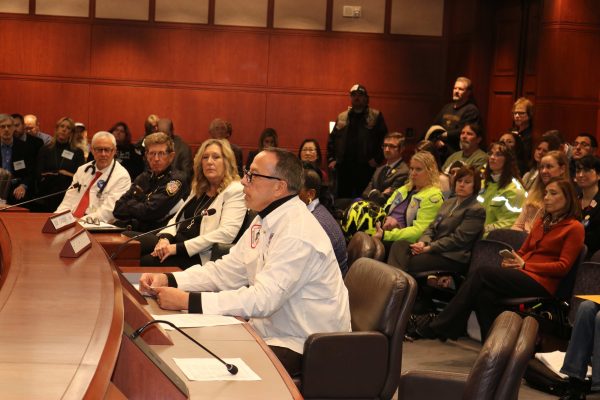 Calling the helmet bill "one of the most important measures you will consider this year," NTSB board member Jennifer Homendy said that of the 52 riders who died on state roads in 2017, three-quarters of them were not wearing a helmet.
She noted that Connecticut has been a leader in advocating seat belt use for "many years. Like seat belts, helmets also save lives," she said, adding that a helmet law is a "simple solution" that will save lives.
Later, outside the hearing room, Homendy said that passage of a helmet law should be "a no-brainer."
Currently, only 19 states (plus D.C.) have a universal helmet law, while 28 states have a partial law with three having no law. Connecticut law at present only requires riders under 18 years old to wear head protection.
Garry Lapidus, director of the Injury Prevention Center at the Connecticut Children's Medical Center and Hartford Hospital and a longtime Physician Assistant, reported that the motorcycle death rate in states with universal helmet laws is 24 percent lower than in other states and that the annual cost in Connecticut due to a lack of a helmet law is $157 million. "This is a very, very big price tag," he said.
Julie Peters, executive director of the Brain Injury Alliance of Connecticut, compared a helmet law to existing laws regarding seat belts and car seats for kids. "The only cure for brain injury is prevention," she said.
Watertown's police chief, John Gavallas, spoke on behalf of the Connecticut Police Chiefs Association. "Our friends on the other side of the issue say, 'Let the rider decide.' We ask, at what cost? We in law enforcement see the consequences of not wearing a helmet first hand as do the emergency room physicians."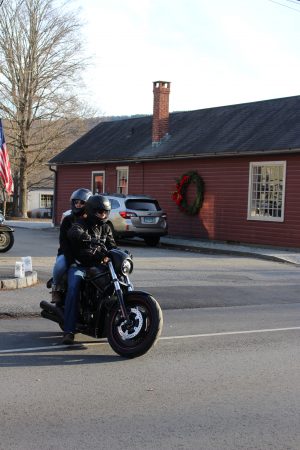 Gavallas also said that the current law – as well as another bill that would make helmet use mandatory for riders under 21 years of age – presents a problem for law enforcement because it's difficult to ascertain a rider's age when the rider is going 30 or 40 miles per hour. "A universal helmet law requiring all operators to wear a helmet is easily enforced," he said.
CONREP instructor, year-round rider and RIDE-CT & RIDE-NewEngland columnist Paul Siciliano suggested that the Heads First-CT alliance represents the majority of Connecticut riders and emphasized that the dangers faced by riders is greater than ever because of drunk and drugged driving and the use of cell phones by drivers.
A veteran of the United States Marine Corps, Siciliano also noted that wearing a helmet is mandatory on military bases.
Perhaps the most poignant testimony at the helmet bill hearing came from Carolyn Edwards, a former rider and former E.M.T. who was involved in a crash in May 2014 in which she suffered a traumatic brain injury even though she was wearing a helmet. "If it wasn't for my helmet, I'd probably be dead or worse," she said.
The injury changed her life's trajectory forever. Edwards said that prior to her accident, she was in the pro-choice camp, but no longer. "I realize how selfish that is," she said.
Leone said the Transportation Committee will consider the bill at a future meeting and "then gauge whether to go forward." He added that "it's kind of tough" to know at this point what direction the committee might go.