Decisions, decisions. I had a choice to make over the weekend and I knew a wise decision was needed. I could have gone out to my garage, fired up my Triumph Bonneville and taken a ride in some glorious weather.
Or, I could have taken a seven-mile trip to my other property, fired up my Harley-Davidson Sportster and done the same.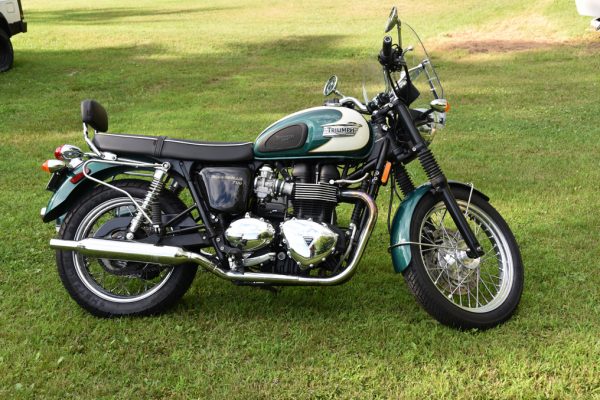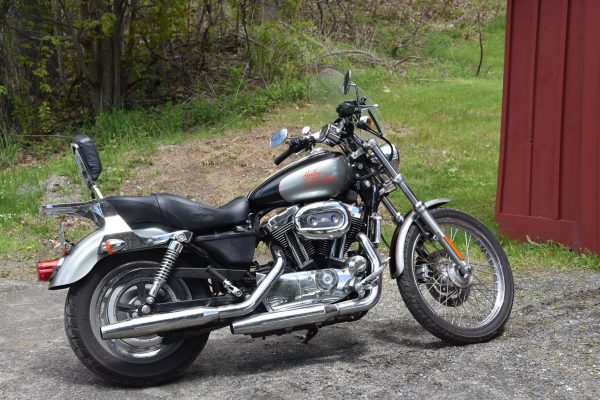 Or, in a more drastic move and with a bit of sadness, I could have put both motorcycles up for sale and ended a 52-year riding career.
What prompted that radical third choice was embarrassment, pure and simple.
Dropped Bike Prompts Soul-searching
It was a while back (long before COVID-19) that I was paddling my Sportster out of the garage when my left foot hit an uneven surface. I tumbled over, putting a nasty dent in the custom-painted gas tank.
It was some time later that RIDE-CT & RIDE-New England cohorts Paul Siciliano and Bud Wilkinson showed up at my house to take a ride and grab lunch at the Black Rock Steak House in Springfield with my fiancee.
Again, I was on the Sportster. As we prepared to take off, I tumbled over a second time on the uneven ground. After a nice lunch, I rode back home and put the bike up. I've ridden it maybe three times since that day, and that was about two years ago.
In the interim, I've contemplated simply giving up motorcycling. During a scheduled visit with my doctor, he had me stand on one leg at a time to check my balance. I was unable to balance myself on my left leg.
And I simply no longer have the physical strength to lift a five hundred pound motorcycle (using my back in a method that anyone can use to right a motorcycle) upright.
I thought about selling the Harley-Davidson only because I'm tired of how loud it is. Maybe I could keep the Triumph and fit it with a sidecar. With a sidecar, you no longer need to worry about dropping anything.
The problem was a sidecar rig handles nothing like a motorcycle. You have to learn its unique characteristics to ride it safely. OK, but there's no reverse for tight spaces.
Would Three Wheels Be A Suitable Solution?
I spent a long time mulling the pro and cons of the whole "give it up or get three wheels" question. There are a lot of pros and cons. The biggest downside to quitting riding entirely would be the loss of the great people I have met through motorcycling. I'd miss the recreation and I'd miss them, not that I've done much riding lately.
My apparent frailties were holding me back on making any decision until the idea of a trike presented a possible solution. Why not a three-wheel alternative.
A traditional trike with one wheel up front and two in the rear offers stability but, in most cases, no reverse gear. It was then that the "Cam-Am solution" presented itself. Why not a reverse trike with two wheels in front and one behind.
Can-Am's products comes from Bombardier, the folks who brought us the Ski-Doo snowmobile and Sea-Doo personal watercraft. Models like the Spyder and the less expensive Ryker have reverse gear. They also look a lot like a snowmobile or jet ski, but with wheels.
During my working career, I'd use Photoshop to alter photos of my friends' Can-Ams. I'd put skis on them to poke fun. My two hard-core Harley-riding friends switched to Can-Ams several years ago and they have never looked back. They just had a yard sale, sold all of their Harley leathers and other goodies.
I opened my mind. I went on to the Can-Am website and educated myself about Can-Am's low center of gravity, stability control and ABS braking capabilities. Oh, yeah, and the fact that they have a reverse gear.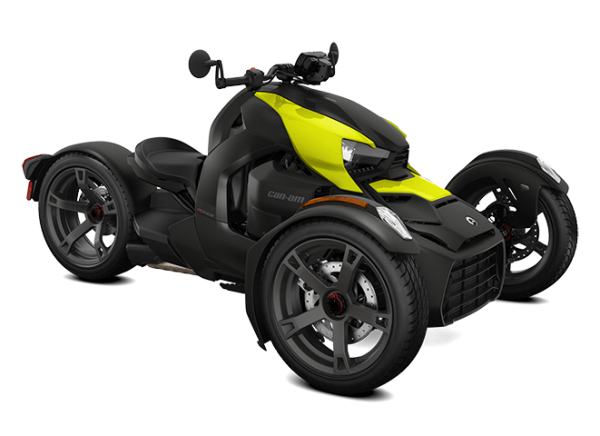 So, yesterday, I went to a HK Powersports in Hooksett, NH and bought a Ryker 900 that I'll pick up in a week. I also purchased yellow accent panels to make it look like a Ski-Doo on wheels.
If you're looking for a nice Sportster or Bonneville, hit me up. Call it what you will, but my physical instability will not kill my ability to ride for at least another decade or so. I've traded two wheels for three.
Hello! If you enjoyed this column, please share it with other riders by clicking on the social media buttons below.