WOODBURY, CT – It's most likely the cutest car that U.S. motorists have never heard of or ever seen. Writing for Hagerty back in 2018, Larry Printz declared the limited-production 1991 Nissan Figaro to be "Cuter than a basket of puppies." It's not that much bigger, either.
Built only for the Japanese market, the right-hand drive Figaro was a two-door, 2+2, fix-profile convertible model that came in four classic colors. They were Lapis Grey for winter, Emerald Green for spring, Pale Aqua for summer and Topaz Mist for fall.
Only 20,000 Of The Figaro Were Built
The design goal was to be playfully retro and it succeeded. Nissan only planned to produce 8,000 examples of the Figaro model but ended up making 20,000 units due to demand.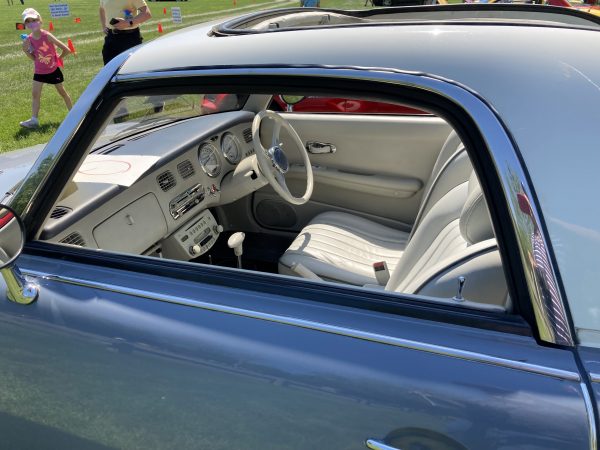 Spotting one yesterday at the Woodbury Lions Club Car Show was a surprise and a treat. It was parked away from the main show ground in front of a fence. Those who got close were immediately taken by its tiny size and the fact that it looked old and new simultaneously.
The front-wheel-drive Figaro is powered by a 1.0-liter (987cc), four-cylinder engine that generates 76 horsepower. It has a three-speed automatic transmission. The wheelbase is a 90.6 inches. It weighs 1,786 pounds and has a top speed of 106 miles per hour. The MSRP (adjusted to dollars from yen) 30 years ago was $16,960.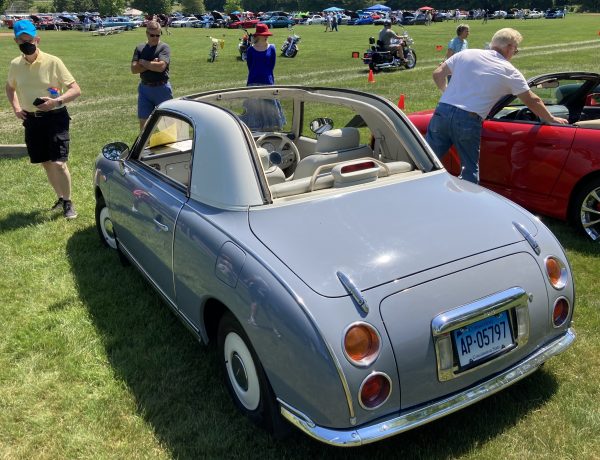 The Figaro came with a white interior and leather bucket seats. In his story, Printz noted it has an AM/FM radio but it's useless here because Japanese radio stations broadcast on different frequencies than those in the U.S.
Owner Bought It In London
Thinking the Figaro to be a good candidate for the "My Ride" classic car feature that I write for the "Republican-American" newspaper, I approached the owner. She told me she bought the car while living in London and used it for hauling her kids to school.
Because it's a right-hand drive model, the Figaro developed a cult following in England. The owner said that when she returned stateside with her husband and kids, the Figaro came, too. She's currently considering whether to allow the car to be showcased in "My Ride." Out of respect for her privacy, I won't disclose her name or where she lives.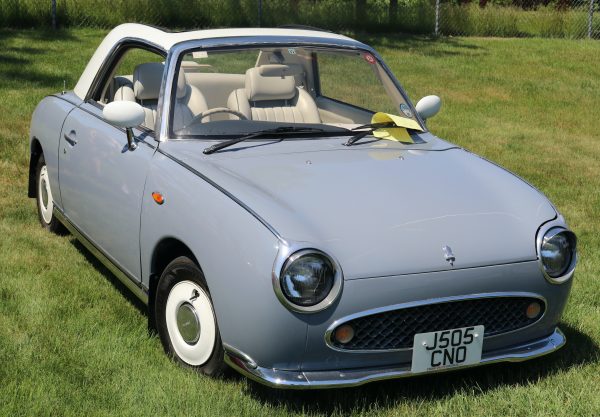 The Figaro was introduced at the 1989 Tokyo Motor Show and went into production for the 1991 model year, although some are listed as 1992 models. Its fix-profile convertible top was designed to recall such bygone models as Citroën's 2CV and Fiat's 500. It also was available in custom colors and has been spotted in pink, bright blue, orange, red and more.
Hello! If you enjoyed this story, please share it with other car enthusiasts by clicking on the social media buttons below.