CHESTER, VT – The dead of winter, the start of the new year, and I'm sitting here daydreaming about … motorcycles.
I've got three motorcycles in the garage next to my house. I've got another motorcycle in a garage that I have seven miles away. I don't usually think about them all that much, but for some reason today I'd like to take a ride.
Outside it has been sleeting. It accumulated on the roads. It rained and it froze. There was a winter weather advisory. We even had lightning and thunder. If I were to ride a motorcycle today it would most likely be a sidecar rig with two-wheel drive and chains.
But that isn't really what I was daydreaming about. It was a nice summer day in my daydream and the bike was my Triumph Bonneville.
The modern-day Triumph Bonneville is still something to behold. Mine is a 2010 T100. It has a two-tone paint job consisting of metal flake green and a New England cream. The colors are delineated by a hand-painted gold pinstripe done at the Hinckley factory in England.
This year my Bonnie is a decade old. Compared to my 2006 Harley-Davidson Sportster, it seems a couple of decades newer even though they are only four years apart in age.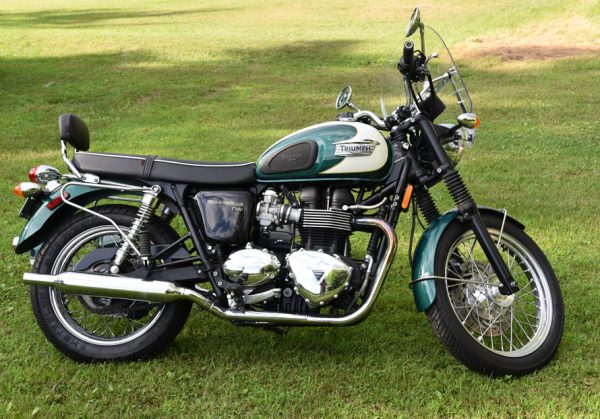 Right now the Bonneville is sitting in my garage where I can go in and look at its three-quarter profile. This is the view that shows off the Bonneville's muscular-looking gas tank and exposed rear shocks and chromed springs.
It always looks ready for an adventure. It would not appreciate the road on this day.
I've talked about selling the Bonneville for a few years now and never acted on it. I've got a classic Mercedes-Benz sports car that I'd sooner sell than the Triumph. Why? Competence.
My fuel-injected Triumph Bonneville has been such a competent, reliable, all-around fun to ride motorcycle that I just can't bear to part with it. I've owned close to thirty motorcycles over the years and the one that I absolutely know I will miss if I ever sell it is the Bonneville.
It fits my frame perfectly. I love those rubber gas tank knee panels that add just a touch of psychological rightness to cornering. The kick of power it delivers coming out of a corner, it's drilled disc brakes that haul it down so quickly from speed, and the tactile feel of its simple switchgear, among the best I've ever experienced.
It's all that and it handles well, too. Just thinking about it on a cold winter's day helps to make the time pass until I'm able to experience it for real. But goodness, it's a long way off. Months.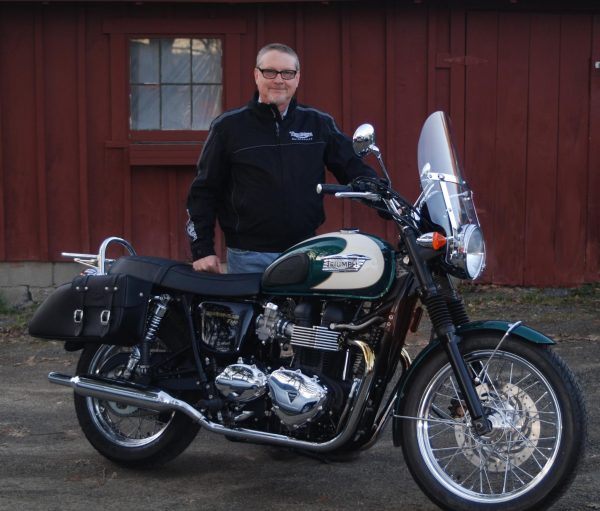 At the very earliest maybe, just maybe, there will be a couple of warm days in March that will lend themselves to a good Bonneville adventure. I can see it now. The day will dawn with clear, bright, cloudless blue skies. There will be an extra sort of sharpness to everything you see and you will see your breath as the day dawns.
I will flip the key to on and the fuel injection will pressurize with that satisfying electronic squeal. I'll thumb the starter button and the pea shooter pipes will pop to life at a fast idle. It'll warm for a bit until it's time to put it in gear. Away we will go.
On this day, I'll choose the Westminster West Road for its country beauty and the fact that it'll lead me to the Putney Diner. I might meet Bridgeport escapee Marty with his sleek Gold Wing or maybe Granby escapee Paul on his Gold Wing and I'll order a piping cup of tea. 
For me, that's the perfect start to the 2020 riding season.
I have hopes to spend more time on the Triumph this year. Keep daydreaming. Ride when you can!