CHESTER, VT – It's a place that I've dreamed of even though the name of it might elicit more of a nightmare – the COVID-19 Motorcycle Shop. It is not a place out of a Hieronymous Bosch painting. In truth, it is beyond pleasant. It is more a post-COVID biker fantasy hangout with a fastidious, competent motorcycle technician who is funny, friendly, and the kind of guy men and women like to hang out with. 
Politics? Don't go there. A veteran? Very much so but don't go there either. Live in the moment. Treat others as you would be treated. Be kind and ride long and hard. Treat everyone fairly and don't beat people up on price.
Yeah, I know, sounds like the late Stanley Lynde of Brattleboro, Vermont. That's my dream and we're all entitled to something that keeps us going in these trying times.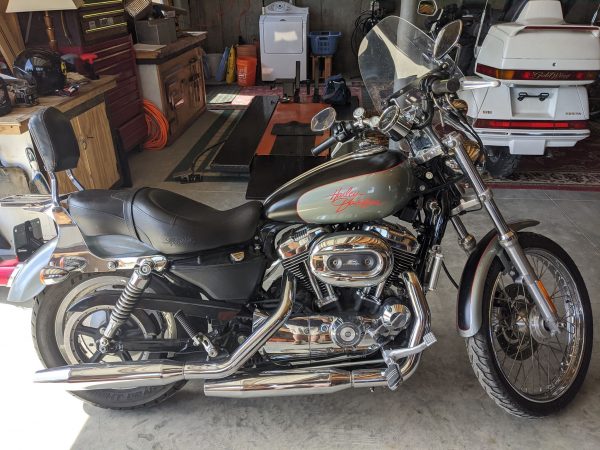 You might be saying to yourself "tell me more about this COVID-19 Motorcycle Shop." I'd enjoy the opportunity. Currently, and to the best of my fantasy knowledge, it is housed in an undisclosed location on a country road near the border of Windsor and Windham Counties in Vermont and not far from the New Hampshire border.
It is not open to the public. It might be in the future but it might not. It could very well be one of those places that opens for brief periods of time spread by rumor only among people who are chosen to know. Sort of by invitation only.
My childhood buddy Roger's grandfather had a place like that across from the Grist Mill in Chester Depot when we were growing up. It was in the barn and it had a grease pit. There were always a few people hanging out over there on a Saturday morning with a car or a pickup over the pit. I remember they had an intercom so Roger's grandmother could call his gramps in for lunch or dinner without venturing into his "man pit."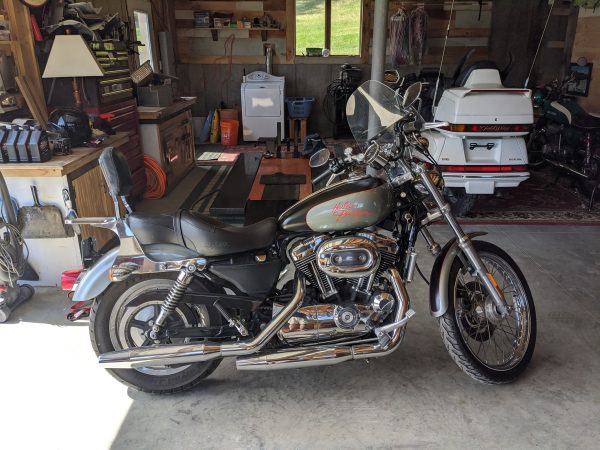 The COVID-19 Motorcycle Shop would not be gender exclusive. Good God, it's 2020, dude! The only nod to such antiquity might be a wood stove fired up on chilly days, or to keep food warm. Food is critical to a fantasy motorcycle shop.
What about a big cooler full of beer? Nope. We don't need no stinkin' beer. You do that on your own time because it has nothin' to do with the COVID-19 Motorcycle Shop. Impaired wrenching is something for the amateurs.
Oh, and then there's brands. Motorcycle brands are a personal preference but there's no preference at the COVID. They like 'em all. Scooters, too. There's nothing cooler than a classic Vespa or Lambretta, or a modern Ruckus or Burgman.
That's the COVID for you. It's exclusive but all-inclusive. You just have to find the place.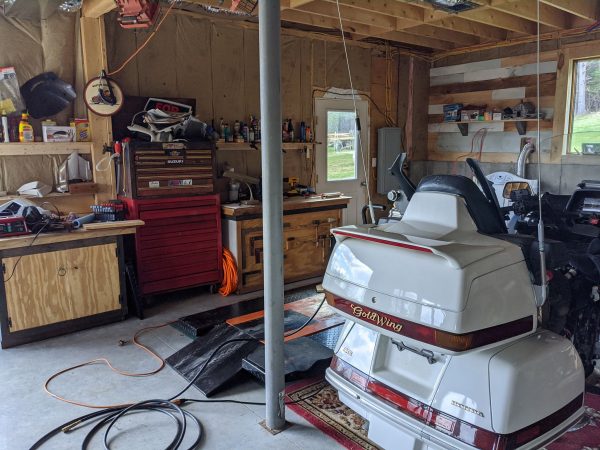 I think I stumbled across it the other day. My friend Paul is a Motorcycle Safety Foundation Instructor. One of those folks who teaches newbies to ride and oldies to sharpen up their skills.
Paul lives just a few miles away now and he has his bike lift and tire changer and tools all set up. He asked me what I needed to do to get my Harley-Davidson and my Triumph on the road for the season. I told him and he offered up his shop and/or services, all I had to do was get the bikes and parts to him.
I did just that on Saturday, wearing my face mask for COVID-19 protection and practicing social distancing. I left the Sportster with him and the next day he delivered a clean motorcycle with fresh oil and filter and adjustments and recommendations and a great social experience even with all the masks and distancing.
He could be the foundation for the mythical COVID-19 Motorcycle Shop. He could be the MSF instructor who just enjoys messing with his friends' motorcycles on a Saturday afternoon. Whatever he represents it is the stuff of post-COVID dreams that we need right now. Whether looking back or looking ahead to better times, simple pursuits and good folks in our lives make all the difference.
(Photos by Paul Siciliano)
Hello! If you enjoyed this column by Arlo Mudgett, please click on one of social media buttons below and share it.