RIDE-CT & RIDE-New England readers are split on whether BMW's new R 18 heavy cruiser model (pictured above) will be a hit or a miss.
While 35 percent of voters view the massive R 18 as a "retro work of art," a total of 27 percent think it's a "ghastly attempt to fill a niche." Another 15 percent think it's a "model solely for collectors."
It certainly is a love it or hate it model. An equal 12 percent of readers said it is "Destined to be a flop" and "Guaranteed to surprise BMW with higher than projected sales."
The R 18 has an 1,802cc boxer engine that produces 81 horsepower and 116 foot-pounds of torque. It features an exposed drive shaft and double-loop steel tube frame. Base price is $17,495.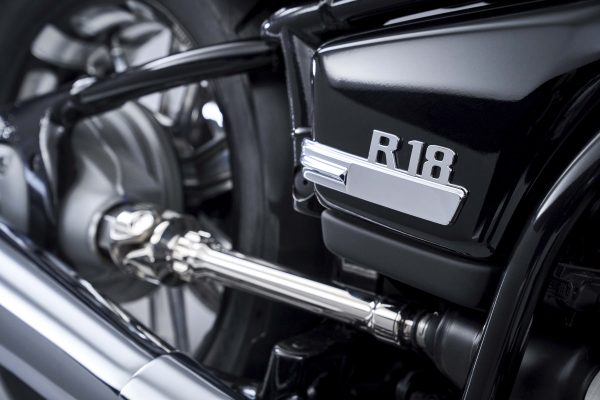 The poll was conducted April 8 through May 9.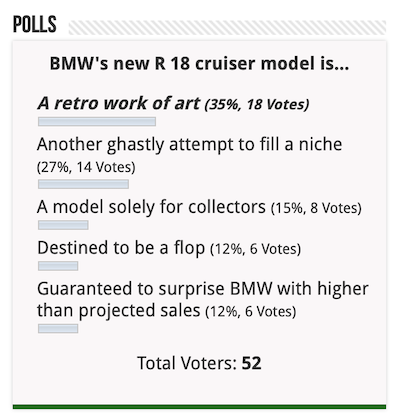 There's now a new poll to cast ballots on and it involves the COVID-19 pandemic, specifically the decisions by the organizers of Americade and Laconia Motorcycle Week to postpone their events to later dates.
Both events are trying to avoid cancelation and are hopeful that the pandemic will recede by summer. Americade has moved to July 21-25 from June 1-6, while Laconia has shifted to Aug. 22-30 from June 13-21.
The new polls is designed the gauge readers' feelings regarding the changes in dates of the events.
Hello! You can help increase voter turnout by sharing this post on social media. Just click on one of the buttons below.