CHESTER, VT – I've only got about 1,400 miles on the three-wheeled Can-Am Ryker Ace 900 that I bought last year. That's not a lot of mileage, and I am still learning how to ride it.
Fortunately, one of my very best friends is a Motorcycle Safety Foundation-certified instructor who just happens to teach folks to ride three-wheelers on Can-Am Rykers.
Unfortunately, he's so busy and in demand as one of Vermont's top home inspectors that we don't see each other as much as we'd like. I haven't ridden with him since I got the Ryker, so I am familiarizing myself solo.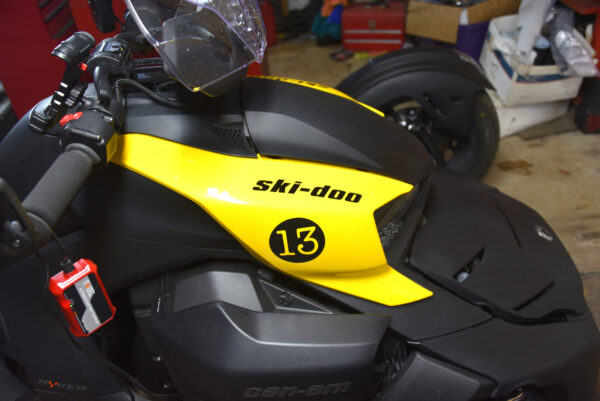 My sense is that I'm much more visible to drivers while on this thing than on a motorcycle. It may have to do with the yellow panels on the front of the bike. They are Ski-Doo yellow, so I decided to get some Ski-Doo text letters for it. When people ask me what on earth that three-wheeled contraption is, I now tell 'em it's a Ski-Doo converted to road use. I am so full of it. 
For color coordination, I have purchased bright yellow clothing to wear while riding. I bought this clothing based on the online description, but on delivery two clothing items were fluorescent green. This has convinced me that the people selling and describing the products are most likely color blind men. Between the yellow and the blazing green, I am highly visible on the Ryker.
Having umpteen quadrillion miles operating both automobiles and motorcycles, I have two tactics for avoiding objects on the road. There's the swerve and the straddle. Swerving is for two wheels, straddling for four. Neither of these options works completely on a three-wheeler.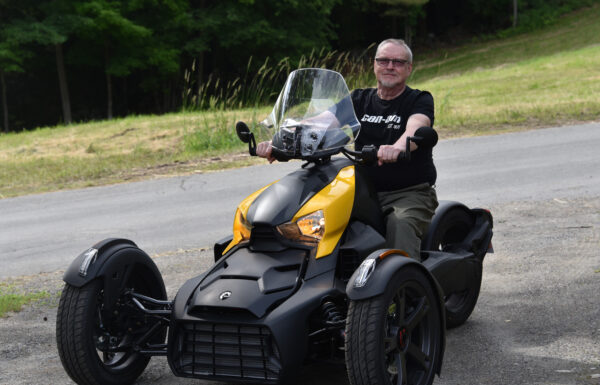 On the Ryker, two wheels are up front, like a car, with one wheel trailing behind the center of the vehicle. When you straddle one of Vermont's epic potholes on a Ryker you get rewarded with an equally epic body slam to the gluteus maximus, which reverberates up your spine.
I'm always amazed when I have made this straddling mistake without a spinal compression injury. The proper way to straddle a dead skunk or some other road obstruction is to line it up to pass between the rider and a front wheel. That is a small patch of real estate to aim for, so it is best not to try and straddle anything too big.
One other thing that I discovered today while traveling up Twenty Mile Stream Road in Cavendish was the impossibility of lining up your front wheels with the raised wooden tracks on a back road Vermont wooden bridge. These specific bridges are becoming rarer in our state because they are the evolution of home-built bridges.
Engineered bridges with level, flat road beds generally replace these old wooden ones because of their low weight capacity. On a Ryker, one of the wooden bridges is a confusing invitation to choose the wrong path regardless of how you maneuver it. The tracks don't line up with the front wheels, so you find yourself with one wheel on the raised track, with the other front wheel plus the rear wheel riding on the decking several inches lower. It is awkward no matter which track you take, and it will always punish you with a nice bump at the end.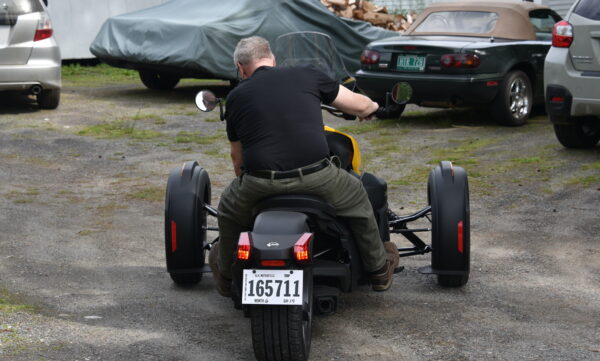 The stability of the Ryker has kept me in the wind when my numb feet had me tipping my two-wheeled motorcycles over. That was unacceptable, so I've had to make some compromises. However, the rowdy little Ryker with its rev-happy 900 cc Austrian-built Rotax engine has proven to be loads of fun while being a bit quirky at the same time.
I'm happy to report that my straddling technique has improved, so I like it. I like it a lot. 
"The Morning Almanac with Arlo Mudgett" is heard Monday through Saturday mornings on radio stations Oldies KOOL FM 106.7/96.3/106.5 and Peak-FM 101.9/100.7.