GREENWICH, CT – The Greenwich Concours d'Elegance has a practice each year of showcasing old models from two chosen brands in the motorcycle area at the waterfront show ground at Roger Sherman Baldwin Park. Last year, it was Indian and Moto Guzzi that got selected. On Sunday, the old British brand BSA and the German marque BMW had the honors.
There was a good variety of models, ranging from scramblers to sidecar rigs. The colorful and chromed BSAs contrasted with the mostly black BMWs.
Gordon Laing of Ivoryton, CT brought his bright orange 1969 BSA B25S Starfire, which he's owned for two years and restored.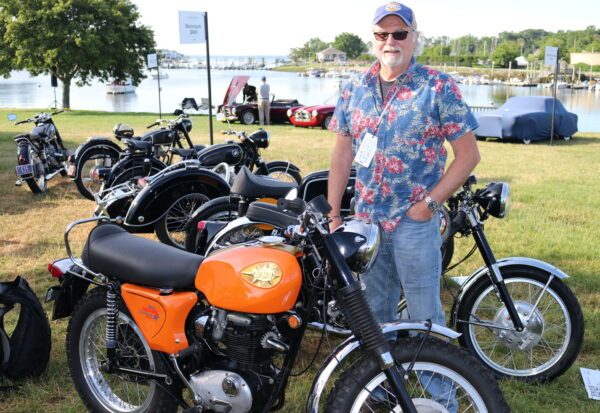 "I bought a whole estate sale from a fella that passed away that had 25 bins of parts and rollers and engines and frames. In the whole mix of parts, I found a matching number engine and a frame to go with it, so two years ago I rebuilt it from the frame up," said Laing, who is treasurer of the British Iron Association of Connecticut.
"It is an original color. It was an export only from the U.K. and you can see the high pipe on the side was an export only to the U.S. The high pipes are very sought after in the U.K. right now."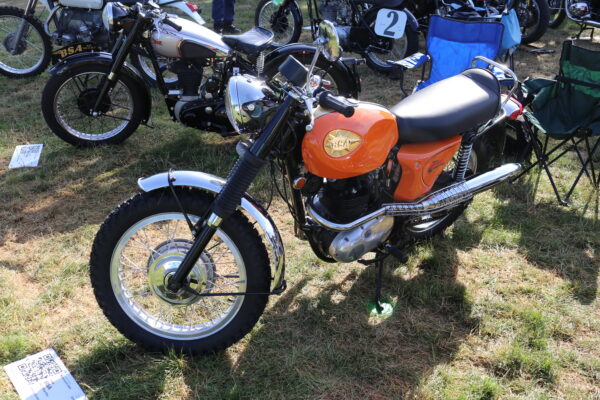 BSA introduced the single-cylinder 250cc B25 Starfire for the 1968 model year, adding the B25S scrambler version for 1969. The Starfire, which had a base price of $695 in 1969, only lasted until the end of 1971. The model was known in the U.K. as the Barracuda.
"It rides fine. It's only got 20 horsepower, so you're just putting down the road, but it can do 55, 60," said Laing, who reported that he owns two Starfires that he uses for different purposes.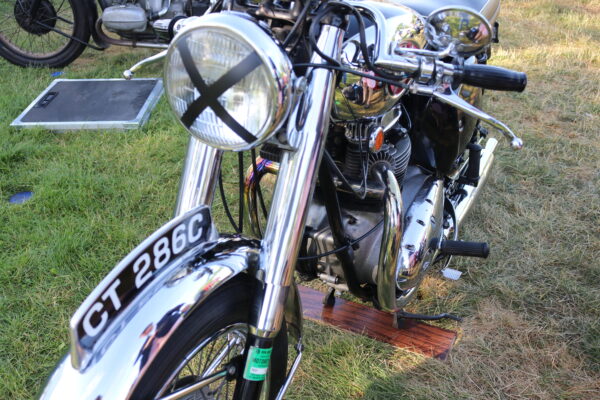 Mark Hamilton Peters of Sharon, CT brought a larger Beezer, a 650cc twin-cylinder 1969 Thunderbolt. "I've had it about a dozen years now and I'm only its second owner. I still have its original title from its original owner, who was a delightful fellow but he quit riding after an incident on one of his other motorcycles," said Peters, noting the seller and the buyer met one another "at the right time."
"He was delighted the bike would go to a good home where it was enjoyed. It hadn't been used for quite some time, so I got to learning about boiling cork and things like that … but it had been put away after a fresh service, so the bike was lovely. It just needed lots of rubbing on and recommissioning and it needed some loving. And that's what it had. I ride it all the time through summer."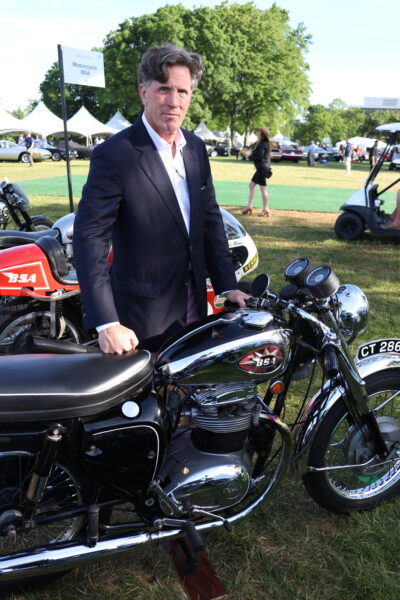 Peters said the BSA is a rider, largely because where he lives "has some of the most wonderful country lanes. Right out my back door are the sort of roads people come from hundreds of miles around just to experience, and I get to roll out of my driveway and experience those. The sounds and the sights, it's all the motorcycle I need for those roads."
Among those representing the BMW brand was Roland Houde of Andover, MA, who attended the Greenwich Concours last year with his with his 1937 Indian Sport Four. This year he brought a 1955 BMW R25/3.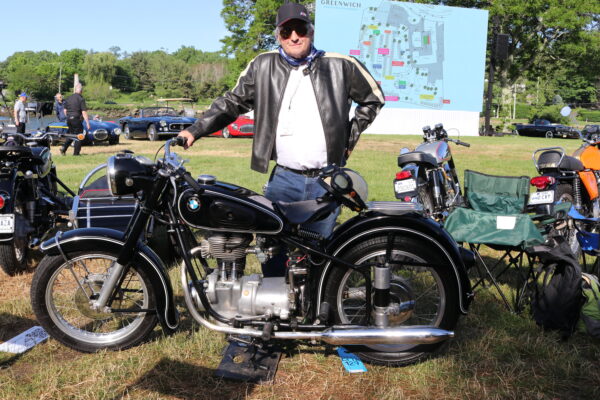 "It's basically an original bike. A woman bought it brand new in Virginia and didn't use it much. I ended up buying the bike 8, 10 years ago in the parking lot across the street. It had a bunch of little things wrong with it. Cleaned it up and here it is today," Houde said.
By "across the street," he was literally referring to the parking lot at the Greenwich Concours where he acquired it.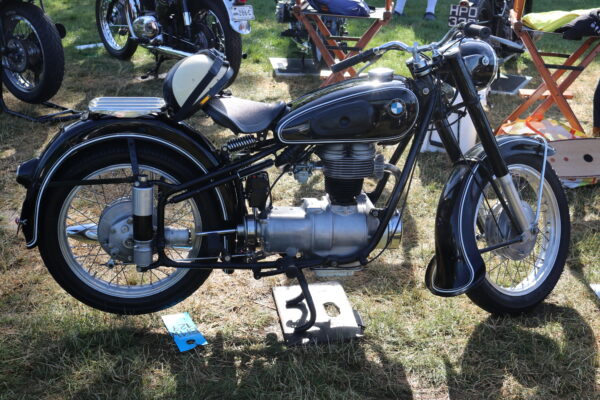 Hello! If you enjoyed this story, please share it with other riders by clicking on the social media buttons below.