CHESTER, VT – No, this isn't about me having some kind of vision, or about some psychic that I employed to interpret it. Not even close. This is about the creative process. It actually stems from the rather arrogant assumption (on my part) that I can do it, or have it done, better. I'm talking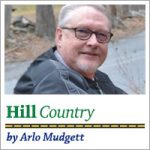 cars and motorcycles, primarily, but you can toss in home construction as well. I just want different. Remember the song lyrics from the 1960's "they're all made out of ticky-tacky and they all look just the same?" For me, those song lyrics were talking about individuality and I'm all for that.
I remember my first custom job as a kid. I bought a beat-up old boy's bicycle from a classmate for three bucks. I painted it red and fussed over it and sold it for five bucks. I must have had four bucks in the paint on it, but the paint belonged to my Dad, who was always on the road. I figured that what he didn't know wouldn't bother him, so the deal was all profit for me. I rather enjoyed transforming that undesirable rusty old bike into a slightly less undesirable red bike. It wasn't about money, I realized, it was about the process of transformation. Ugly bike becomes less ugly, and it reflected my vision of how it ought to look. Sort of. Admittedly, I used a brush to apply the paint, but at least the overall color displayed a certain uniformity.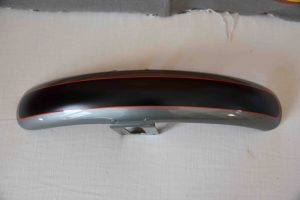 Over the years I have threatened to repaint a couple of motorcycles. My 1981 BMW R 100 RT came from the factory in a color they called "smoke red." It was red paint that went in a gradient from red to all black on all the edges of the fairing, tank, and fenders. I thought it was kind of ugly. I thought about painting the whole thing yellow with black accents and calling it a "bumble beemer." A BMW riding buddy talked me out of it, telling me it would kill the bike's resale value. With 100,000 miles on that faithful BMW I thought the resale value was a moot point. However, when I sold it I got only $500 less than what I had initially paid for it. When you think about it, owning that motorcycle cost me five hundred bucks plus maintenance to own it for seven years. That's amazing. My friend was right, I was wrong, but I made the right choice by heeding his advice.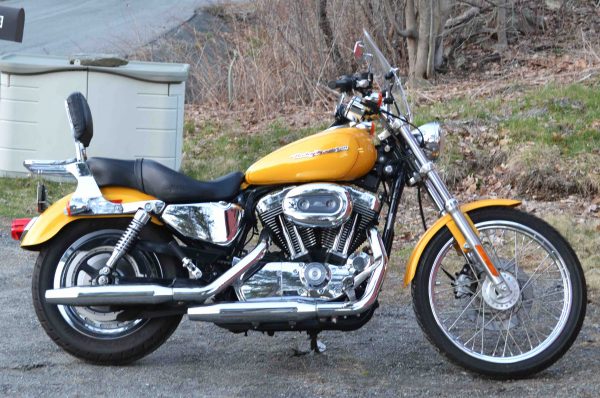 My favorite current ride is a Harley-Davidson Sportster 1200. It came from the factory in bright yellow metallic paint with red pinstripes. The price I paid for the bike probably reflected what the market thought it was worth, and that's the price of a very undesirable color. It was a fabulous deal. My plan was to customize the bike with a paint job of my own design, with carefully chosen graphics. I've talked about this project here in a previous missive. I went into Photoshop and altered a couple of photos that my fiancee had taken of the Harley. I changed the color from "not so mellow yellow" to a tasteful flat black with gloss gray, burgundy pinstripes and graphics. It looked pretty good on paper after I had modified and refined the design a few times. I found two Harley-Davidson tank decals in a very attractive handwriting style, then I went shopping for a painter. I got in touch with Joel Gomez at Green Mountain Classics in Springfield, VT. He agreed to take on the job, but said right up front that he did not normally do motorcycles. OK, I suspected as much. He had done a couple of repair jobs for me on pick up trucks recently and I was pleased with his ability to color match the paint.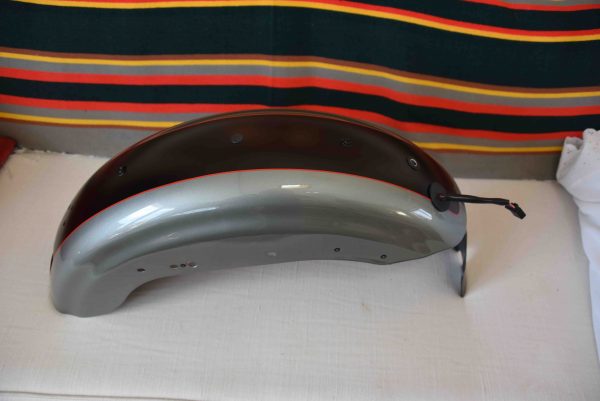 I dropped off the salvage gas tank and fenders (the "tins" as they are referred to) that I bought online and sent Joel a copy of my renderings and he took it from there. My plan was to simply switch out the salvage tins for the stock yellow tins and sell those. Throughout the process, Joel would email me whenever there was a question about the job which I greatly appreciated, but I never hovered or bugged him about the progress. When you work with creative people, it's usually the best policy to let them do their thing without any undue influence. Before I knew it the "tins" were done. I was gobsmacked. My creative vision for changing the color of my motorcycle had been beautifully interpreted and executed. That's what I'm talkin' bout!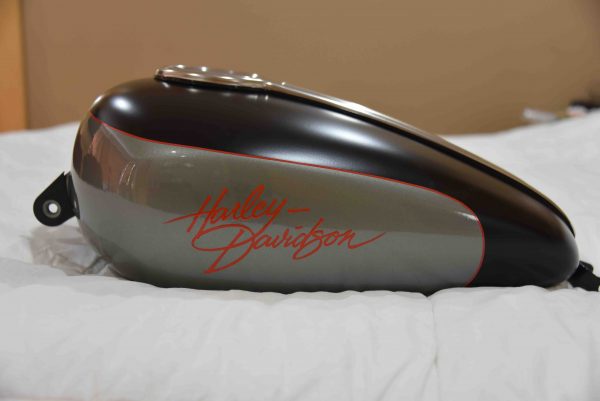 Just a note: Green Mountain Classics isn't exactly in the business of doing custom motorcycle painting. They are a very busy body and restoration shop. Joel tells me that he won't be available to take on motorcycle work for a couple of months until he gets his home shop completed. I have a feeling that folks will be beating a path to his door.