WALPOLE, NH – There are some sights you see as a rider that you know will never be duplicated. For instance, the display of eight Brough Superior motorcycles back in 2009 at the Rhinebeck Grand National Meet in NY. Or the Harley-Davidson V-Rod and the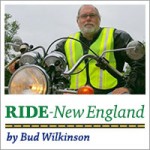 Honda CTX700 parked side-by-side at The Hungry Diner here just last week.
Both the V-Rod and CTX700 are oddball bikes. Not bad, just different, styling-wise. From its debut in 2001 to its demise with the end of the 2017 model year, the V-Rod was the bastard step-child of the Harley-Davidson line – a solid model that traditionalists scorned. The CTX700 also has a polarizing look that not everyone appreciates even though it's a fun rider. The odds of seeing the two models together again are nil – unless I happen to run into the couple from Keene, NH who were riding them.
However, it's a sure bet that The Hungry Diner gets visited again … and soon.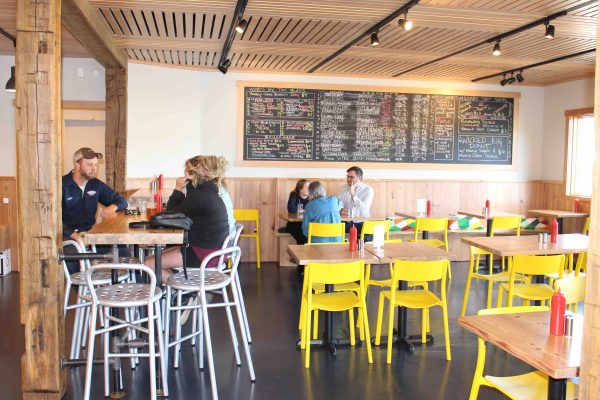 The Hungry Diner was on RIDE-CT & RIDE-NewEngland's radar even before it opened two months ago. It's owned by Chris and Caitlin Caserta and Caitlin's father just happens to be "Hill Country" columnist Arlo Mudgett. He tipped off the home office before the eatery was even built. It just took a little while to get there.
The premise behind the place is "farm-to-table" with the Casertas' Walpole Valley Farms supplying the beef, pork, chicken, turkey and eggs. Other ingredients are locally sourced as well. The food itself is made from scratch. "It's a farmer owned establishment and they take great pride in what they do," chef Vaughn Metcalf explained.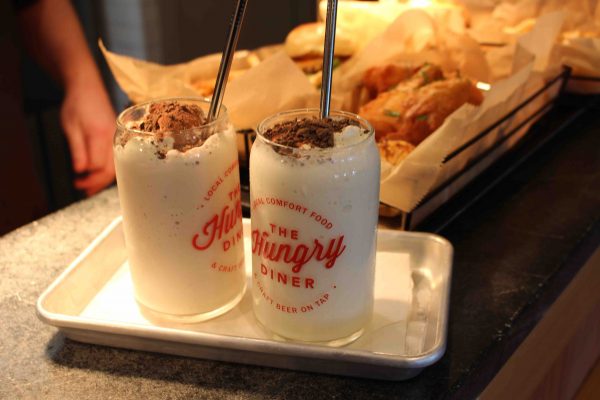 After eyeing the specials and perusing the menu, I opted to try the Korean BBQ Pork Tacos ($14), which are served with kimchi, pickled carrot, Tiger sauce, cilantro and toasted sesame seeds. Not only does the farm-restuarant operation raise the pigs, but it cures the pork as well. From first bite to last, the tacos were extremely tasty, although neither I nor a friend who also ordered them could retrieve adequate words to comprehensively describe the taste. They are spicy with a pleasant after-burn.
"There's a lot going on there," Metcalf later acknowledged when I quizzed him on the flavors. He listed the Korean red pepper spice gochugaru, brown sugar, fresh garlic, fresh ginger and sea salt among the ingredients. "Balance is the key," he said. The tacos, like several other menu items, are gluten free.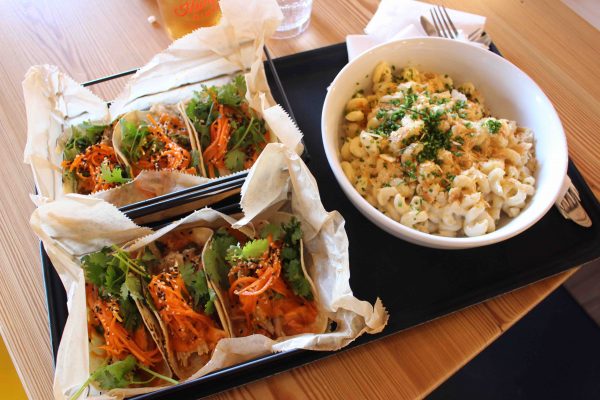 Other popular items include the Hungry Mac & Cheese ($14) made with aged cheddar and parmesan cream, which another friend enjoyed; the Hungry Burger ($14) with two beef patties, American cheese, shaved onion, lettuce, secret sauce and Wicked dill pickles; and The Chippy ($17), fish and chips.
There are also daily specials. The day we were there they included Pastrami Bombs ($15), Pork Spare Ribs ($18) and a watermelon and heirloom tomato salad ($12). "There's not a thing we don't recommend," said Metcalf, noting that the specials "allow me to play around and have fun."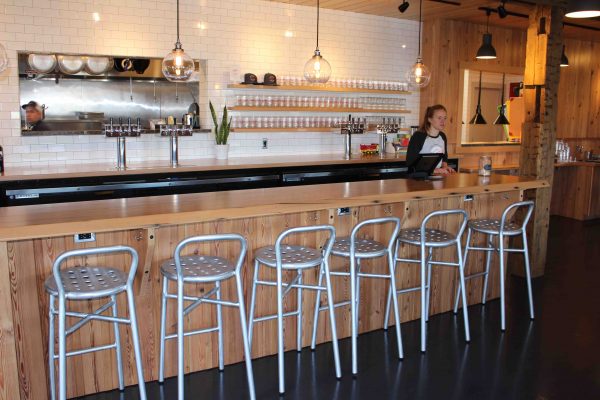 To wash down the food, The Hungry Diner has milk shakes with homemade ice cream, a variety of specialty sodas and, yes, 16 beer taps with lines leading to a variety of craft beers, most of them from the region. While the list tilts toward IPAs, this malt-head was pleased that it didn't exclude other types of brews. However, because we were riding, we skipped the beer and stuck with water.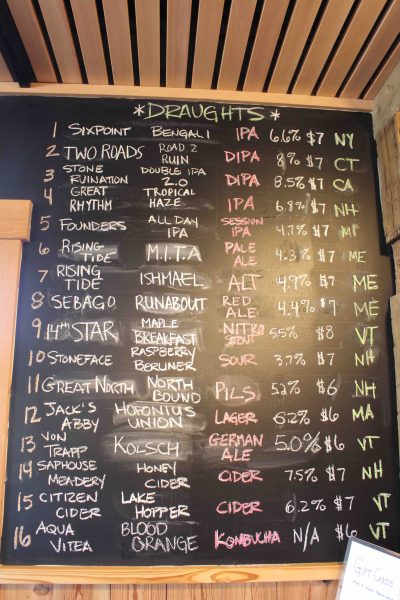 The restaurant itself is open and airy, if a tad too sterile. Orders are placed at the counter and you're given a buzzer to alert you when your order is ready at the window. Throughout our meal, the attentive staff asked if we needed anything and quickly cleaned the remnants when we had finished. Because we did the leg-work ourselves, I wasn't sure whether a tip was necessary and didn't think to ask (and didn't notice if there was a tip jar at the counter). Really, I wasn't being cheap. I was just unsure.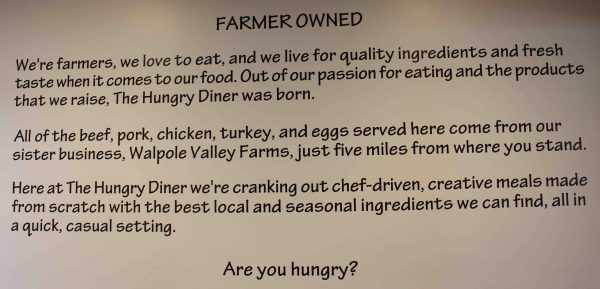 The Hungry Diner does have unusual hours. It's closed Monday and Tuesday and open from 4 to 9 p.m. on Wednesday and Thursday, from 11:30 a.m. to 9 p.m. on Friday and Saturday, and from 11:30 a.m. to 8 p.m. on Sunday. The address on the website says 9 Edwards Lane, which means zilch to non-locals. We initially got lost trying to find it after crossing the Connecticut River from Westminster, VT, thinking it was a bit south in Walpole proper. It isn't. It's north of the bridge on Route 12/123. Adding a map on the website would be a good idea.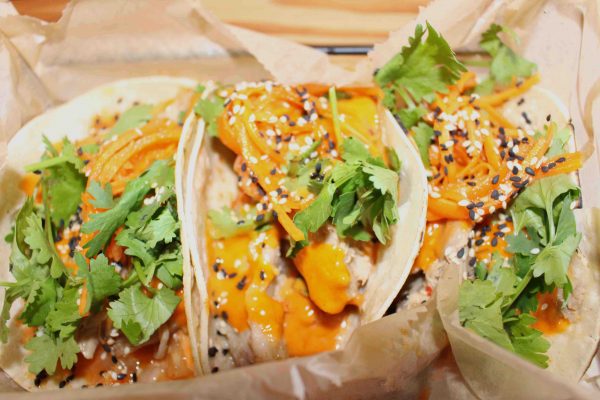 Having been satisfied with the Korean BBQ Pork Tacos, I'm now anxious to try something else on the menu. The leaves will be changing color soon. An excuse for another 250-mile ride?