SPRINGIELD, MA – Angela Phillips of Feeding Hills, MA was a first-timer Sunday at the 10th annual Indian Day staged by the Springfield Museums. She rides pillion on a friend's Harley-Davidson and he'd stumbled across an item on Facebook touting the event.
"This is the best ever. I love it," said Phillips as she perused a line of vintage Indians. "I think it's amazing these old vehicles are still intact, still rideable."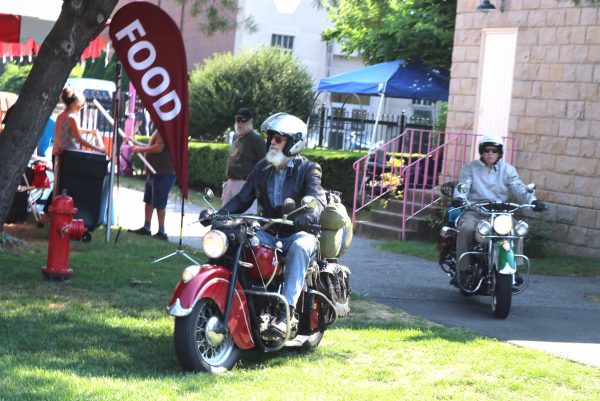 That is the amazing thing about Indian Day. Many of the vintage entrees are actually ridden into the show ground by their owners. By noon Sunday, there were more than five-dozen on display and the crowd exceeded 1,000 people.
Indian motorcycles were originally produced at a factory just up the street from 1901 to 1953, hence the annual celebration of the brand.
The Springfield Museums' Lyman and Merrie Wood Museum of Springfield History has an extensive collection of old Indians, and admission to Indian Day includes access to them.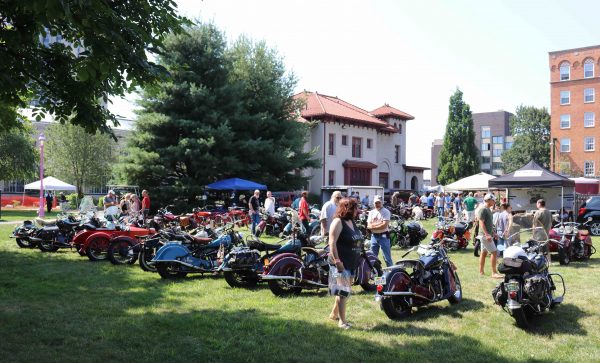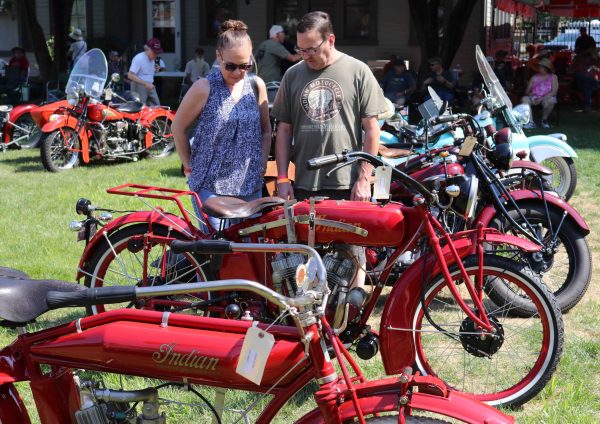 Robin Gazza of Windham, CT is a familiar face at Indian Day, and he brought the 1929 Indian 101 Scout with sidecar that he picked up around 2002-2003. "It was a pile of pieces," he recalled.
Gazza didn't get the 101 Scout finished until about three years ago and it looks exquisite. Indian only built the 101 Scout for four years; from 1928 to 1931.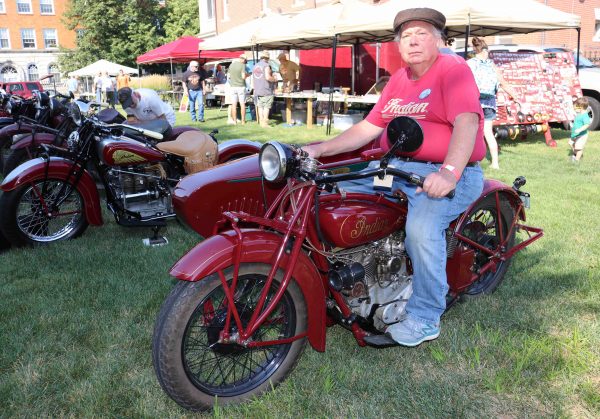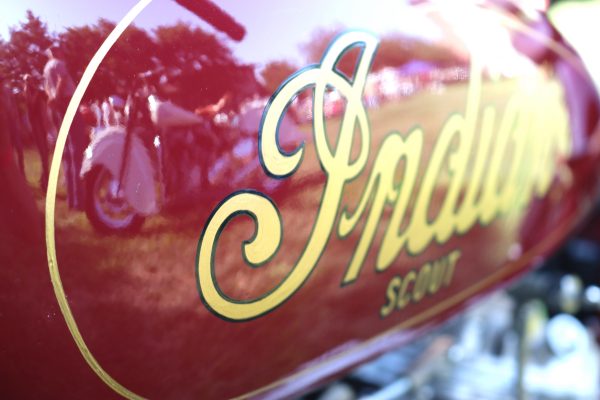 Jerry Nichols of Palmer, MA brought his 1940 Indian Chief, while his son, Mike Nichols, brought his 1941 Scout.
Jerry said he bought the Chief about five years ago because it had "good bones." It's a rider, too, as he reported riding it 200 miles on Saturday.
Mike, who RIDE-CT & RIDE-NewEngland wrote about back in January when he brought a 1951 Simplex Servi-Cycle to the Springfield Motorcycle Show, has owned his Scout for eight years. "It has a good patina to it," he said.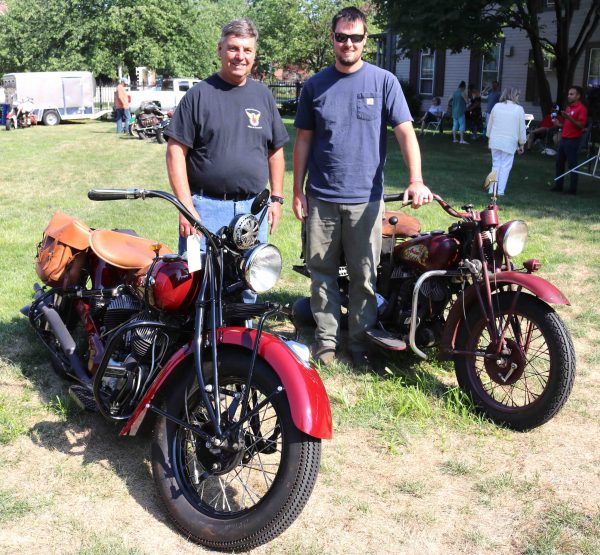 This year's Indian Day seemed to have more sidecar rigs than usual. Warren Compton of Chicopee, MA had his 1953 Indian Chief. His father had purchased it new in 1954 as a leftover and it passed to Compton in 1979 when his father died.
"I used to ride it more. You're afraid you're going to break down," said Compton, recalling that he took it on the Mass Pike back about 2001 on a trip to Lee and began to run low on gas.
"I tried to switch to reserve and the valve was stuck," he said, recalling that he went searching for a rock or stone to bang on it and may loosen it up. "I was lucky. Somebody came by on another motorcycle and they had a set of pliers."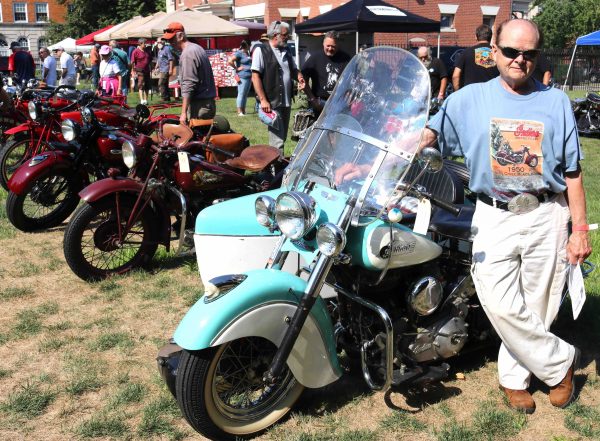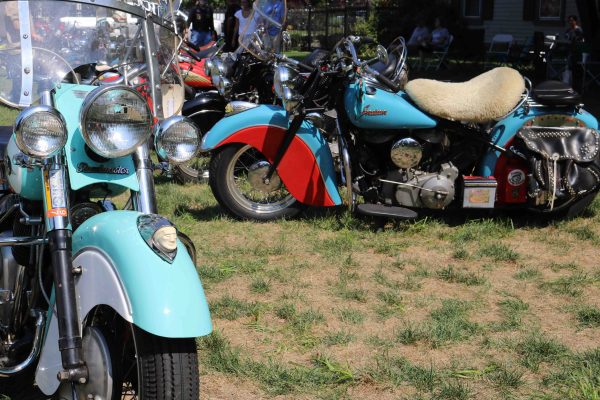 Also riding in with a hack were David and MaryAnn Kitrosser. They live in the Boston area and have a 1938 Indian Four, which was acquired in 1966. The model was built from 1928 to 1942. Their son, Jon Kitrosser, arrived with them on a 1946 Indian Chief.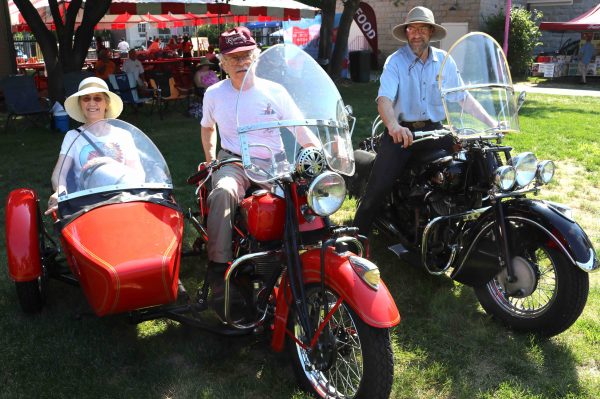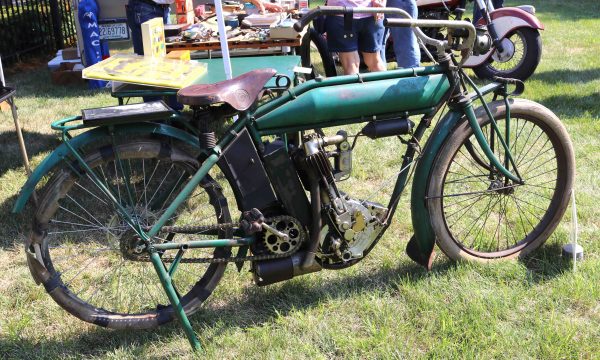 One of the oldest Indians at Indian Day was a 1910 model, but examples of the brand's entire run could be seen on the show ground. Those who attend Indian Day, whether exhibitors or spectators, are appreciative of Indian's place in motorcycling's history.
Here are some more pictures from Indian Day: