By Bud Wilkinson of RIDE-CT.com
When RIDE-CT needs info on old Indians, George Yarocki of Torrington is always the first person called, but the "Daily Hampshire Gazette" in Easthampton, Mass. reports that a guy up there named Michael Baer knows a good deal about the motorcycles that were made in Springfield as well. You can read about him here.
—
All this week, RIDE-CT has been test riding a 2011 Ducati Diavel. A full report appears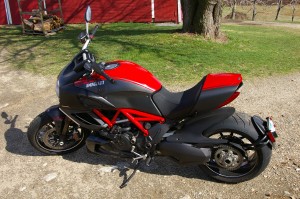 Saturday in "The Republican-American," but I will say that the reaction of other riders has been uniformly splendid. Wherever I go, and I've ridden it about 500 miles, the comment has been "Nice bike." I didn't realize just how smooth, powerful and sure-footed the Diavel is until I had to ride my 1994 BMW R100RT to Torrington on Thursday afternoon to qet a quick frame weld done by Steve Serafini at Fab-U-This. The RT seemed downright rickety compared to the powerful Diavel. Nice bike.
—
Just a reminder that the Motorcyclepedia Museum in Newburgh, N.Y. officially opens at 10 a.m. Saturday with a ribbon-cutting. Admission will be free on opening day. The museum is located at 250 Lake Street and features more than 300 motorcycles and more than 100 Indians. For more info, visit here. RIDE-CT plans to attend the opening and will have a report in "The Republican-American" next Saturday.