BIARRITZ, FRANCE – Indian may be an iconic American motorcycle brand, but the company went overseas to the Wheels & Waves show here to announce that a flat track-inspired street model – the FTR 1200 – will go into production and go on sale in 2019.
A group of industry VIPs were shown an early production model at a behind-closed-doors session on Saturday. Neither a formal release date nor full specs were announced, although Indian said that the FTR 1200 "will embody a flat tracker style, housed in a trellis frame and powered by a new V-twin engine."
The announcement ended months of speculation and anticipation. The FTR 1200 will be Indian's first non-cruiser model, inspired by its FTR750 flat track racer and the one-off prototype FTR1200 Custom that was revealed at the EICMA show in Milan, Italy in November.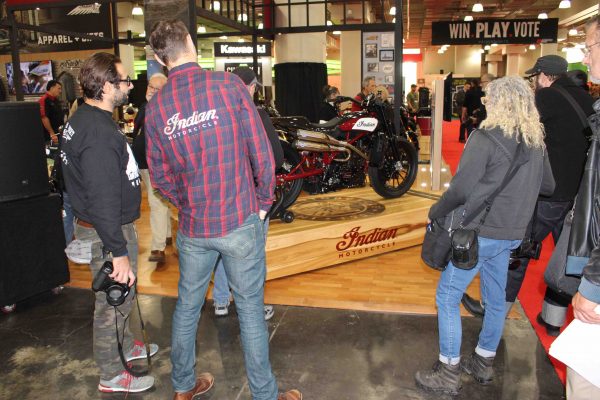 The FTR1200 Custom (pictured) was then shown off at the Progressive International Motorcycle Show in New York in early December.
"When we unveiled the FTR1200 Custom at EICMA, we said we'd listen to feedback from riders around the world," said Steve Menneto, president of Indian Motorcycle. "Riders definitely have spoken and the response has been overwhelming. We're proud and excited to announce that we will be putting the FTR 1200 into production."
Indian's FTR750 race bike has dominated the American Flat Track circuit since its debut in 2017.
Instrumental in the design of the FTR750, the FTR1200 Custom and the FTR 1200 was Indian Motorcycle senior designer Rich Christoph. "We wanted to make sure that the FTR 1200 wasn't merely a regurgitation of the FTR1200 Custom, but something uniquely 'street,' albeit flat track inspired," he said. "We're thrilled about the character this bike possesses, and its ability to take American V-twin motorcycles into new territory."
Indian is already running a sweepstakes where riders can enter to win one of the first bikes off the assembly line. Enter here.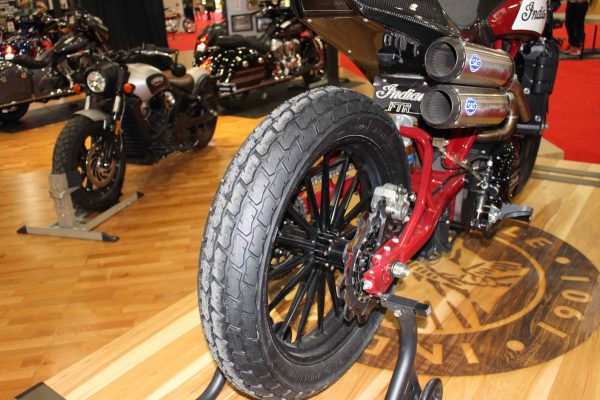 The revelation that Indian's new flat track-inspired model will use a 1,200cc rather than a 750cc motor still leaves the brand lacking a model in the 250-1,200cc range. A 750cc model derived from the FTR750 might have better served entry riders as well as those looking to downsize their rides.
– Story and photos by Bud Wilkinson