MILWAUKEE – Royal Enfield's North American subsidiary is hoping to bring the Himalayan adventure and touring model to the U.S. in 2017. The 411cc, single-cylinder model was announced back in February, but hasn't been exported to the states by the India-based manufacturer.
In an article published today by Powersports Business, Royal Enfield North America president Rod Copes said the bike's price, type of motorcycle and off-road ability make the model appealing.
"We're in the process of working with India to establish a project that would homologate that motorcycle so we can sell it in the states next year. I'm hopeful that we'll get it ironed out," said Copes.
Royal Enfield's CEO, Siddartha Lai, agreed. "It's certainly an option and something we're working on," Lai said. "It's more about meeting the right regulations and meeting the right price point… We still have to make a formal decision, but we would love to sell the Himalayan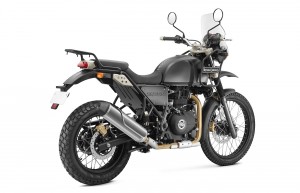 (in North America)."
In the article, Copes said Royal Enfield North America's current goals are to develop a dealer network and build brand awareness. It currently has 30 dealers in the U.S. and Canada and seeks a total of 100. The lone dealer in New England is Mark's Motorsports in Enfield, CT.
Royal Enfield expects to sell 675,000 motorcycles worldwide this year, up from 500,000 in 2015 and up from 50,000 in 2010.