MILAN, ITALY – Kawasaki is going all-in on electric motorcycle models.
Having announced last month that it plans to make all of its major motorcycle models electric or hybrid by 2035 and that it will introduce more than 10 battery-powered or hybrid models by 2025, the Japanese company used the EICMA show here this past week to reveal even more details of its electric strategy.
"Next year, 2022, we will show a minimum of three electric vehicles globally. That is a promise," said Hiroshi Ito, president and CEO of Kawasaki. Ito also revealed to reporters that the company is exploring hydrogen-powered and bio-fuel models.
No information has been released on possible model styles or prices. Any models, though, are certain to get attention in a nascent segment currently occupied by Zero, Energica and Harley-Davidson's stand alone LiveWire brand.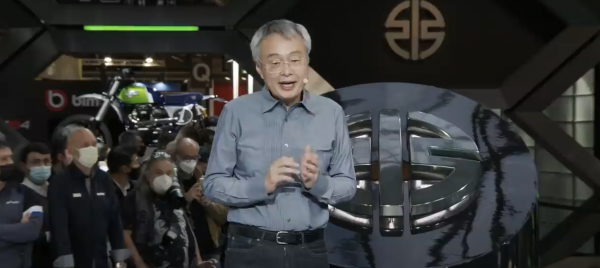 The shift by motorcycle makers from gas-powered to battery-powered machines is inevitable. "If you don't embrace technology and change and know that it's coming, if you ignore it, you're behind before you know it, and that's a dangerous place to be," said Chris Green, general manager of New Haven Powersports, the Ducati-Kawasaki- Suzuki-Vespa dealer in New Haven, CT.
New Haven Powersports has been selling Vespa's Elettrica battery-powered scooter for nearly three years.
Some motorcycle manufacturers and dealers have been introducing electric bicycle models to their showrooms as a prelude to an eventual shift to electric motorcycles. Bob Tiso, owner of Kawasaki dealer Land 'N Powersports in Waterbury, CT said the landscape is "changing quickly."
Last week, his store added the Specialized "Turbo" line of electric bicycles. Regarding Kawasaki's electric plans for 2022 and beyond, Tiso said, "It'll be cool to have a few."
While Ducati doesn't currently build any electric motorcycles, it has committed to be the sole official supplier of motorcycles for the electric class of MotoGP racing beginning with the 2023 season. Ducati replaces Energica in a deal that lasts until 2026.
Hello! If you enjoyed this story, please share it with other riders by clicking on the social media buttons below.