HARWINTON, CT – His grandfather raced motorcycles. His father raced motorcycles, too, so it was likely preordained that Kenny Coolbeth Jr. would follow in their tracks. He started riding and racing as a youngster growing up in Warren, CT and can still be found on the racetrack testing new Honda models.
Coolbeth is 45 now. He retired from competing on the American Flat Track circuit four years ago after sacrificing his body at speeds well over 100 miles per hour for 25 years. He currently works as a rider coach and test rider for the Turner Motorsports Honda team.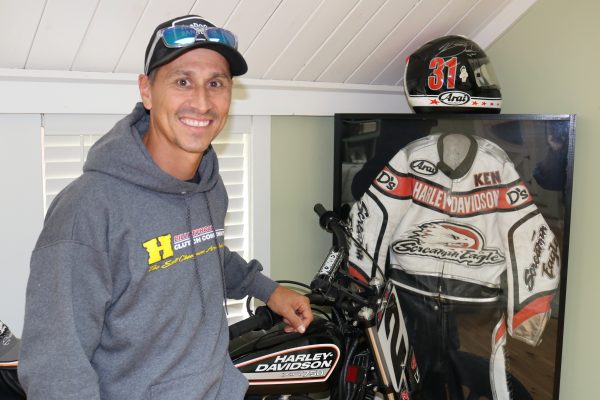 "It's funny how it all worked," he said earlier this month while taking a break from co-hosting a tag sale at his Harwinton home with his wife Jennifer. "I was just always around it. My dad was still racing when I started so I was around it every weekend. That's how it really started."     
His entry into racing might have been predicted, but the manner in which his success is being recognized next month couldn't be foreseen, although his winning Rookie of the Year honors for the 1994 season certainly provided a high-profile preview to his career.
Make that his Hall of Fame career.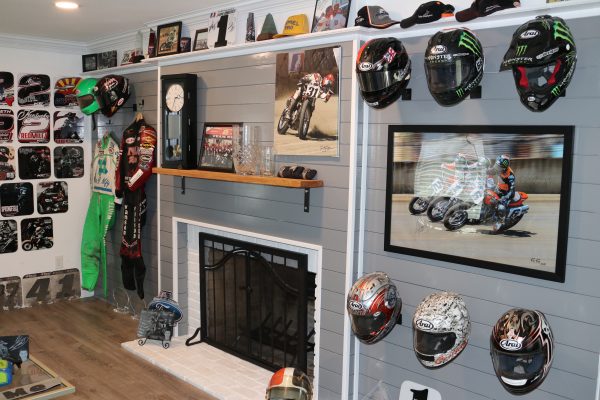 On Oct. 28, Coolbeth will be inducted into the American Motorcyclist Association Hall of Fame in Pickerington, Ohio. He's one of six members of the Class of 2022 that also includes motocross and supercross legend James "Bubba" Stewart. 
Coolbeth learned of his selection in mid-July. "I was pretty ecstatic. It's pretty cool to add to my accomplishments," he said. "I heard from people that I might be a candidate and then they ended up calling me. I was home here in Harwinton."
His secluded home is at the end of a long driveway. Shoppers at the tag sale had no reason to suspect the status of the guy selling old doors, tires and a wood stove. There was one item, though, that provided a clue – a jacket with the brand name Harley-Davidson across the back.
Coolbeth cemented his Hall of Fame credentials riding for Harley-Davidson's factory team. He won AMA Grand National Championships in 2006, 2007 and 2008 in a career that had 27 race wins and 108 podium appearances. He ranks sixth of the sport's all-time list of winners.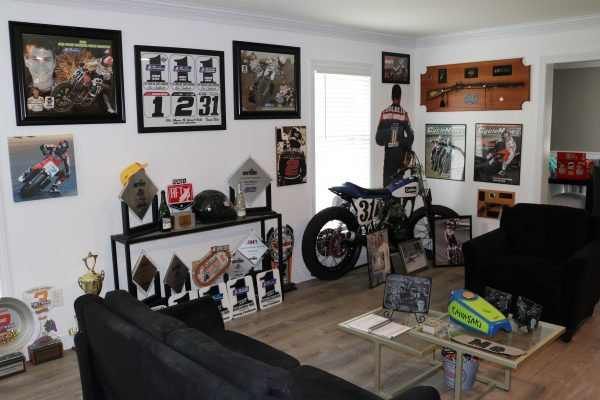 Coolbeth said he started riding "for the fun of it, at first. Then as I got older and started doing well, I started focusing more on it being a job. Obviously, the main goal was to have fun but as I got older it was definitely in (the) back of my head to have that as my job."
In chatting about his success, though, he lavishly praised others. "The people that I surrounded myself with was key and that was most of the reason I was successful, and having the right sponsors, the right people," Coolbeth said.
His dad and his family when growing up provided the foundation. "My family sacrificed a lot for my career. Once I started to do well, they noticed that and took me pretty much around the country even if we didn't have the money," he said.
"We would load up and we'd do Friday, Saturday and Sunday (at racetracks), and they would drop me off Monday morning at school in the camper. It was pretty cool growing up doing it. I wasn't a normal kid, sports and stuff like that, I was always away but I wouldn't take anything back that's for sure."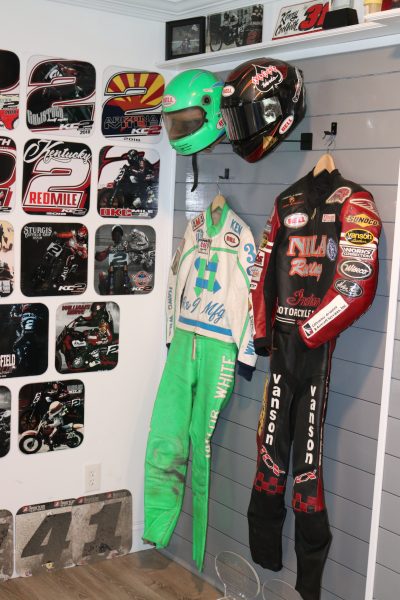 Inside his house is a family room dedicated to his racing days and decorated floor to ceiling with artifacts. There are helmets, leathers and trophies as well photos and magazine covers showing him in action at racetracks across the United States. 
One track stands out in his memory. "It was pretty crazy because I won my first Grand National race at the same track I won my first Grand National Championship at," he said, referring to Scioto Downs in Columbus, OH. "That was pretty cool. That was a pretty cool highlight of my career and then, obviously, riding for factory Harley-Davidson. That was pretty much a dream when I started," he said.
In another part of his house, Coolbeth has a Harley-Davidson XR750 flat track bike on display, a memento recalling his dominant years. Yet there's no braggadocio when he assesses his career, rather detached reflection.
"I don't think I could have done it any better. I had everything. I'm a pretty humble guy, so I don't even think about what I've accomplished. I'm just a normal guy that knew how to ride motorcycles really. I was fortunate. It all worked out like a picture for me, so it was good. I was lucky," he said.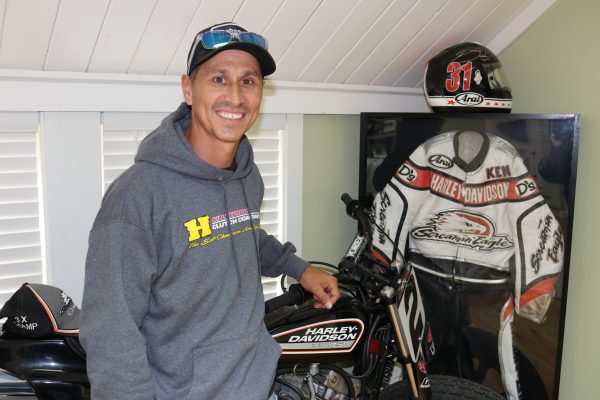 After three generations of Coolbeths racing, there isn't likely going to be a fourth generation. Coolbeth isn't steering his seven-year-old son Liam toward a life spent on two wheels at racetracks.
"He likes to ride, but every now and then. I don't push him. I really don't want him to ride, 'cause I've seen quite a bit. I've got quite a bit of metal in me, seen a lot of stuff in my career that kinda sucked," he said.
His stats show that the trophies have outnumbered broken bones. "When racing's good, it's good, and when it's bad, it really sucks. The winning keeps you going that's for sure," he said.
What the longterm future holds for Coolbeth isn't known. For now, he's sticking close to the racing scene. "I'm still involved in it. The racing thing, it's all I know," he said. "I can do anything. I'm a go-getter and I like money, so we'll always be all right."
(A version of this column originally appeared in the "Republican-American" newspaper on Sept. 24, 2022.)
Hello! If you enjoyed this column, please share it with other riders by clicking on the social media buttons below.