MILWAUKEE – LiveWire became "the first publicly traded EV motorcycle company in the U.S." today and marked the occasion announcing that it's now taking orders for a production version of its urban-oriented, dirt track-inspired S2 Del Mar electric model.
The "Launch Edition" of the model sold out in a 18 minutes back in May. Orders for the production version may be placed at the company's website at livewire.com. Delivery is expected in spring 2023 once 100 Launch Edition units have been placed in the hands of customers.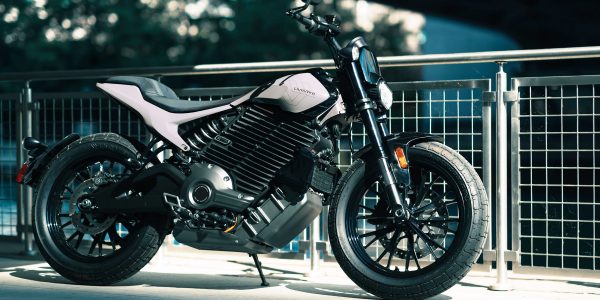 The Launch Edition Del Mars come in three colors – gray, blue and black – and have an MSRP of $16,999. That is $600 less than what the company said back in May that the bike would cost. The 80-horsepower, 431-pound model is expected to have a city riding range of 110 miles. It will go from 0-60 miles per hour in 3.1 seconds.
The S2 Del Mar is being built at Harley-Davidson's plant in York, PA.
As of today, though, LiveWire is a new public company listed (as "LVWR") on the New York Stock Exchange. It is jointly owned by Harley-Davidson and the "special purpose acquisition company" AEA-Bridges Impact Corp.
LiveWire's stock price in its first day ranged from a high of $11.62 per share to a low of $8.20. It closed at $8.25.
"This transaction represents a proud and exciting milestone for LiveWire towards its ambition to become the most desirable electric motorcycle brand in the world," said Jochen Zeitz, Chairman and CEO of Harley-Davidson as well as LiveWire.
"We believe LiveWire is well positioned to define the two-wheel EV market, and we're excited about the future – in celebration of our listing today, we're pleased to open reservations for the production version of the S2 Del Mar for the U.S. market."
LiveWire now has seven dealers in the Northeast. They are LiveWire Bristol/Yankee Harley-Davidson in Bristol, CT; LiveWire Revere/Boston Harley-Davidson in Revere, MA; and LiveWire North Hampton/Seacoast Harley-Davidson in North Hampton, NH.
There's also LiveWire Long Island City/New York City Harley-Davidson in Long Island City, NY; LiveWire New Rochelle/Empire Harley-Davidson in New Rochelle, NY; LiveWire Warwick/Russ' Ocean State Harley-Davidson in Warwick, RI; and LiveWire Barre/Wilkins Harley-Davidson in Barre, VT.
(Photos courtesy of LiveWire)
Hello! If you enjoyed this story, please share it with other riders by clicking on the social media buttos below.