Laconia Motorcycle Week gets ready to begin in New Hampshire and "The Laconia Daily Sun" has an update on how safety is being stressed:

By Michael Mortensen, The Laconia Daily Sun
LOUDON — At a time that has come to be known as the new normal, promoters of Laconia Motorcycle Week formally kicked off this year's event stressing the need for safety — not only on the road, but off as well.
"We have always stressed safety. But this year we are adding a new area of safety we are stressing," Jennifer Anderson, deputy director of the Laconia Motorcycle Week Association, said. She was referring to the steps that have been taken in the hope of reducing crowds and stressing the need to abide by guidelines designed to minimize the spread of coronavirus.
Joining Anderson for a news conference at the North East Motor Sports Museum were other association officials, along with representatives of the State Police, state Liquor Commission, the museum, and the New Hampshire Motor Speedway, where motorcycle races will be held this weekend and next.
Fewer dignitaries showed up for the news conference than in past years, when the governor, mayor of Laconia, and the city's police and fire chiefs often attended.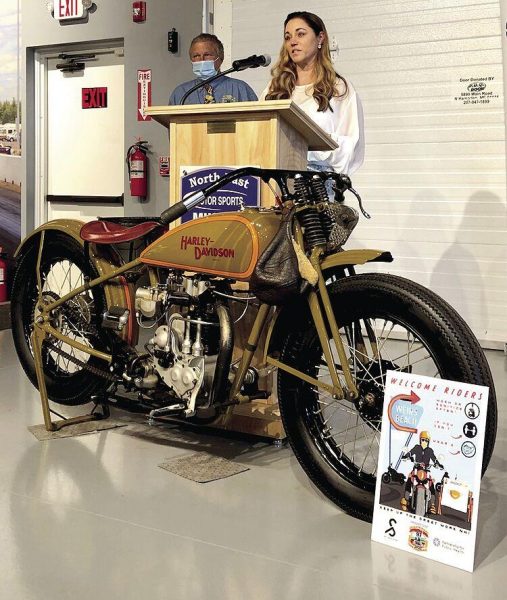 On Thursday Laconia City Councilor Tony Felch extended a brief welcome on behalf of the city.
"This year will look a lot different, but our welcoming attitude hasn't changed," Cynthia Makris, Motorcycle Week Association president, said in her opening remarks, standing at a podium with a 1929 Harley-Davidson displayed in front.
On Saturday — the first day of the nine-day event — The Naswa Resort, which Makris runs, will host a fundraising ride named for her late father, Peter Makris. Cynthia Makris noted the ride and similar events planned during the coming week show that "bikers are philanthropic to our charities."
Motorcycle Week Executive Director Charlie St. Clair pointed out the steps that the organization has taken to promote social distancing and encourage people to wear face masks when they are not riding.
"The association has gone above and beyond this year," he said.
For the remainder of the story, please click here.