On the day that Laconia Motorcycle Week in New Hampshire begins, the results of the latest reader poll by RIDE-CT & RIDE-New England reveal that nearly two-thirds think it was unwise to stage the Sturgis Motorcycle Rally and Laconia Motorcycle Week amidst the COVID-19 pandemic.
A total of 62 percent voted that the risk of attendees bringing home and spreading the coronavirus was and is too great and that the events should have been canceled, while 38 percent felt the freedom of riders is more important.
The poll ran from Aug. 10 through Aug. 21 with the question posed being "Should huge, potentially super spreader events like the ongoing Sturgis Motorcycle Rally Rally and the upcoming Laconia Motorcycle Week have been canceled?"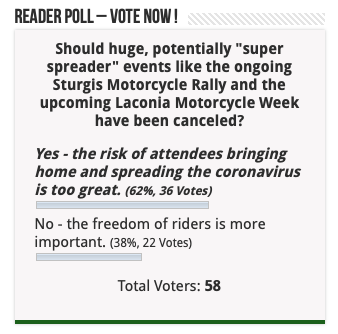 Turnout was about average with 58 readers casting a vote.
The Sturgis Motorcycle Rally was staged from Aug. 7-16 in Sturgis, CD. Since then, cases of COVID-19 elsewhere have been traced to the rally. Laconia Motorcycle Week begins today and runs through Aug. 30.
RIDE-CT & RIDE-New England began polling readers back in February on a variety of issues. Questions have ranged from the impact of the COVID-19 pandemic this riding season to the appeal of BMW's new R 18 cruiser.
New Poll Posted On Pandemic
A new poll has been posted seeking reader reaction on the impact of the COVID-19 pandemic this riding season. Have you been riding significantly less, about the same or a bit more than what is normal? Readers may vote atop the right-hand column on any page on the website.
The website's polls are non-scientific. They run for no set period, usually for a few weeks, and are conducted out of curiosity and for fun.
If you have a suggestion for a poll question, feel free to email budw@ride-ct.com.
Hello! If you enjoyed this poll, you can help boost voter turnout for the new poll question by clicking on the social media buttons below and asking fellow riders to participate.