LACONIA, NH – The biggest motorcycle event in New England has been stripped of a major attraction, but is still going forward despite the COVID-19 pandemic as city leaders here seemingly bow to local pressure to allow it to proceed because of the revenue it generates.
City Council last night voted 5-0 to prohibit permits for vendors at Laconia Motorcycle Week. That means the 97th edition of the rally will look much different next month without the dozens of tents filled with biker wares.
But it will go on as planned.
City council exempted non-profit organizations from the vendor booth ban because Laconia Motorcycle Week represents a massive fund-raising opportunity.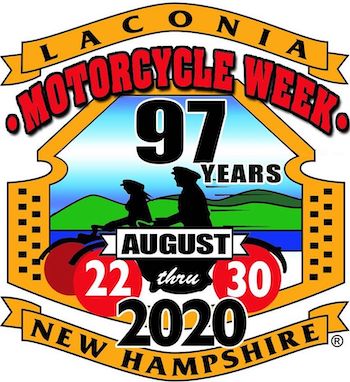 Laconia Motorcycle Week is set for Aug, 22 through 30, having been postponed back in April from its original dates of June 13-21 because of the pandemic.
The loss of vendors will have a significant impact on income for the event, which charges vendors hundreds of dollars apiece to set up shop. The ban could also have a significant impact on attendance, which was already anticipated to decline due to the pandemic.
The "Laconia Daily Sun" newspaper today quoted Mayor Andrew Hosmer as saying the decision to prohibit vendors was an attempt to strike a balance between the needs of local businesses and the need to safeguard health during the pandemic.
"We're moving ahead," Laconia Motorcycle Week executive director Charlie St. Clair told the newspaper. "Things will look different. But people will be thrilled they will be able to move on."
In another story on the Laconia Motorcycle Week situation in advance of the city council meeting, St. Clair said his organization will be stressing the wearing of masks and social distancing during bike week, and will be setting up sanitizing stations on Weirs Beach.
Most other motorcycle events in the Northeast, including Americade in Lake George, NY, have canceled this year because of the pandemic.
(Pictures from Laconia Motorcycle Week's Facebook page.)
Hello! If you enjoyed this story, please share it by clicking on the social media buttons below.